This week's Fabulous Find might be my favorite so far! The find for this week is an adorable striped tank dress with pockets (how can you go wrong with anything with pockets?!) from Forever 21 that I definitely see becoming one of my summer necessities.
It's easy to see why I love this dress: It's basic, without being boring. After all, why have a plain basic dress when you can have a striped one? Think of all the print-mixing possibilities! (You know how partial we all are to mixing prints.) This dress can be worn a million different ways, for a million different occasions. So that's what this post is about – styling this cute, basic dress in three very different but equally adorable ways.
The Dress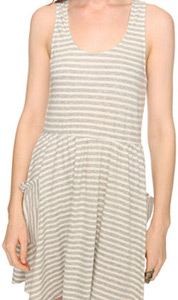 Linen Blend Striped Dress – $9 at Forever 21
Outfit Inspiration
Now that you've checked out this nine dollar beauty, here are three different ways you could style it.
1. Bohemian Casual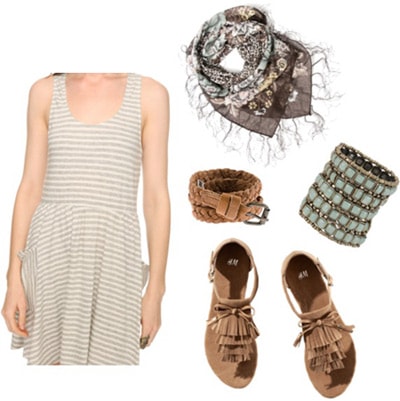 Dress, Sandals, Scarf, Belt, Bracelet
This first look is my favorite of the three – it's super casual and perfect for any spring or summer day. Here, I chose to style the dress with some cool, boho-esque accessories such as a braided brown belt and fringe sandals in the same color. For interest, I also added an interesting stretchy bracelet with subtle teal details, and finally, an eclectic patterned scarf that ties the entire outfit together.
2. Polished Print-Mixing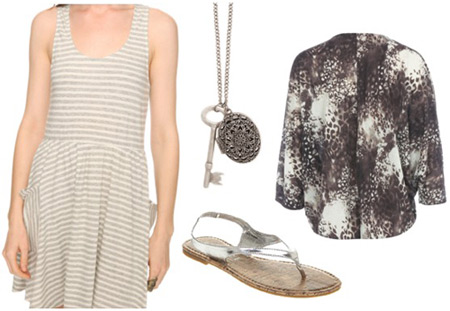 Dress, Cardigan, Sandals, Necklace
This outfit, while still obviously casual, has a bit more of a polished feel than the first. For this look, I chose to do a little bit more print-mixing (did you catch the subtle mixing with the scarf and the stripes in the first outfit?) by pairing an interesting "kimono"-style sweater in a cool abstract animal print with the striped tank dress. (The two prints work together because they're in the same color palette.) I kept the accessories simple, adding just a pair of silver metallic sandals and a pretty locket-and-key charm necklace.
3. Statement Accessories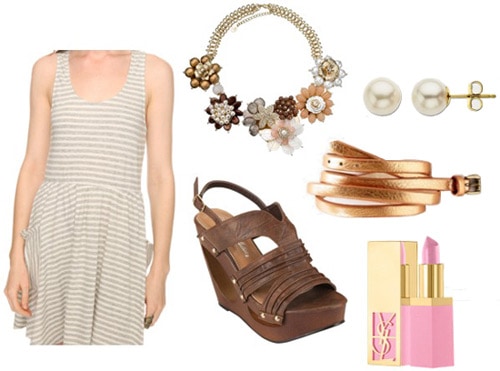 Dress, Wedges, Necklace, Belt, Earrings, Lipstick
This is the most dressy look of the three, so I decided to amp up the accessories a bit to create a more dressed-up feel. For the statement piece, I chose a bold floral necklace with metallic petals, pearls, and rhinestones. A gold metallic belt adds interest and plays off of the necklace and the studs on these cool cut-out leather wedges. I topped off the look with a pair of simple pearl earrings and a bold pink lipstick. Can't you just picture wearing this for a romantic date on a warm summer night?
What do you think?
So there you have it – three stylish ways to wear this insanely cute, nine dollar (!!) striped dress from Forever 21. What do you guys think? Would you wear this dress? How would YOU style it? Let me know by leaving a comment!