Polka dots are going to be super hot this spring, so for this week's Fabulous Find, we've found a spotted sweater that is trendy, cute and super-practical.
This gray-and-black polka-dot sweater from Forever 21 has a classic, yet modern vibe, meaning it can work well with lots of different styles and aesthetics — so versatile! And even though they're considered 'trendy' at the moment, polka dots are totally timeless, meaning you can wear this budget-friendly find for years to come.
Ready to see the sweater? Scroll on down to check it out, as well as several on-trend ways to wear it this season:
The Sweater: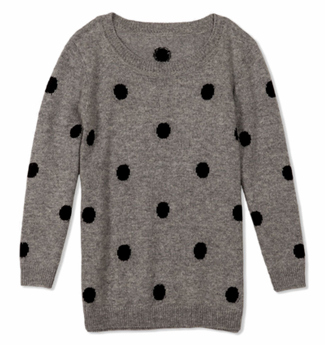 Polka Dot Sweater in Heather Grey/Black — $17.50 at Forever 21
Outfit Inspiration
If you like this cute, comfy and inexpensive sweater, then you're going to love the outfits we put together for inspiration. Read on to find out three stylish ways to wear this week's Fabulous Find:
Outfit #1: Bold & Trendy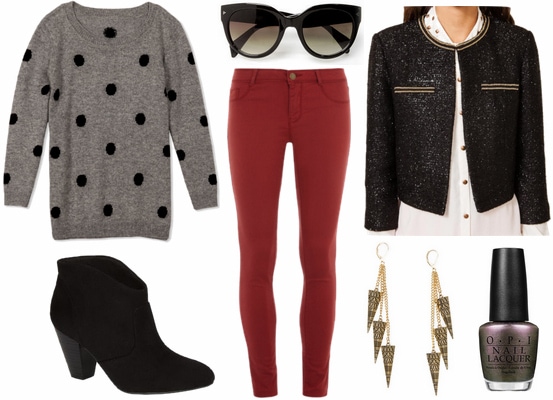 Product Info: Sweater- Forever 21, Sunglasses- Lulu's, Jacket- Forever 21, Shoes- Kmart, Jeans- Dorothy Perkins, Earrings- Mango, Nail Polish- OPI's "The World is Not Enough"
Create a bold look by pairing our Fab Find with some on-trend red skinny jeans. A metallic tweed jacket adds a glam touch, while ankle boots are a comfy and stylish choice. Accessorize with some ultra-flattering dark sunnies and a pair of gold statement earrings. Last, but not least, paint your nails with a pretty foil finish nail polish.
Outfit #2: Dots on Dots
Product Info: Sweater- Forever 21, Skirt- ModCloth, Blouse- ModCloth, Shoes- amazon.com, Gold Ring- ASOS, Mint Ring- Etsy
Print mixing is definitely in this season, so for this next look, we're doubling up on the polka dots! Start by layering a white and gold dotted blouse underneath this week's Fab Find, allowing the Peter Pan collar to peek out from the top. An A-line skirt adds a pretty pop of color, while these white oxfords lend a sort of vintage-inspired vibe. For the finishing touch, accessorize with a simple gold band and a mint-colored cocktail ring.
Outfit #3: Cute & Casual
Product Info: Sweater- Forever 21, Jeans- Gap, Necklace- Max & Chloe, Shoes- boohoo.com, Bag- ASOS
For our last outfit, pair the sweater with some slouchy boyfriend-style jeans for a casual, yet polished look. These pointed flats have a hint of leopard detailing, which offers a subtle take on mixing prints. Next, accessorize with a super-trendy emerald green necklace. Grab a cool textured black handbag to complete this ensemble.
Your thoughts?
What do you think of this week's Fabulous Find? Would you buy this sweater from Forever 21? Which look is your favorite? How would you wear the sweater? Remember to leave a comment below and tell us what you think!