It's no secret that Forever 21 is essentially paradise to the modern-day, budget-conscious fashionista – it embodies all the right things: cute & trendy clothes, as well as classic pieces every girl needs – ALL of which are at ridiculously affordable prices. That being said, this week's Fabulous Find comes from Forever 21, and is not only reasonably priced at an unbelievable $13, but it's also surprisingly versatile and right on trend! Polka dots are very in right now, so jump on board, and check out these three ways to style this adorable skirt.
The Skirt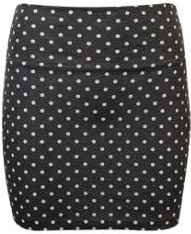 Polka Dot Skirt – Forever 21
1. Dress It Up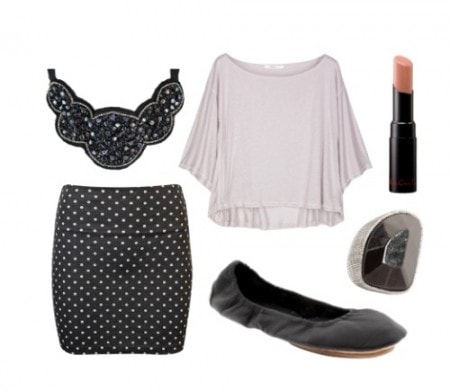 Skirt, Top, Flats, Necklace, Ring, Lipstick
This outfit is a perfect example of how to take a casual piece and dress it up, creating a chic, fashion-forward look. Since the skirt is fitted and high-waisted, I paired it with a neutral colored, cropped jersey swing top that will hit just below the waistband. A bold statement necklace looks great with the simple shirt, and its circular shapes go nicely with the dots on the skirt. Simple black leather flats look nice without taking away from the rest of the look, and a cool metal ring works well with the ensemble's color palette. Finish off the look with some nude lipstick and a pretty hairstyle and you're ready for a night on the town!
2. Dress It Down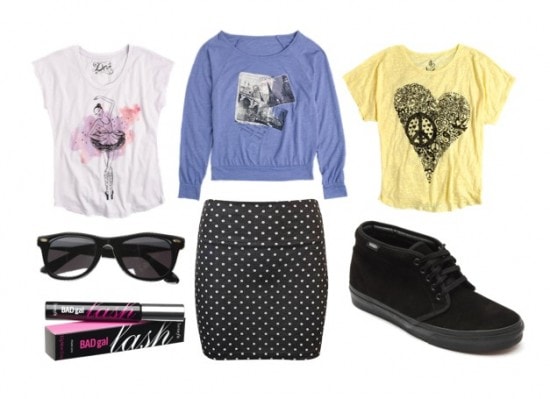 Skirt, Ballerina Tee, Long Sleeve Tee, Yellow Tee, Sneakers, Sunglasses, Mascara
I love the funky yet relaxed vibe this look gives off. Obviously, I don't expect you all to wear three shirts at once – I just chose a few cute graphic tees that I thought would all look great tucked into this fabulous find! The graphics on these casual-cool shirts all have black in them, which is what makes them work with the black and white polka dots.
This outfit is great because while it's much more laid-back and casual than the first look, it still incorporates plenty of flirty, feminine elements – note the cute, girly graphics on the tees and the fact that you're still showing off your amazing legs in the skirt! To finish off the look, I chose some black high-top sneakers and a pair of black wayfarers. (In case you haven't noticed by now, they're an accessory go-to for me.) As far as hair and makeup goes, some simple mascara and a messy bun would perfectly finish off this effortlessly cool look.
3. Challenge: Mix Prints!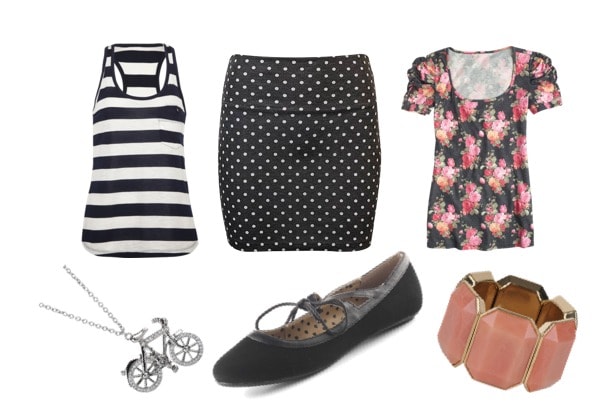 Skirt, Striped Top, Floral Top, Flats, Bicycle Necklace, Bangle
These outfit options are a little more daring than the last two, but equally as cute and fashionable! We've talked about mixing prints here at College Fashion many times, and it's a trend that's still going strong for spring… so in the above photo, I've created two cute ways to try it out!
The first outfit I chose involves a black and white striped stop, tucked into the skirt and then bloused out a little to accentuate your waist. Pair the outfit with some cute, detailed lace-up flats and an adorable rhinestone bicycle necklace.
The second outfit obviously shares the same shoes and skirt with the first, but this time the two are paired with a pretty floral top with puff sleeves, and a delicate gold and pink faceted bangle. Because the top's floral pattern is mainly black with white accents, it works well with the polka dots, while the bracelet matches the floral pattern as well.
Your thoughts?
Now I want to hear what you guys have to say. Do you think the skirt is cute? Would you wear it? Which is your favorite outfit? How do you feel about the last outfits – would you mix prints? Let me know!