A cozy sweater is a cold-weather wardrobe staple, so for this week's Fabulous Find, we've found a versatile, stylish and totally inexpensive option for fall.
Priced at just $14.50, this open knit sweater from Forever 21 is one of those pieces you can wear with everything, meaning it offers serious bang for your buck. For this post, we decided to go with the rose-colored option, but if you aren't fond of pink shades, this sweater is also available in seven other colors.
Ready to see what the sweater looks like? Scroll on down to check it out, as well as some outfit ideas on how to style this Fab Find for fall:
The Sweater: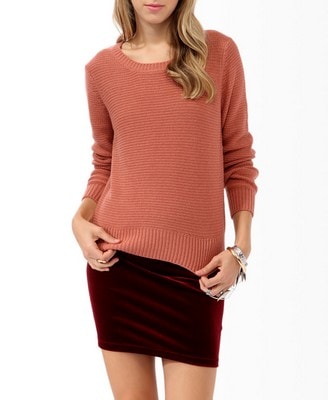 Relaxed Open Knit Sweater in Rose — $14.50 at Forever 21
Outfit Inspiration
If you like this cheap and chic sweater, then you're going to love the outfits we put together for inspiration. Read on to find out three stylish ways to wear this week's Fabulous Find:
Outfit #1: Chic for Fall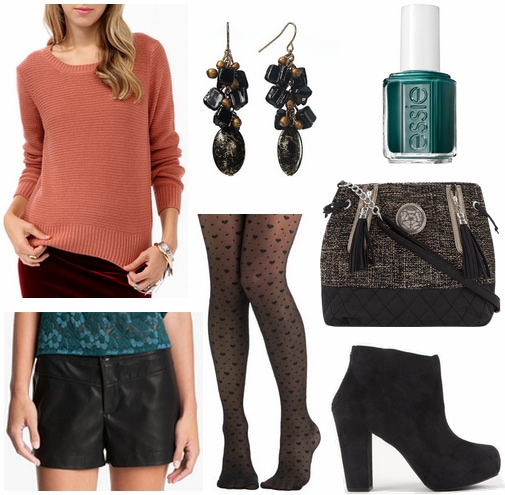 Product Info: Sweater- Forever 21, Earrings- Kohl's, Nail Polish- Essie's "Stylenomics", Shorts- Nordstrom, Tights- ModCloth, Bag- Dorothy Perkins, Shoes- PacSun
Create a fashion-forward look by pairing our Fab Find with some on-trend faux leather shorts. Next, add printed tights, which not only lend an adorable touch, but also help to make this outfit fall-appropriate. Accessorize with a tweed bag and a pair of drop earrings, then add some chic, high-heeled ankle boots. For the finishing touch, paint your nails a shade of emerald green, which creates a pretty contrast against the pink color of the sweater.
Outfit #2: Cute & Casual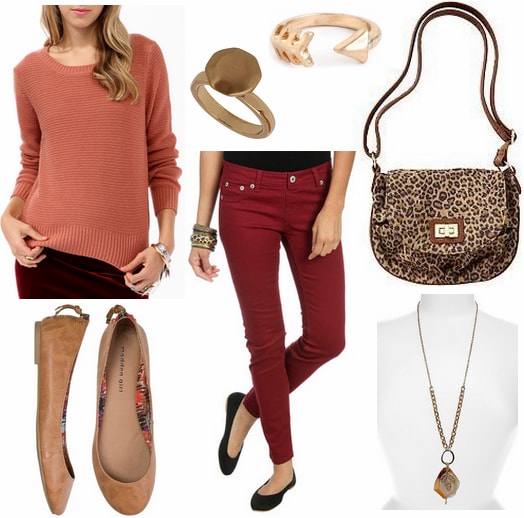 Product Info: Sweater- Forever 21, Octagon Ring- Topshop, Arrow Ring- BaubleBar, Bag- Old Navy, Shoes- Madden Girl, Jeans- Wet Seal, Necklace- Nordstrom Rack
For a more laid-back look, pair the sweater with some trendy oxblood skinny jeans. Neutral-colored flats continue the casual vibe, while a leopard print bag adds a fun touch. Accessorize with several unique rings and a statement-making agate stone necklace for a stylish and comfy autumn outfit.
Outfit #3: Military-Inspired Glam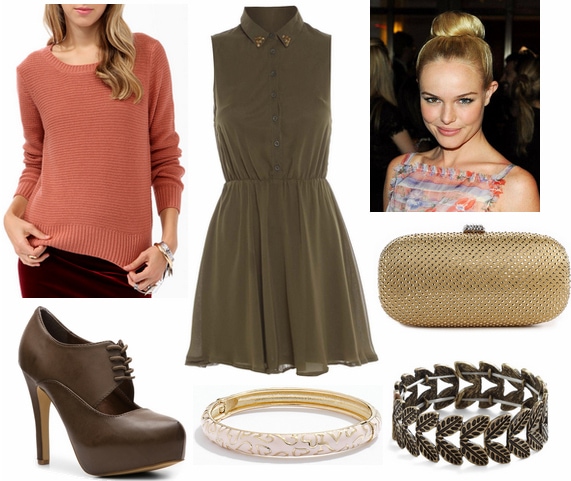 Product Info: Sweater- Forever 21, Dress- AX Paris, Bag- DSW, Shoes- DSW, White Bangle- LC Lauren Conrad, Bronze Bracelet- ModCloth | Hair Photo: ELLE
This final look plays with fall's military trend, albeit in a cozy and feminine way. Start by layering the sweater over an olive green dress, allowing the studded collar to peek through. On your feet, don high-heeled oxfords – these ones are polished, preppy and perfect for fall. To accessorize, add a few stacked bracelets and a gold box clutch for a hint of sparkle. Finally, style your hair in a high bun, the perfect hairstyle to showcase that on-trend studded collar.
Your thoughts?
What do you think of this week's Fabulous Find? Would you buy this sweater from Forever 21? Which look is your favorite? How would you wear the sweater? Remember to leave a comment below and tell us what you think!