For this week's Fabulous Find, we picked a piece that's usually associated with summertime: the maxi skirt. But just like maxi dresses, these babies can also work for winter with some creative layering. Simply wear a pair (or two!) of tights or leggings underneath, layer on a sweater or coat, and you'll be good to go.
This particular maxi skirt, from Forever 21, comes in a gorgeous burgundy hue that has a wintery vibe. The best part? This skirt costs less than $13, so won't have to break the bank in the name of style. Just scroll down to check it out, as well as three cute ways to style this maxi skirt:
The Skirt: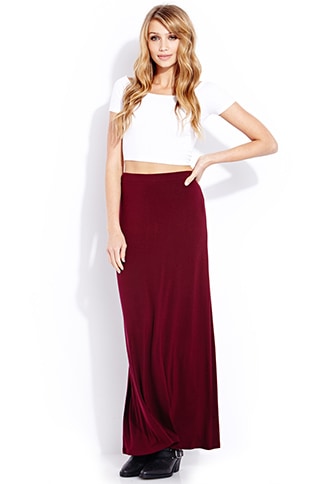 Everyday Jersey Knit Maxi Skirt in Burgundy — $12.80 at Forever 21
Outfit Inspiration
If you like this cheap and chic maxi skirt, then you're going to love the outfits we put together for inspiration. Read on to find out three stylish ways to wear this week's Fabulous Find:
Outfit #1: Cozy Meets Edgy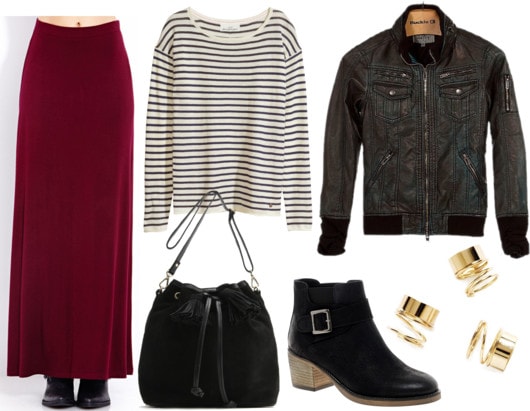 Fab Find: Forever 21 Maxi Skirt – Cozy Meets Edgy by collegefashion featuring a bucket bag purse
Product Info: Skirt- Forever 21, Top- H&M, Jacket- Buckle, Bag- Mango, Shoes- ASOS, Rings- Pixie Market
Head to campus in style with this outfit, which has a casual vibe with an edgy twist. Start by tucking a long-sleeved striped blouse into our Fab Find, then layer on a cool moto jacket. Ankle boots keep things comfy, while this suede bucket bag is ideal for carrying all the essentials. Complete the ensemble by accessorizing with several gold rings.
Outfit #2: Laid-Back Glam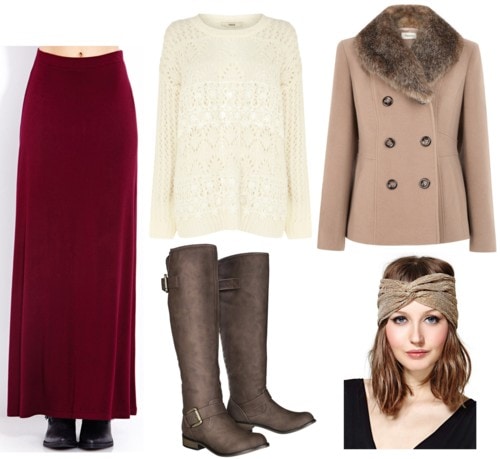 Fab Find: Forever 21 Maxi Skirt – Laid-Back Glam by collegefashion featuring equestrian boots
Product Info: Skirt- Forever 21, Sweater- Oasis, Coat- House of Fraser, Shoes- Target, Headwrap- Nasty Gal
For a sophisticated look that still works for daytime, try pairing this skirt with a lacy sweater. Layer on a glam faux fur collar peacoat for warmth, then slip on a pair of classic brown riding boots. Finish up this getup by grabbing a luxe yet cozy headwrap.
Outfit #3: Casual Cool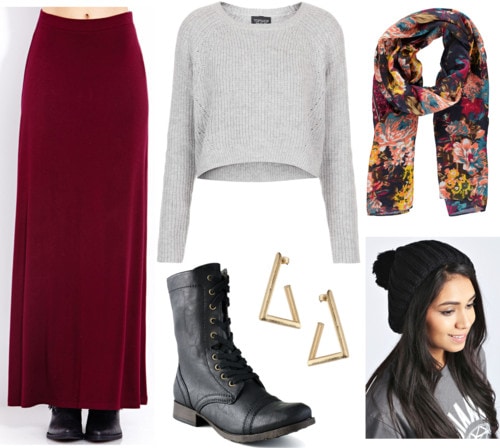 Fab Find: Forever 21 Maxi Skirt – Casual Cool by collegefashion featuring long jersey knit skirts
Product Info: Skirt- Forever 21, Sweater- Topshop, Scarf- Boohoo, Shoes- Kohl's, Earrings- Miss Selfridge, Hat- Boohoo
Go trendy with this final ensemble, which pairs this maxi skirt with a cropped gray sweater. Combat boots are both comfortable and edgy, while a floral scarf adds a pop of print. Continue the cozy vibe with a knit beanie, then add the finishing touch with a pair of geometric gold earrings.
Your thoughts?
What do you think of this week's Fabulous Find? Would you buy this Forever 21 skirt? Which look is your favorite? How would you wear a maxi skirt in winter? Remember to leave a comment below and tell us what you think!