I'll be the first one to say that I've had reservations about the whole maxi dress trend – at least for myself. I have always thought OTHER people looked great in them, but was unsure about the trend for myself because I'm really short.. literally not even 5'2″. However, I took the dive and purchased a maxi dress of my own this past summer, and fell absolutely in love with it!
With maxi dresses, it doesn't matter how tall you are, it's all about how you style the piece – that's why this week's Fabulous Find is this amazingly simple black maxi dress from Forever 21 – for only $12.90!
The Dress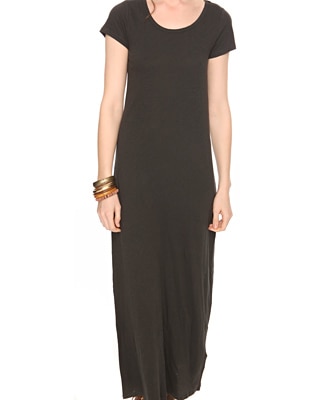 Short Sleeved Maxi Dress – $12.90 at Forever 21
Outfit Inspiration
Check out three effortlessly cute ways to work this maxi dress for every occasion.
1. Casual Day Look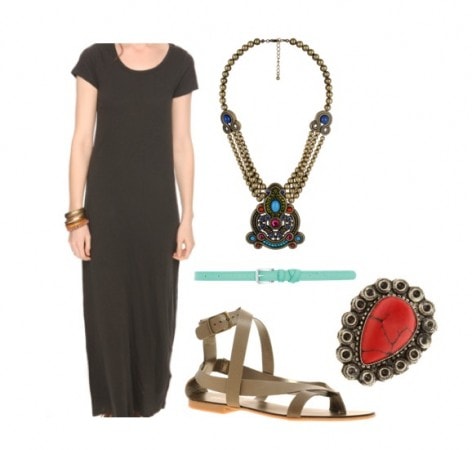 Maxi, Sandals, Belt, Necklace, Ring
This look is perfect for daytime – it's not overly styled, but definitely has some interesting little touches to make it really stand out. I chose a pair of neutral strappy sandals to pair with this amazing necklace, a teal skinny belt to add some shape to the dress, and an awesome coral and gold cocktail ring to play off the colors in the necklace.
2. Boho Chic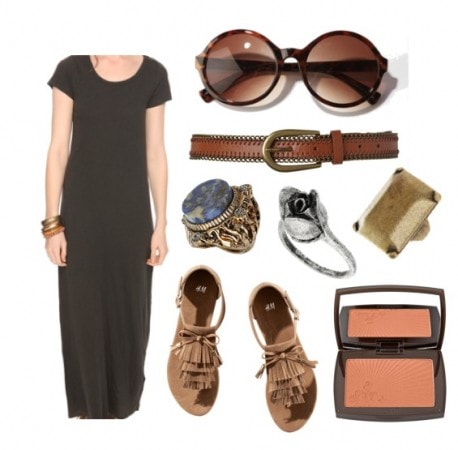 Maxi, Sandals, Belt, Stone Ring, Rose Ring, Stud Ring, Sunglasses, Bronzer
I love this look because it has so many interesting little elements that really take this simple dress to the next level. The dress, this time, is complemented by a pair of tan fringed sandals and a couple of really interesting rings of various metals – as well as this insanely cool chain-lined belt and pair of amazing '70s-inspired round sunglasses. Top it all off with a summery, bronzy glow and you're good to go in this trendy, eclectic look.
3. Dressed Up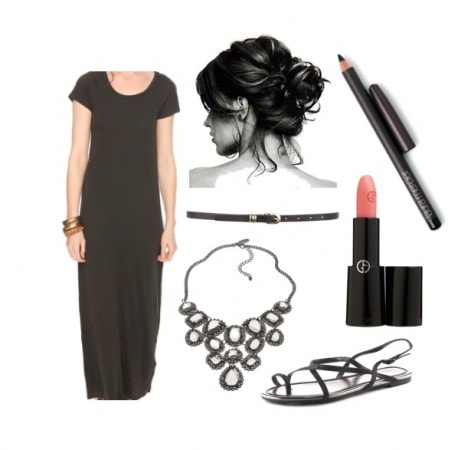 Maxi, Necklace, Belt, Sandals, Lipstick, Eyeliner
This last outfit is a little dressier than the first two, but still has an effortless feel to it. I chose to belt this look as well, this time choosing a skinny black belt with silver details. Then, I added this gorgeous bejeweled statement necklace and a pair of strappy black sandals. As far as makeup and beauty goes, some bold black liner, a pinky-nude lip, and an effortless messy bun work perfectly with the minimalist feel of this ensemble.
Your thoughts?
So there you have it! One simple maxi dress, styled three different ways. Remember- it doesn't matter how tall, short, or whatever you are – you can wear anything if you do it with confidence! That being said, how do you guys feel about the maxi trend? Would you wear a maxi dress or skirt? Which was your favorite look of these three? Let me know!