Every girl knows (especially if she reads CF!) that if there's one thing she needs in her wardrobe, it's the Little Black Dress. I don't need to count the reasons why LBDs are amazing here. Suffice to say that this must-have piece can literally be any style, length, whatever, and you can wear it absolutely ANYWHERE. It's all about what you pair it with!
So why go out and spend big bucks on a swanky, expensive black cocktail dress when you can get one at one of our favorite places on earth, Forever 21, for $14?! …Exactly – there's no good reason. This post is all about how to take a simple, inexpensive LBD and dress it down for class, or up for a fancy night on the town.
1. Going to Class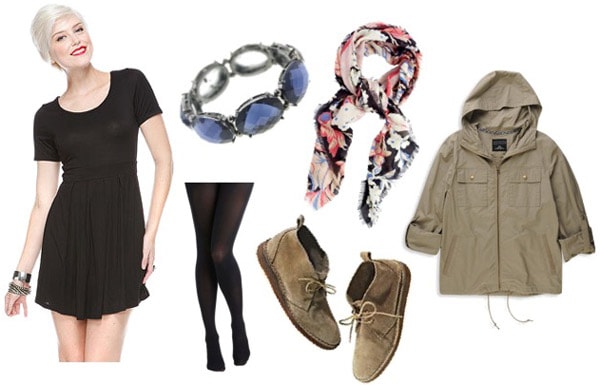 Dress, Tights, Bracelet, Scarf, Shoes, Jacket
This outfit is perfect for class or any casual outing. With black tights and a rugged utility jacket (this is actually a men's jacket – call me crazy, but I really like things oversized – I like to get men's shirts and jackets in a XS or S) to keep you warm, all you need are a few cute accessories to finish off the look. I chose some suede lace-up booties, a floral scarf with an interesting color palette, and a blue bejeweled bracelet to tie everything together.
2. Just Hanging Out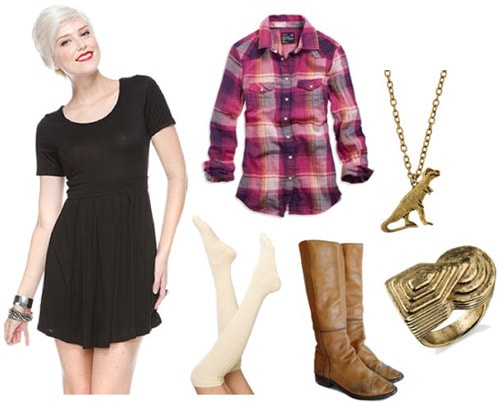 Dress, Shirt, Socks, Boots, Necklace, Ring
I picture this as a perfect low-key date outfit – or again, it could also be a cute casual look for class or hanging around campus. The black dress gets a fun twist when paired with a bright plaid shirt (to be left open) acting as a cardigan or jacket. These awesome vintage boots complement the shirt's rugged vibe and look cool with a pair of over-the-knee socks peeking out from the top. Top off the look with a long necklace (how cute is the dinosaur? I'm obsessed) and a geometric gold ring.
3. Night on the Town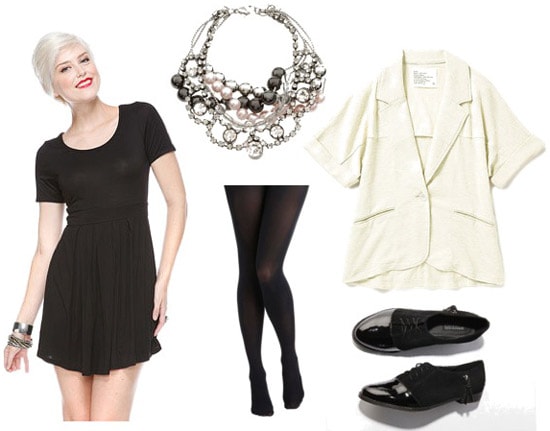 Dress, Blazer, Necklace, Tights, Oxfords
Now for a dressy look – something the LBD does best! Amp up this plain black dress with a super chic off-white blazer and a pair of shiny patent oxfords for a dressed-up feel. Add some black tights for warmth, and finish off the outfit with this awesome statement necklace – Pearls? Rhinestones? Shiny silver and clear beads? – This seems like a lot, but it's a PERFECT complement to this ultra-sophisticated, dressy look.
What do you think?
Now for some feedback from our lovely readers! What was your favorite look out of these three? Would you buy this dress? How would YOU style it? Let me know by leaving your thoughts in a comment!