I know what you're thinking, as always – ANOTHER Fabulous Find from Forever 21? But can you really blame me? They have the cutest, most on-trend stuff, and the best deals – so this week's post is yet again from our favorite fast fashion store.
In the spirit of the season, I wanted to find a piece you could layer over and under and wear for multiple holiday occasions. This beige lace shift dress is the perfect staple for the season; with its long sleeves and vintage-looking lace, you're sure to stand out wherever you go. And at under $20, you can't go wrong!
The Dress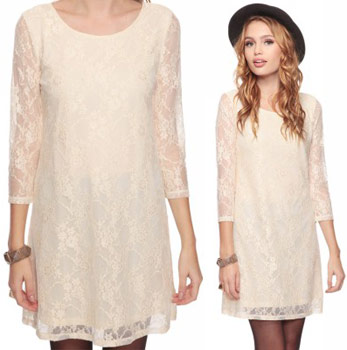 Lace Shift Dress – $17.80 at Forever 21
Outfit Inspiration
Now that you've seen the dress, let's talk about how to wear it. Here are three sample outfits – one casual, one slightly more fashion-forward, and one dressy for night.
Outfit 1 – Casual Layering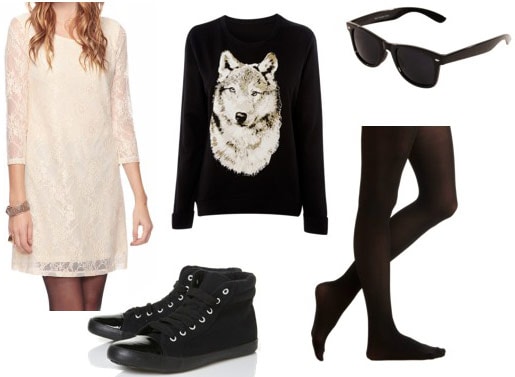 Dress, Sweater, Sneakers, Tights, Sunglasses
I LOVE this outfit; it would be so perfect for going to class! It's the perfect example of how you can take an otherwise-dressy piece and make it casual enough for day. By adding this awesome wolf pullover (you could belt it if it was too loose), the dress instantly becomes a pretty lace skirt – and the black tights, shoes, and glasses add even more edge to the look. This outfit is the ultimate mix of feminine and badass, which is ALWAYS a good combo.
Outfit 2 – Fashionable Extras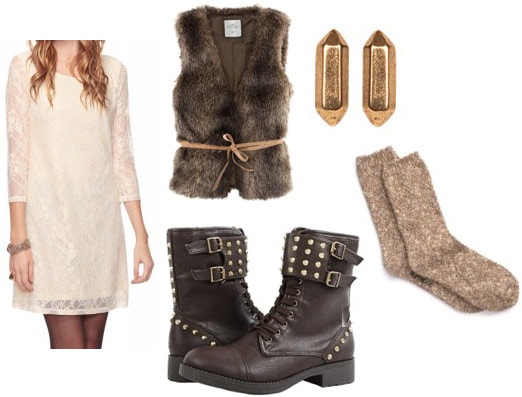 Dress, Vest, Socks, Boots, Earrings
This look is a little more chic than the last, but still has some edgy touches, like the studded boots and cool distressed gold earrings. By throwing this adorable fur vest over the dress, you add tons of texture and interest. Finally, the oatmeal socks – worn peeking out of the boots – tie in all the colors of the ensemble. Wear this for a casual lunch out with the girls or a coffee date with that cute guy from class!
Outfit 3 – Night Out-Ready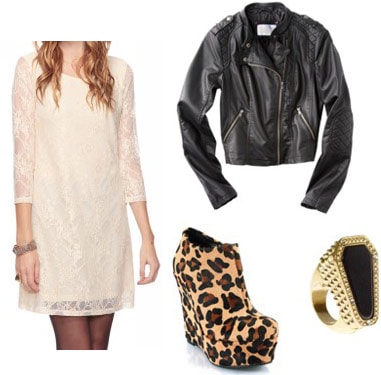 This look is another great example of how to mix feminine and tough pieces to create the ultimate outfit. For a night out, throw a badass leather jacket over the dress and add some killer wedges – like these leopard ones – and minimal, tonal accessories. With just four pieces, you're ready for a night on the town!
Your thoughts?
What do you think of this week's Fabulous Find? How would you style this versatile dress for different occasions? Do you wear dresses as skirts to get more out of your wardrobe? Let us know your thoughts in a comment.