This week's Fabulous Find is something that, I must admit, I was on the fence about – the high-low skirt. I wasn't sold on this trend until I saw it on my best friend: She came to class last week in an incredible mustard chiffon high-low skirt, and I immediately fell in love.
Ever since then, I've been on the hunt for the perfect high-low skirt, and I'm happy to say I finally found it – this subtly dotted, perfectly summery peach chiffon one is fantastic, AND is only $14.80 at Forever 21! If you've been wanting to try the high-low trend, this budget-friendly skirt is the one to get. (Bonus: It comes in blue as well!)
The Skirt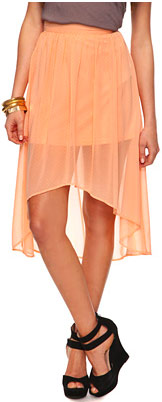 Essential Dotted High-Low Skirt – $14.80 at Forever 21
Outfit Inspiration
Now that you've seen the skirt, check out these three stylish and totally different ways to rock it:
Outfit 1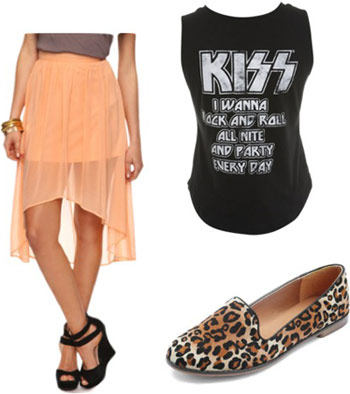 This first look is laid back and effortless – perfect for a casual day of classes or a weekend shopping trip. By pairing the pretty, flowy skirt with a muscle band tee and a pair of comfy leopard loafers, you instantly give the skirt a cool, punk-rock feel. Rock this look on your last few days of class to make a lasting impression over the summer!
Outfit 2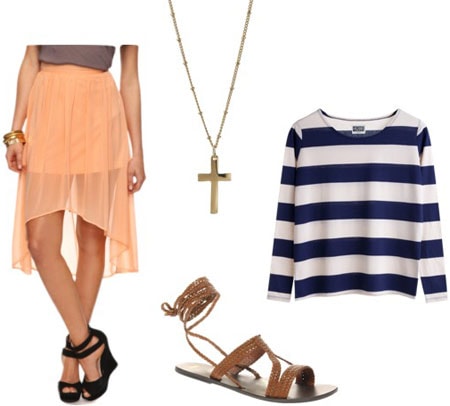 The second look is a little more polished and has a more put-together vibe than the first. This time, I mixed the skirt with a thick-striped navy and white top. The colors blend nicely with a cool pair of brown wrap sandals, and a simple gold necklace is dainty enough to balance out the boldness of the stripes. This would be the perfect look for a breezy lunch date or running errands.
Outfit 3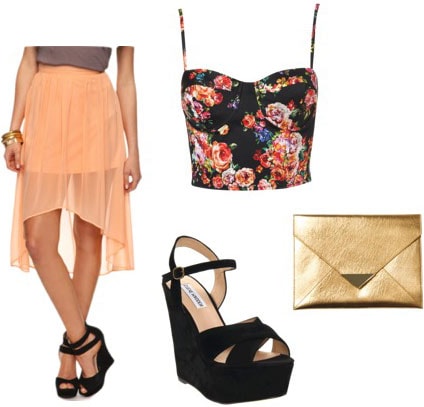 Skirt, Bustier, Clutch, Wedges
The last, and my favorite, look of this week is also the dressiest. Here, I paired the skirt with an incredible floral bustier and a bangin' pair of black wedges. A gold clutch finishes off the look without overpowering the bold ensemble. This look would be perfect for a night out with the girls – you're sure to turn heads in this fab skirt!
Your thoughts?
Would you rock a high-low maxi skirt like this one? If so, how would YOU style it? Which outfit is your fave? Tell us your thoughts in the comments!