So, this weeks Fabulous Find is something that I have adopted a (perhaps bad) habit of buying frequently – a cute little breezy floral dress. Whenever I see a dress like this in stores, I literally can't pass it up, which is not really a good thing, considering they are EVERYWHERE nowadays (see ya, checking account..)
My obsession exists for a reason, though: An adorable little floral dress is surprisingly versatile – you can dress it up, dress it down, or just let the dress carry itself.. because of this, it has (in my book) become a wardrobe staple, right up there with a great pair of black heels and a white button-down.
This adorable floral dress is only $16 from Forever 21, and although I'm sure some of you will be wary of the prairie-esque bib thing going on here, I PROMISE that there are a million different ways to style it, and you'll fall in love with at least one of them! So just trust me, and take a look at some of the outfits I put together for this week's Fabulous Find!
The Dress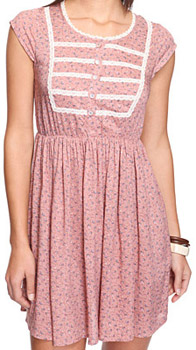 Prairie Dawn Dress – $16 at Forever 21
Outfit Inspiration
In an effort to show this piece's versatility, below, I've styled this one dress in three completely different ways.
1. Simply Sweet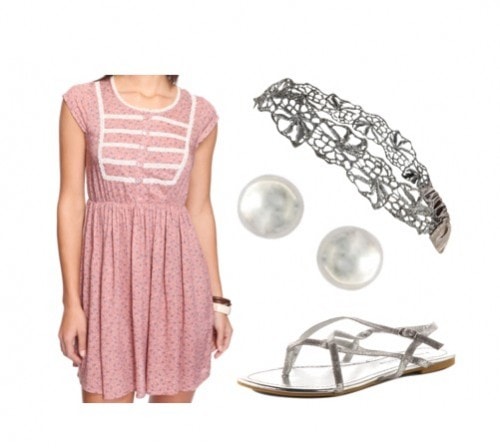 Dress, Sandals, Headband, Studs
This look is an example of how to let this floral dress do all the talking without distracting the eye with a ton of accessories. I chose very simple, pretty accessories for this outfit; these basic pieces will enhance the dress without stealing attention from it. A simple pair of metallic silver sandals, some cool silver studs and a pretty floral headband are the perfect match for this girly look.
2. Boho Casual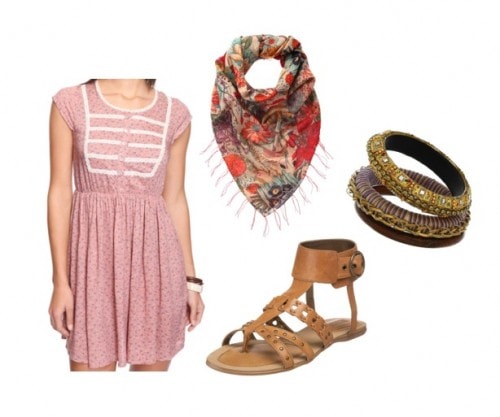 Dress, Scarf, Sandals, Bangles
This look is on the opposite end of the style spectrum. Instead of letting the dress do the talking, which was the focus of the first look, this ensemble shows how accessories can completely change the feel of a dress.
I started out with this vibrant floral scarf, which not only adds a pop of color and picks up some of those tiny undertones in the floral print of the dress, but also kind of covers the white bib – which COMPLETELY changes the entire look of the dress. Without the white embroidery, it's just a subtle floral dress that acts as a backdrop for these bold, boho-chic accessories. I finished the look with a cool pair of brown sandals and an interesting set of eclectic bangles.
3. Pretty & Polished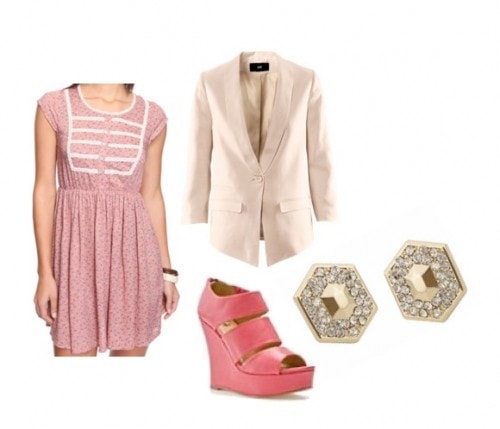 Finally, here is an example of how to take this primarily casual floral dress and make it appropriate for a night on the town.
I already knew I wanted to find some cool wedges to pair with this dress, but when I came across these amazing bubblegum-pink ones, I basically died and went to heaven. I LOVE THEM! They're a flattering style, and not only that, but they really make the dress pop – monochromatic looks, anyone!? I then added this creme-colored blazer that also takes away from the kitschiness of the bib and adds some structure, and a pair of pretty gold and silver faceted/jeweled earrings. This look is perfect for a fun summer night out!
Your thoughts?
So there you have it – three ways to style one adorable dress! Now it's time to hear what YOU guys think… What was your favorite look? Do you own a favorite floral dress? If so, how do you style it? Let me know!