Every winter, I somehow become obsessed with pullover sweaters, and this year is no exception. Fitted and cropped or oversized and slouchy, it doesn't matter; I HAVE to have them all.
So when I stumbled upon this pretty pullover sweater from (surprise, surprise) Forever 21, for only $13.50, I couldn't NOT feature it as this week's Fabulous Find. This particular sweater has a great neutral color and perfect fit to keep you both warm and stylish during these winter months, AND incorporates a hot trend for winter, elbow patches. So check out a few ways to rock it!
The Sweater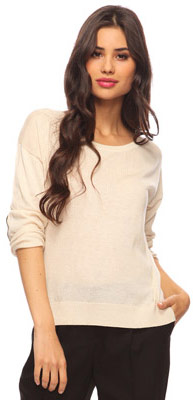 Elbow Patch Sweater – $13.50 at Forever 21
Outfit Inspiration
Now that you've seen the sweater (click on the link for a better view of the elbow patches), check out these three different ways to style it.
Outfit 1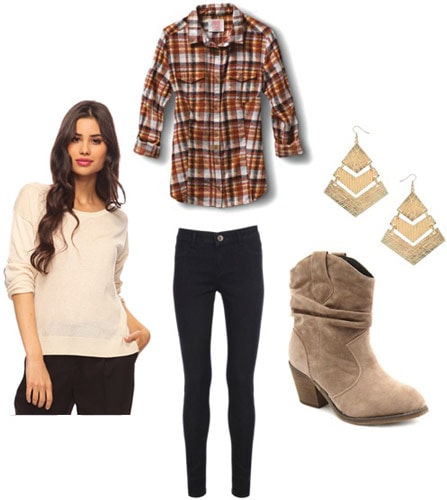 Sweater, Jeans, Shirt, Boots, Earrings
This look gives off a little bit of a rugged vibe but maintains its femininity thanks to the pretty, neutral color palette.
Here, I started with a long sleeved plaid shirt and threw the sweater on top of it, so the top and bottom of the shirt can peek out for extra color and texture. I then chose a pair of dark wash jeans and some tan suede cowboy boots for the bottom half of the look, and finished the whole thing off with a pair of pretty gold earrings.
Outfit 2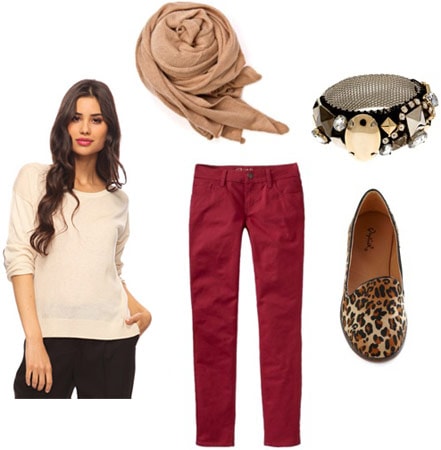 Sweater, Jeans, Scarf, Shoes, Bracelet
For this look, I had fun playing with textures and patterns for extra interest. This time I paired the sweater with some awesome red jeans and a pair of leopard flats. To play off of the leopard, I chose a neutral, tan-colored scarf and a detailed gold and silver studded bangle.
The sweater, scarf, shoes, and bracelet all go together seamlessly because of their colors – and the red jeans add an unexpected pop of color for a fun, daring look.
Outfit 3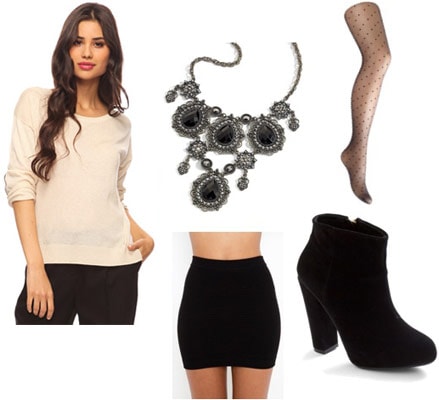 Sweater, Skirt, Booties, Tights, Necklace
It may seem impossible to dress up a casual knit sweater like this one, but it's actually not – you just need the right accessories!
Here, I paired the sweater with a black body-con skirt and dotted tights for extra warmth. (And, okay, they're just plain cute…) Then, I chose this amazing pair of black ankle booties, and finished the look off with a big black and silver statement necklace. Voila! You're ready for a night on the town.
Your thoughts?
Which outfit did you guys like the most? Would you wear this sweater? How would YOU style it? Let me know! AND HAPPY NEW YEAR!