So I'm kind of obsessed with chiffon lately. It automatically makes any outfit look just a little bit more polished AND expensive – which is always a plus on a college girl's budget!
Therefore, this week's Fabulous Find is this amazing chiffon skirt from Forever 21. Although I chose this pretty teal version, it also comes in yellow, an orangey-red, a peachy nude, and a deep magenta – all gorgeous colors that would benefit any girl's wardrobe! And last but not at least, at only $10, it's a steal that just simply can't be passed up.
The Skirt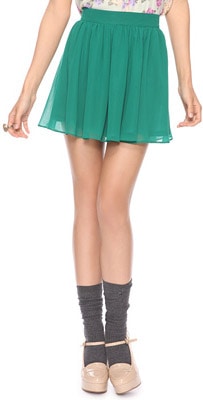 Chiffon Flip Skirt – $10 at Forever 21
Outfit Inspiration
To get your inspiration going, here are three cute ways to style this versatile skirt!
1. Earthy Casual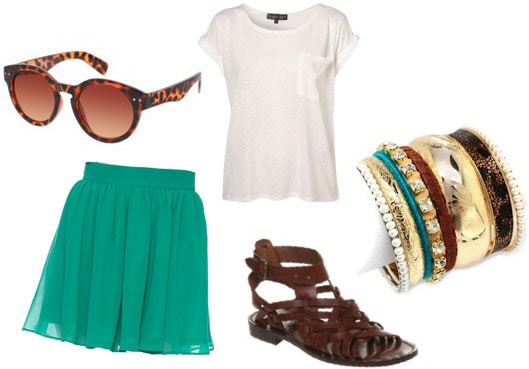 Skirt, Tee, Sandals, Bracelets, Sunglasses
This outfit is a good example of how to accessorize a plain white tee shirt. By pairing the skirt with this white tee, a pair of interesting brown gladiators, and an armful of bangles (note the pretty teal one!) you instantly create a cool, eclectic outfit. Top it all off with a pair of rounded tortoiseshell sunglasses to play off the colors in the bracelets and the sandals, and you're good to go!
2. Complementary Colors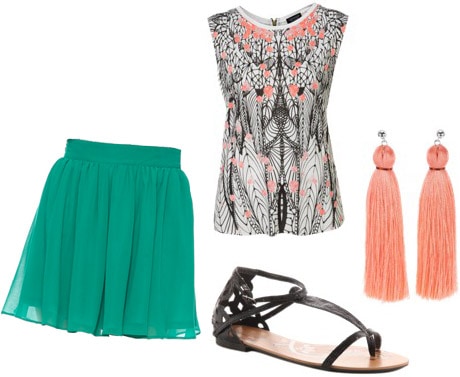 This look represents a good lesson in matching colors in an outfit – while I'm sure pairing a teal skirt with (almost neon) coral accessories probably isn't your first instinct, how amazing do the colors look together?! The coral accents really make the teal stand out, and create a bright, fun vibe. Black sandals finish off the outfit nicely without being too much – the colors do enough on their own!
3. Monochrome Madness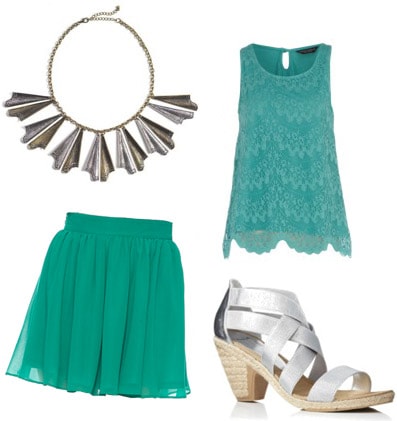 This may be one of my favorite dressy outfits I've done for the Fabulous Finds column to date – mostly because I love a good monochrome look! This time, the skirt is paired with a gorgeous, slightly sheer lace sleeveless top, to be tucked in. As for accessories, I chose this awesome pair of metallic (and most importantly, manageable!) heels, and an edgy geometric silver bib necklace. How perfect would this outfit be for a nice dinner out on a breezy summer night?
What do you think?
These are just three ways to style this skirt – but there are millions more! What would you guys wear this with? Would you prefer one of the other colors? Which look was your favorite? Be sure to let me know – I love hearing all the feedback!