This week, our Fabulous Find is an extremely versatile and stylish black button-down shirt from Forever 21. At only $14, how can you say no to this timeless piece?! Check out these three very different (but equally adorable!) ways to style the shirt below.
The Shirt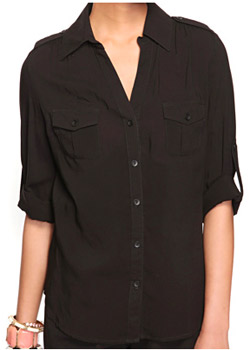 Solid Woven Shirt – $13.80 at Forever 21
Outfit Ideas
Here are three different ways to wear this classic black button-down shirt, depending on your mood and the occasion.
1. Boho Casual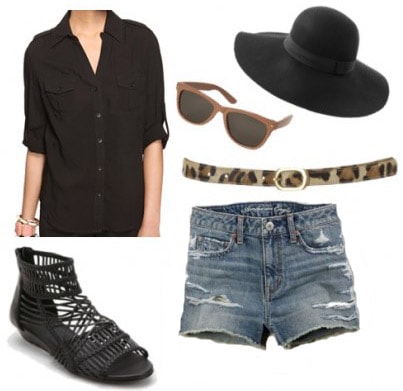 Shirt, Shorts, Sandals, Hat, Belt, Sunglasses
I personally think this is my favorite look, because it has a little bit of that boho-chic aesthetic that I often try to incorporate into my own wardrobe.
To create this look, I started with the black button-down, and I then paired it with some destroyed, high-waisted denim shorts. After that, I added a skinny leopard print belt for some interest, and a pair of black braided leather sandals. I finished the outfit with a pair of light brown Wayfarer-style sunglasses and an adorable floppy black hat.
For those of you who are still experiencing colder weather, you can still wear this look! Just drop the hat, add a pair of black tights and switch out the sandals for a pair of flat boots! Add a jacket if it's still too chilly to go without.
2. Dressing it Up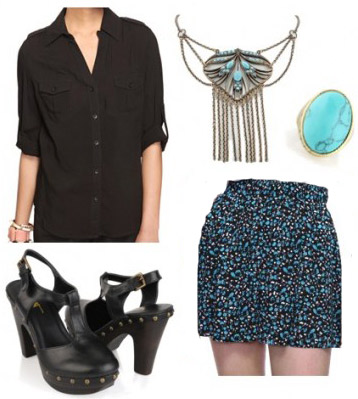 Shirt, Skirt, Clogs, Necklace, Ring
This look, while still casual, definitely has a dressier feel than the other two, simply because of the addition of a skirt and heels.
This time around, I paired the shirt with a pretty, flouncy floral skirt and a pair of studded t-strap clogs. To play off of the pretty blue hues in the skirt, I added a gorgeous turquoise statement necklace and a large round turquoise ring.
Colder weather people, again, don't worry – you can wear this, too! Just add black tights and a cute jacket for warmth. (A black leather motorcycle jacket would look amazing here!)
3. Eclectically Chic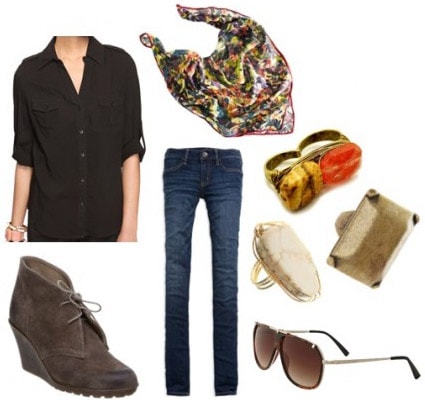 Shirt, Jeggings, Wedges, Scarf, Coral Ring, White Ring, Gold Ring, Sunglasses
This last look is not only warmer (perfect for you non-Floridians), but for some reason it also gives me that whole street style-chic, "I-just-threw-this-on-but-still-look-flawless" vibe.
This time, the shirt is paired with some dark, super skinny jeggings and these adorable desert-style wedge boots, which are RIGHT on trend for Spring. I added a gorgeous silk scarf with a vibrant color palette to brighten up the look a bit. To finish off the ensemble, I added multiple large rings, which bring some interest to this already eclectic look, and a pair of sleek brown aviators.
What do you think?
So there you have it! These are just three ways to style this ultra-versatile shirt… the possibilities are endless!
Now I want to know the answers to some questions: How would YOU style this shirt? What was your favorite look? Your feedback is my favorite, so let me know by leaving a comment!