The Fabulous Find for this week incorporates one print that we can't get enough of – stripes.
I could go on and on about why stripes are so perfect, or I could just show you this amazing striped shirt from Forever 21, that's only $13.50! So, that being said, look below for some great fashion inspiration.
The Shirt: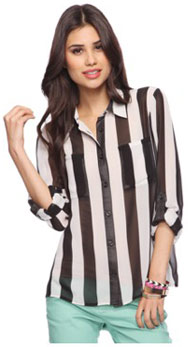 Bold Stripes Shirt – $13.50 at Forever 21
Outfit Inspiration
To get your inspiration going, here are three cute, unique ways to wear this one striped shirt!
Outfit 1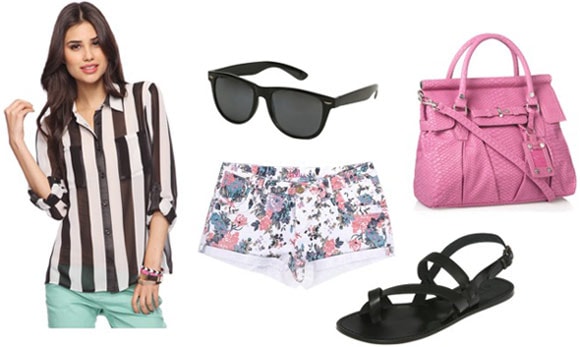 Shirt, Shorts, Purse, Sandals, Sunglasses
So this first look is definitely for warmer weather – like the 80 degree madness we're having down in here Florida right now! I did a little print-mixing here, adding a pair of floral shorts to contrast with the striped top. For accessories, I added a pair of simple black sandals and this AWESOME bubblegum pink bag. The black sunnies top off this super-cool springtime look.
Outfit 2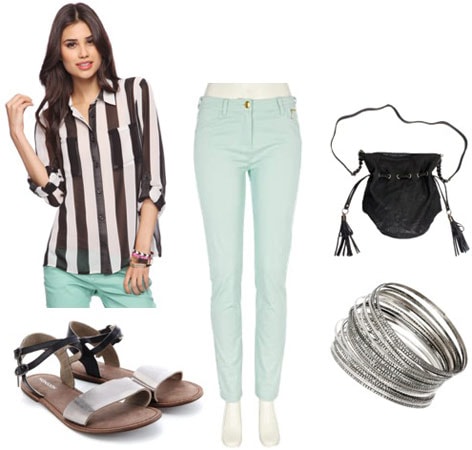 Shirt, Jeans, Purse, Sandals, Bracelets
I took a page out of Forever 21's styling for this look and chose a pair of mint-colored jeans to go with the shirt. With a cool black cross-body bag and a pair of edgy sandals, and minimal accessories like these textured bangles, you're sure to get noticed.
Outfit 3
Shirt, Skirt, Heels, Clutch, Earrings
The last and most dressy look is really fun, thanks to the major pop of color this amazing red skirt adds. To avoid being too matchy-matchy, I accessorized the look with a pair of killer nude wedges and a black and gold clutch. Interesting gold earrings add just enough punch to leave the look sophisticated, but still super fun.
Your thoughts?
Which outfit is your favorite? How would YOU wear this striped shirt? Tell us by leaving a comment!