This week's Fabulous Find is an adorable, breezy tank from dELiA*s. It has a cool peachy-pink tie-dye print that is, surprisingly, very versatile for summer! Best thing about this top? It's only $15!
Below, I'll show you three cute ways to style this one cute summer find.
The Tank
Printed Tank – $14.99 at dELiA*s
Outfit Inspiration
Now that you've checked out the top, here are three different ways you could wear this breezy summer piece!
1. Pretty Print-Mixing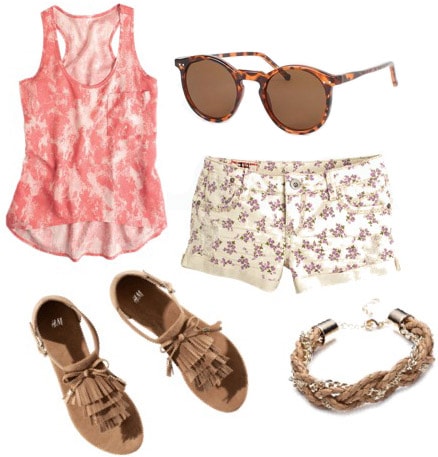 Tank, Shorts, Sandals, Bracelet, Sunglasses
This is by far my favorite look of the three. I usually mix prints using florals and stripes or some other simple combo, but this week, I decided to switch it up!
Instead of pairing florals and stripes, I decided to substitute in the tie dye shirt, mixing it with some adorable floral shorts. Because the color palettes of the shorts and tank are similar, they work perfectly together. Next, to accessorize, I chose a pair of sandals I've used in my Fabulous Finds posts before (I just really, really like them..), an interesting braided bracelet, and some retro-inspired sunglasses.
2. Summery & Sweet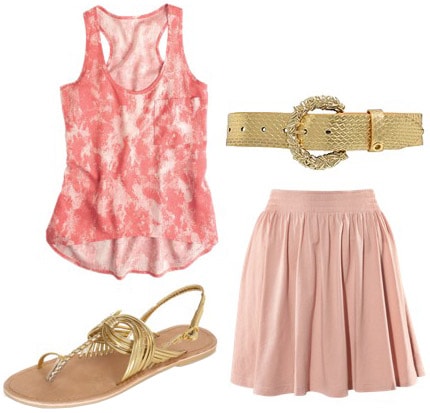 In comparison to the first look, this ensemble is a dressier take on casual, with its monochromatic color palette (slightly varied shades of pinky-peach) and sleek gold accessories. This outfit is simple and classy at the same time – it would be perfect for a lunch date or a stylish day of shopping.
3. Edgy for Night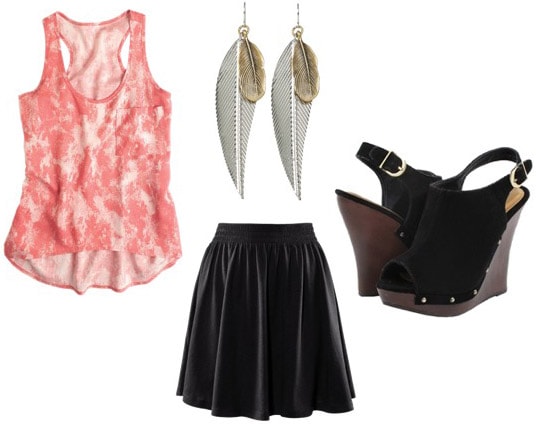 This last look is a little more dressy than the first two because of these cool peep-toe wedges – but it would work just as easily for day with a pair of gold, silver, or black sandals. Here, the black skirt automatically adds more depth to the tank and makes its pretty pink color pop, while the wedges dress it up and the earrings add some interest with two different metallic shades.
Your thoughts?
So there you have it! Three ways to wear this amazing $15 tank from Delia's! Which was your favorite outfit? Do you like Delia's? Let me know what you think by leaving a comment!