So, this week's Fabulous Find is very bold but totally worth the risk – a pair of hot pink skinny jeans.
Colored jeans have been popular for a few seasons now, and they're hotter than ever for Spring 2012 – so if you haven't jumped on the bandwagon yet, here's your chance with these extremely affordable jeans from Delia's! They're on sale right now for just $14.99, so why not give them a try?!
The Jeans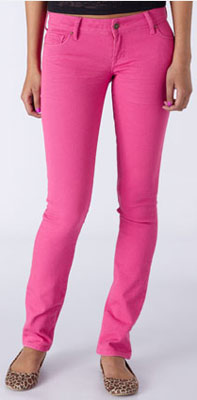 Taylor Hot Pink Skinny Jean – $14.99 at Delia's
Outfit Inspiration
To get you inspired, here are three very different outfits for different occasions, each incorporating these same pink jeans.
Outfit 1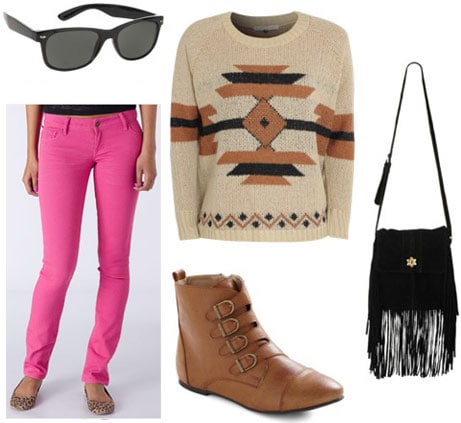 Jeans, Sweater, Booties, Purse, Sunglasses
This first look really emphasizes the pink pants because, well, there's zero pink in the rest of the outfit. In fact, the entire look is composed of neutrals aside from the pants… which gives them even more punch! Here, I paired the pants with a neutral pullover sweater with a geometric design, a pair of awesome buckled booties, and a black fringe purse. Top it all off with some classic black sunglasses and you're ready for a stylish day at class!
Outfit 2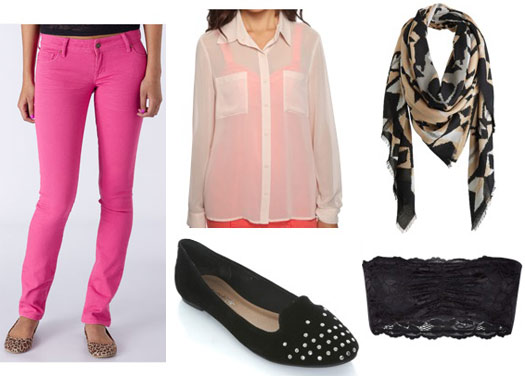 Jeans, Shirt, Bandeau, Scarf, Flats
This look, which is a little more polished than the first, is also great for a casual occasion – it would be perfect for a weekend shopping trendy boutiques or a casual party. This time, the pants are paired with a sheer blouse with a black lace bandeau underneath. (You could also skip the bandeau and rock a tank for even more coverage!) I finished off the look with a bold geometric scarf and a pair of cool studded flats.
Outfit 3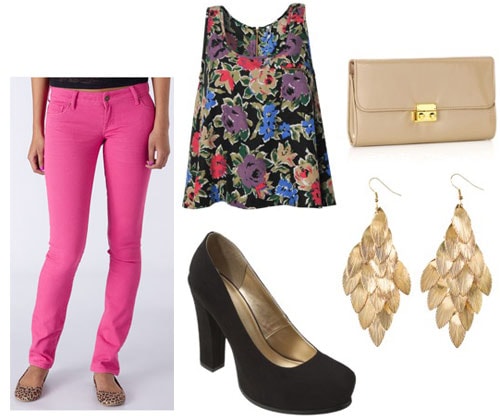 Jeans, Tank, Heels, Clutch, Earrings
For a dressier night out, these pants are sure to get you noticed. They look great when paired with a swingy floral top and an awesome pair of simple black heels. A neutral clutch is appropriately understated next to the otherwise-bright outfit, and these gorgeous gold earrings play off the floral pattern on the shirt. Rock this for a night out with the girls!
Your thoughts?
Are you loving the colored denim trend? How would you wear these jeans? Which outfit is your favorite? Let me know by leaving a comment!