There's something about a (faux) leather jacket that instantly adds an edgy vibe to any outfit. Whether you pair it with jeans and a tee or a floral print dress, a leather jacket looks fantastic with any and everything.
For this week's Fabulous Find, we found a black faux leather jacket from Delia's that is not only stylish, but totally budget-friendly, at just $24.50. The moto jacket has a clean and classic shape, so it won't go out of style after a few seasons — it can truly be worn for years to come.
Ready to see what our Fab Find looks like? Simply scroll on down to check it out, as well as several ideas on how to style it this season:
The Jacket: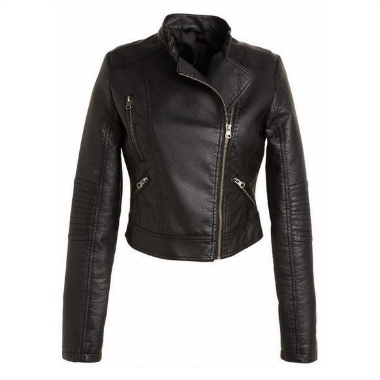 Moto Jacket in Black — $24.50 at Delia's
Outfit Inspiration
If you like this cheap and chic jacket, then you're going to love the outfits we put together for inspiration. Read on to find out three stylish ways to wear this week's Fabulous Find:
Outfit #1: Chic & Polished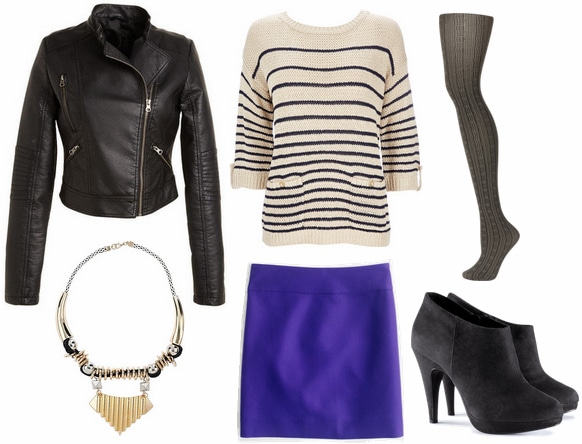 Product Info: Jacket- Delia's, Sweater- Windsor, Tights- Topshop, Necklace- Topshop, Skirt- J. Crew Factory, Shoes- H&M
For our first outfit, start by pairing a striped sweater with a cobalt blue skirt. Layer on the moto jacket as well as a pair of on-trend printed tights. Next, add a pair of chic suede ankle booties. Accessorize with a mixed metal statement necklace to complete this look.
Outfit #2: Stylish & Casual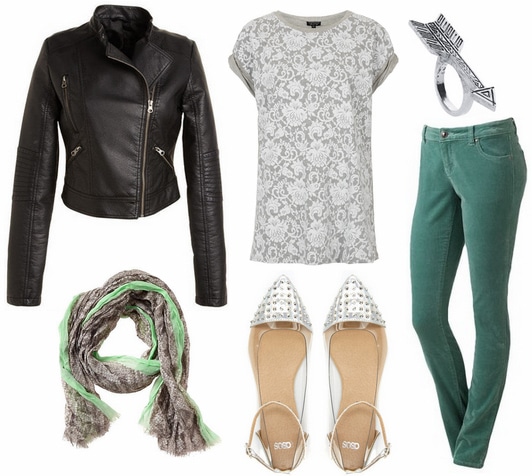 Product Info: Jacket- Delia's, Tee- Topshop, Ring- House of Harlow 1960, Scarf- Banana Republic, Shoes- ASOS, Pants- Kohl's
Create a cute and casual look for class by pairing mint-colored cords with a pretty lace-print tee. A printed scarf and our Fab Find add a stylish, yet cozy vibe, while studded, pointy-toe flats give this look a fashion-forward flair. For the finishing touch, accessorize with a silver arrow-shaped ring.
Outfit #3: Party Perfection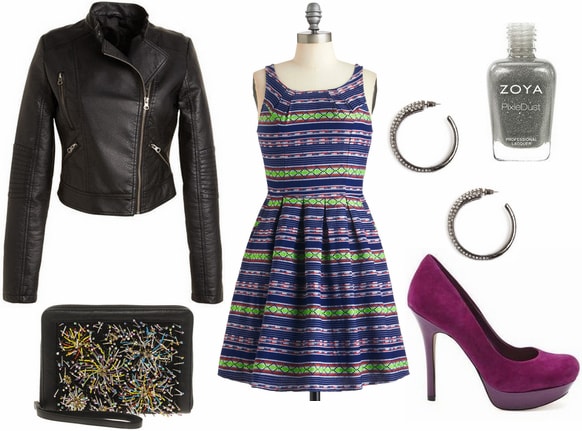 Product Info: Jacket- Delia's, Dress- ModCloth, Earrings- Bauble Bar, Nail Polish- Zoya's "London", Bag- ASOS, Shoes- Jessica Simpson Collection
Pairing a tough faux leather jacket with a pretty party dress can create a fantastic sense of contrast, so that's exactly what we did for this final look. Add a pair of colorful pumps, then grab a unique beaded clutch. Since the dress and handbag are such statement pieces, simply accessorize with some sleek hoop earrings. Finally, paint your nails with a trendy matte nail polish.
Your thoughts?
What do you think of this week's Fabulous Find? Would you buy this faux leather jacket from Delia's? Which look is your favorite? How would you wear a moto jacket? Remember to leave a comment below and tell us what you think!