For this week's Fabulous Find, we're featuring a chic printed maxi dress from Cotton On. In case you didn't know, Cotton On is an Australian-based fast-fashion retailer, but they have a bunch of stores in the US, too. I shopped there for the first time a few weeks ago, and was really impressed with their trendy offerings and great deals.
Take this week's Fab Find for instance. It's a versatile black-and-white maxi dress that features an abstract leopard print, and it's currently on sale for a mere $10. Scroll down to check out the dress, as well as three waysto style a maxi dress for early fall.
The Dress:

Star Split Hem Woven Maxi Dress in "Leopard Fusion Black" — $10 (on sale!) at Cotton On
Outfit Inspiration
If you like this cheap and chic dress, then you're going to love the outfits we put together for inspiration. Read on to find out three stylish ways to wear this week's Fabulous Find:
Outfit #1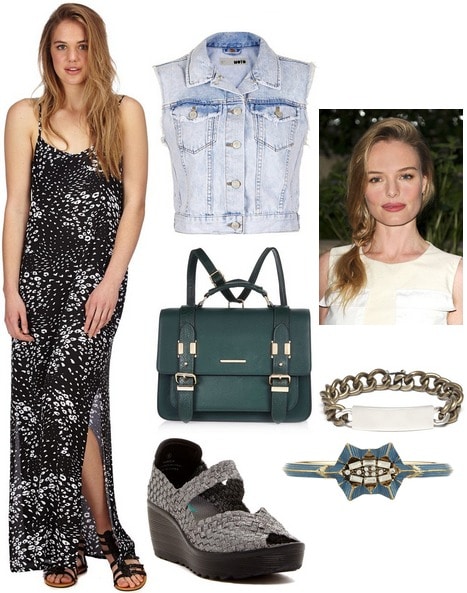 Product Info: Dress- Cotton On, Vest- Topshop, Bag- River Island, Chain Bracelet- Marc Jacobs, Bangle- Lulu Frost, Shoes- Nordstrom Rack | Hair Photo: ELLE
If it's still fairly warm where you are, try out this on-trend look. Wear the maxi dress with a light-wash denim vest and a pair of cool woven wedges. Stash your essentials in a structured hunter green satchel, then accessorize with a few mixed metal bracelets. Finally, keep your hair away from your face by styling it into a cute side braid.
Outfit #2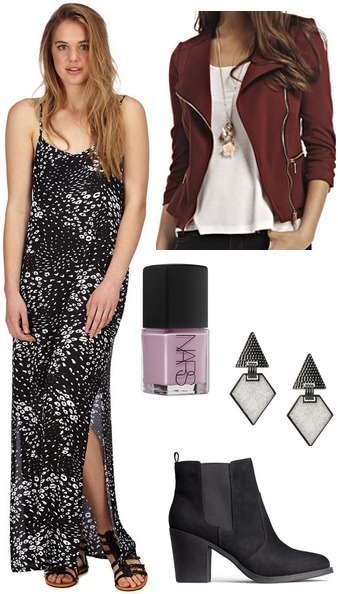 Product Info: Dress- Cotton On, Jacket- Wet Seal, Nail Polish- NARS, Earrings- Oasis, Shoes- H&M
Make this maxi dress work for early fall by layering on a burgundy-colored moto jacket. Wear a pair of black ankle booties, and if it's extra chilly out, you could also put on a pair of sheer or semi-sheer tights. Accessorize with these edgy geometric drop earrings, then paint your nails a contrasting pastel hue.
Outfit #3
Product Info: Dress- Cotton On, Sweater- Mango, Bag- Forever 21, Necklace- BaubleBar, Shoes- Target
I love layering sweaters over dresses, and this gray cropped sweater looks especially chic against the black-and-white printed maxi. The olive color of these boots looks so cool and trendy, and the detailing on the side is repeated on this sleek black backpack. For the finishing touch, wear a glam jeweled statement necklace.
Your thoughts?
What do you think of this week's Fabulous Find? Would you buy this Cotton On dress? Which look is your favorite? How would you wear a maxi dress in the fall? Remember to leave a comment below and tell us what you think!