This week's Fabulous Find is something that can work in just about every season- which is why you should get it now, and then let it carry you through fall, winter, and into spring! Leather has been huge for the past few seasons, and it's probably one of the most easy ways to play with texture and add an edgy feel to any outfit. This pleather skirt may not be REAL leather (but that's good, right?!) but it's definitely an adorable alternative – and at only $11.99, there's no reason not to make it the newest addition to your wardrobe.
Although there are millions of ways to style this skirt for every kind of occasion and weather, I styled some summer-friendly ensembles for your viewing – and inspirational – pleasure!
The Skirt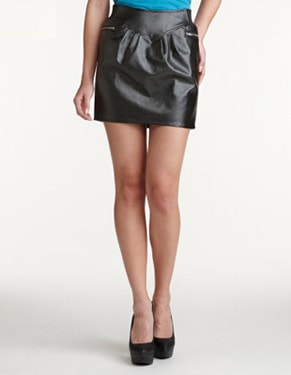 Knit Waist Pleather Skirt – $11.99 at Charlotte Russe
Outfit Inspiration
Here are three different ways to wear this pretty pleather skirt – one casual, one a bit more polished, and one dressy.
1. Galaxy Girl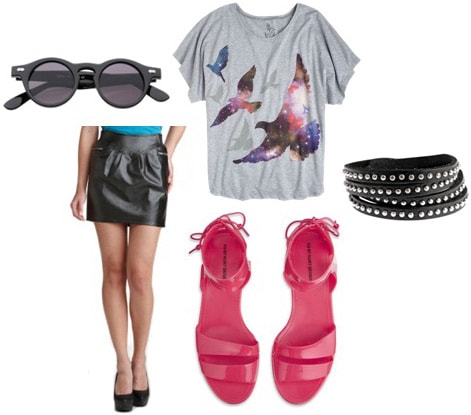 Skirt, Tee, Sandals, Sunglasses, Bracelet
While leather is huge right now, another rising trend is space-inspired fashion – I don't know about you guys, but I'm seeing galaxy prints everywhere for fall! Work both of these trends into the same outfit by pairing the skirt with this awesome galaxy-bird (I guess it sounds kind of weird when I say it like that…) tee tucked in and bloused out a bit.
For accessories, I love these hot pink jelly sandals – they add yet another cool texture to the outfit and make the pink hues in the tee really pop. Finish off the look with these awesome round sunglasses and a studded wrap bracelet.
2. Blue Jean Baby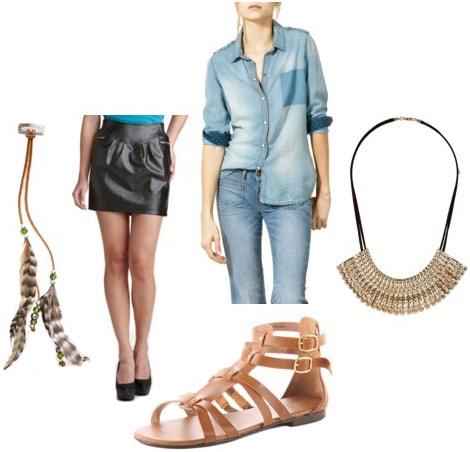 Skirt, Shirt, Sandals, Necklace, Clip
If you thought there were a bunch of textures going on in the first outfit, this one will blow your mind. Pleather, denim, metal, leather, feathers – this look has it all! Denim shirts look awesome with just about any outfit, and this one is no exception. Tuck the shirt into the skirt and add this awesome metal bib necklace, a pair of tan gladiators, and a cool boho feather hair clip for a little extra somethin' somethin'.
3. Pretty Polished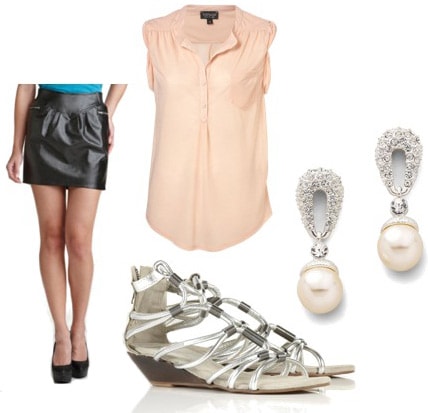 This is obviously the most dressy of the three looks – and in my opinion, it's also the prettiest! By pairing this pretty, girly nude-colored blouse and these super girly earrings with the toughness of the skirt, you create get a gorgeous (but still completely badass) look. Finish the outfit off with a pair of pretty metallic shoes – whether you choose a more manageable pair like the ones I picked, or a pair of killer stilettos, you'll look amazing.
Your thoughts?
Who knew leather (or pleather) could be so versatile?! The options for styling it are endless – so now I want to know: What would YOU wear this skirt with? Do you think it'd be a good investment for seasons to come? Let me know what you think- I always love hearing what you guys have to say!