This week's Fabulous Find is kind of a contradiction in itself – a short sleeved sweater. I know what you're thinking: Sweaters are to keep you warm, right? So… you kind of need full sleeves to do that, right? WRONG.
I recently bought a short sleeved sweater and I have worn it to death – it's definitely become one of my go-to pieces. Its short sleeves actually make it much more versatile – it's perfect for those random spring-like days during the colder months, and perfect for layering under jackets on the actual cold days.
This one, from Charlotte Russe, has a slight metallic sheen to it (which I'm obsessed with) and is only $9.99 – so why not nab it now and wear it through the rest of winter AND spring?!
The Sweater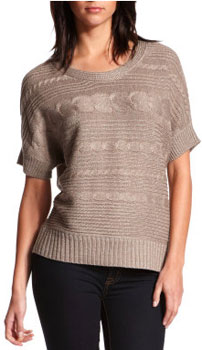 Metallic Cable Knit Top – $9.99 at Charlotte Russe
Outfit Inspiration
To get your inspiration going, here are a few examples ways to rock this awesome, versatile, budget-friendly sweater.
Outfit 1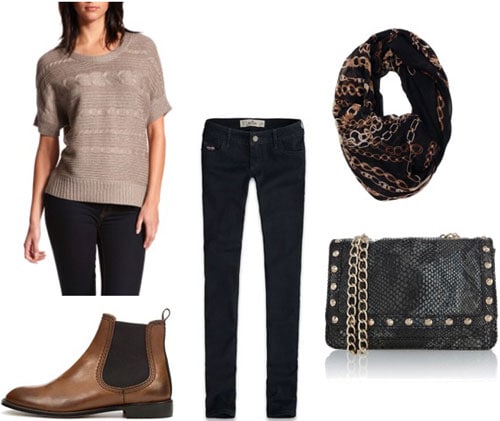 Sweater, Jeggings, Boots, Scarf, Purse
This outfit is perfect for one of those warmer winter days – which is exactly what we've been having down here in Florida lately! Here, the sweater is paired with some dark-wash jeggings and these awesome flat ankle boots. A black scarf with chain graphics ties in the neutral browns from the shoes and sweater, while this great cross-body bag adds to the chain theme and gives the look a little shine. This ensemble would be perfect for class or just hanging around outside on a beautiful, warm winter day!
Outfit 2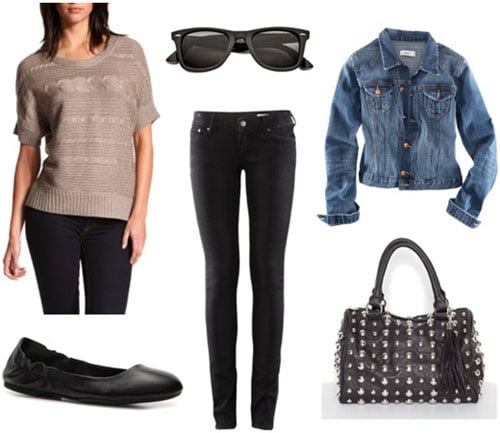 Sweater, Jeans, Jacket, Sunglasses, Flats, Bag
This look is just as casual as the first, but gives off a slightly edgier vibe. This time, I mixed the sweater with this great pair of black skinnies, and added a classic denim jacket. A pair of black flats keeps the look feminine and simple, while this amazing studded bag packs a badass punch. The look is perfectly topped off with a pair of black wayfarers for that laid-back, carefree feel.
Outfit 3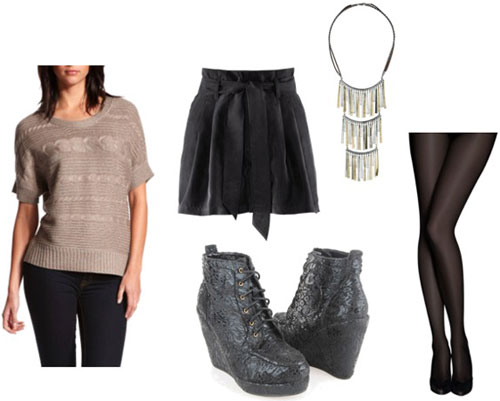 Sweater, Shorts, Wedges, Tights, Necklace
The last – and dressiest – look is perfect for a night out on the town, whether it's an evening with the girls or a hot date! For this look, tuck the sweater into an awesome pair of high-waisted, belted shorts (that resemble a skirt) – the combo acts as a pretty background to a silver statement necklace. Black tights keep you warm when layered underneath the shorts, while these great metallic lace-up wedges elongate the legs to give you that badass, bombshell look.
Your thoughts?
So there you have it – three very different ways to wear this amazing sweater! So now it's time for you to let me know what YOU think: Which look was your favorite? Would you wear this sweater? How would you style it? Let me know in the comments.