High-low skirts and dresses were popular throughout summer, and this trendy hemline isn't going anywhere for fall. So for this week's Fabulous Find, we found a gorgeous solid-colored high low skirt that's perfect for transitional weather, meaning you can wear it now while the weather is still warm and rock this skirt during autumn by switching up a few key pieces.
This skirt comes from the always trendy and budget-friendly Charlotte Russe and is available in three colors, although we decided to go with the chic "charcoal" gray option for this week's post. The best part? This lovely skirt rings in at just under $17, making it a stylish and inexpensive option. Scroll on down to check out the skirt as well as some outfits for inspiration.
The Skirt: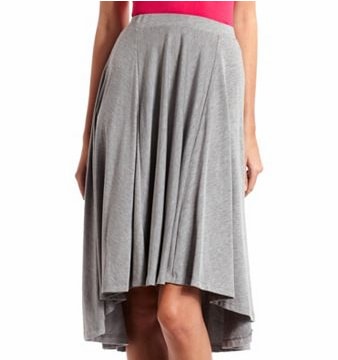 Solid Hi-Low Full Skirt in Charcoal — $16.99 at Charlotte Russe
Outfit Inspiration
If you like this cheap and chic skirt then you're going to love the outfits we put together for inspiration. Read on to check out three stylish ways to wear this week's Fabulous Find:
Outfit #1: Daytime Girly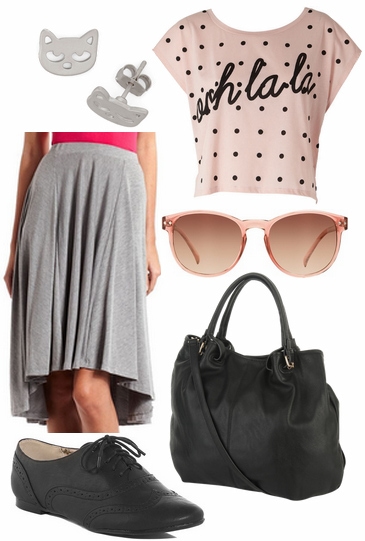 Product Info: Skirt- Charlotte Russe, Earrings- ModCloth, Top- Alloy, Sunglasses- Swell, Bag- Forever 21, Shoes- Dorothy Perkins
This first outfit is a fantastic way to style this skirt before the cool fall weather hits. Pair the skirt with a cute light pink graphic tee for a casual look. Add a pair of comfy lace-up oxfords and a matching bag – this one is large enough to hold all of your essentials whether you're headed to class or just running some errands. Accessorize with a pair of stylish pink sunglasses and some quirky-cute cat earrings for a laid-back outfit with a distinct feminine flair.
Outfit #2: Cute on Campus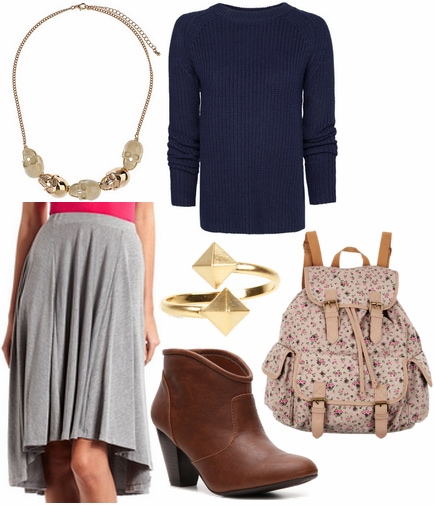 Product Info: Skirt- Charlotte Russe, Necklace- Topshop, Top- Mango, Ring- Windsor, Bag- Delia's, Shoes- DSW
Our second outfit is a stylish way to wear this skirt for autumn. First, pair the skirt with a cozy navy blue sweater and add some brown ankle boots for a comfy and casual look. Create a fashion-forward vibe with a skull-shaped statement necklace and a gold pyramid stud ring. For the finishing touch, grab an adorable floral print backpack, which makes this look perfect for a day on campus.
Outfit #3: Edgy Night Out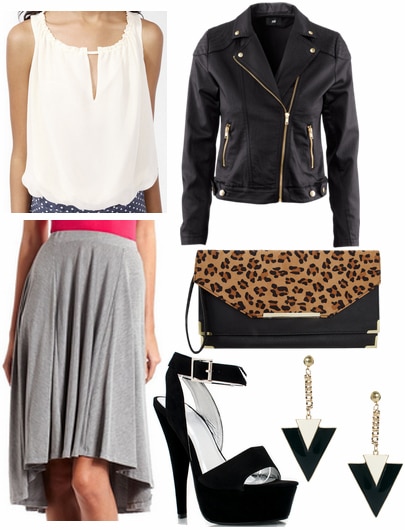 Product Info: Skirt- Charlotte Russe, Top- Forever 21, Jacket- H&M, Bag- Dorothy Perkins, Shoes- Go Jane, Earrings- ASOS
For this last look, pair the skirt with a sleeveless white blouse for a chic and effortless night out ensemble. Add a pair of sky-high platform pumps and a trendy faux leather motorcycle jacket. Finally, accessorize with a leopard print clutch and some triangle-shaped statement earrings. This edgy, yet dressy look would be perfect for hanging at the bar (if you're over 21, of course!) or heading to a party with your girlfriends.
Your thoughts?
What do you think of this week's Fabulous Find? Would you buy this skirt from Charlotte Russe? Which look is your favorite? How would you wear the skirt? Remember to leave a comment below and tell us what you think!