Confession time: I don't wear heels. Like, I really, really don't. I can't walk in them, and when I try, I look like a baby deer. (Sidenote: Aww, baby deer!) HOWEVER, I can manage wedges, and if I'm feeling confident, I can handle a pair of heels that has a significant platform so that the angle of my foot isn't SO extreme.
This week's Fabulous Find embodies just that: These amazing wooden heels from Charlotte Russe will go with anything because of their two-toned look – and on top of that, they have a nice, big platform so they're easy to walk in. The best part? They're on sale right now for buy one, get one for $15.50 (split your order with a friend and get two pairs for $27 each)! You can't beat that.
The Shoes: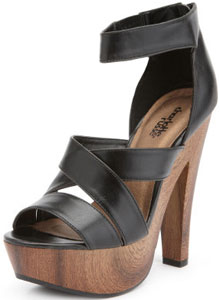 Strappy Wood Platform Heel – BOGO $15.50 ($27 each) at Charlotte Russe
Outfit Inspiration:
Now that you've seen this week's "Find", check out three cute ways to wear these awesome heels!
1. Casual Daytime Look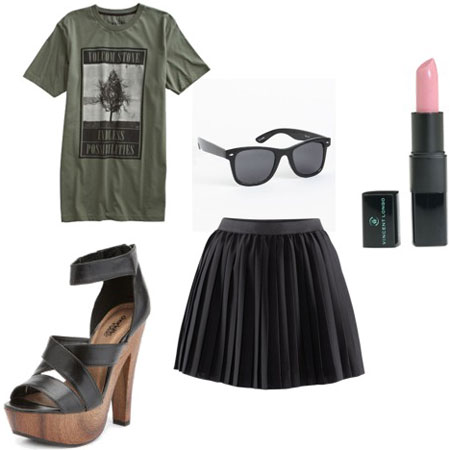 Heels, Skirt, Shirt, Sunglasses, Lipstick
I can't speak for the rest of you, but I probably wouldn't wear heels to run errands alone. That being said, this is definitely a more casual way to wear this awesome pair of heels! For this look, I chose to pair them with this classic pleated black skirt and a (boys) oversized graphic tee. A pair of sunglasses and some girly pink lipstick contrast nicely with the toughness of the rest of the outfit.
2. Put-Together & Chic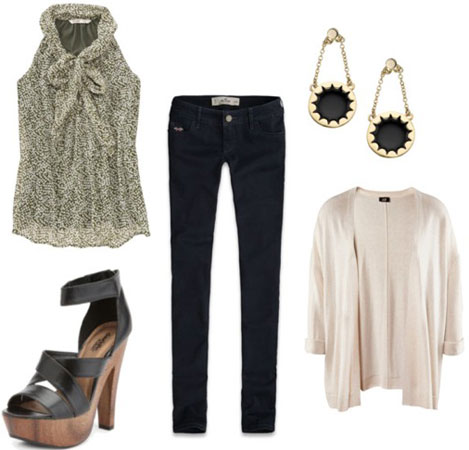 Heels, Jeggings, Top, Cardigan, Earrings
This look is definitely much more polished than the first – heels and jeans are one of the most classically stylish wardrobe combinations. After the jeans, I added this pretty flowy printed top and a cream colored open cardigan. I chose to top the look off with this unique pair of black and gold earrings. This would be great for work (I work in a boutique, so this would be perfect!) or a nice lunch, dinner, whatever!
3. Dressy for a Night Out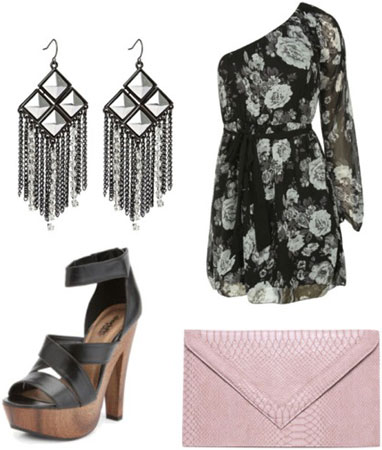 Heels, Dress, Earrings, Clutch
The third and most dressy look would be great for a hot date or a night out with the girls! This awesome one-shouldered, floral print dress goes well with the heels, while the silver earrings and subtle pink clutch add a little interest.
Your thoughts?
So there you have it: three cute, different ways to style these awesome heels from Charlotte Russe. Would you guys wear these heels? Which was your favorite look? Let me know what you guys think – I always love your great feedback!