This week's Fabulous Find is small and very often underestimated – a solid black scarf from Charlotte Russe. At only $9.50, this fringed scarf is the perfect finishing touch to any outfit, regardless of the weather! Cold weather, Florida weather (woohoo!) or awkward transitional weather, a scarf adds not only texture to any look but also a little bit of character.
So check out these three cool ways to work this amazing, affordable, fabulous find!
1. Casual & Polished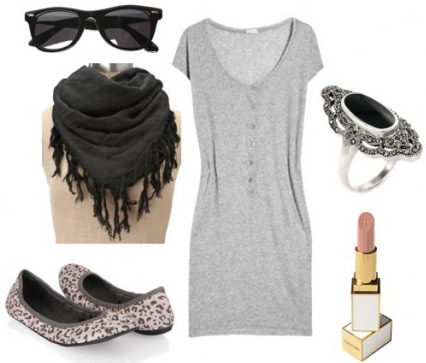 Scarf, Dress, Flats, Sunglasses, Ring, Lipstick
This look is so chic and polished as a whole, but each individual piece is also very casual and wearable. An extremely informal gray t-shirt dress is made much more polished by adding a pair of leopard ballet flats and the cool fringed black scarf. Top off this minimalist look with a vintage-y black and silver ring, a pair of black wayfarers, and pretty nude lipstick.
2. Date Night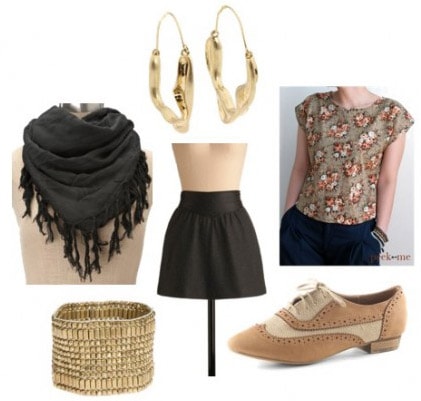 Scarf, Skirt, Top, Oxfords, Earrings, Bracelet
This outfit is obviously a bit dressier than the first, and gives off a really pretty, feminine, kind of retro vibe. This time, the scarf is paired with a flouncy black skirt and a pretty floral top with taupe, brown, cream, and peachy hues. I chose to play off of the colors in the shirt by adding these adorable oxford flats in the same color palette. The gold earrings put an interesting twist on the average hoop, and a faceted gold bracelet adds interest and a little shine.
3. Warm Weather Option!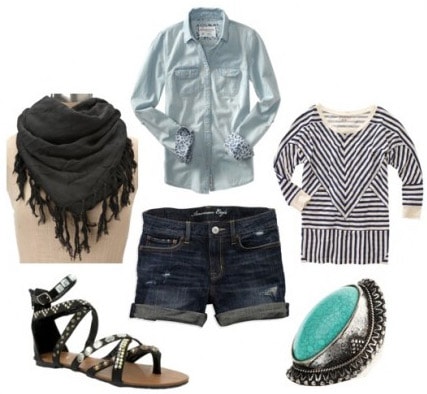 Scarf, Shorts, Long Sleeve Tee, Button Down, Sandals, Ring (out of stock, but similar one here)
This is definitely a look I've been rocking since the weather has become so warm all of the sudden down here in Florida. One of my favorite combinations for this type of weather is a pair of shorts with a long sleeve shirt – it's the equivalent of jeans and a tank top (but better, if you ask me!).
Above, I paired some cuffed denim shorts with a shirt that puts a twist on the usual nautical striped tee. Some of you might not be crazy about any form of denim-on-denim, but I don't mind it (I actually really like it) when it's super dark denim paired with a light chambray shirt. That being said, I included a chambray shirt to be left open over the tee, and finally added the black fringed scarf over that. Finish off the look with a pair of studded sandals and a cool turquoise ring for a bright pop of color.
Your thoughts?
So there you have it, three easy ways to style this incredibly versatile scarf from Charlotte Russe! Which outfit is your favorite? Do you like the scarf? How would you style it? Let me know what you guys think!