Florals are among those rare patterns can be worn for practically any occasion: whether you dress them up or down, they always look fantastic! Winter is the perfect time to rock a dark floral print, which is exactly what we found for this week's Fabulous Find.
This navy blue chiffon blouse is adorned with fuchsia and deep yellow flowers- such a cute and stylish choice for the season. Plus, this Charlotte Russe top can easily be layered with other pieces, making it a versatile addition to any wardrobe.
Ready to see what the blouse looks like? Scroll on down to check it out, as well as a few winter-appropriate outfit ideas.
The Blouse: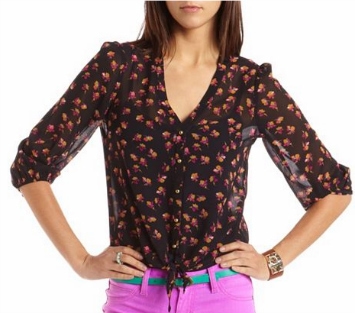 V-Neck Chiffon Tie-Front Blouse in "Navy Combo" — $21.99 at Charlotte Russe
Outfit Inspiration
If you like this cheap and chic blouse then you're going to love the outfits we put together for inspiration. Read on to find out three stylish ways to wear this week's Fabulous Find:
Outfit #1: Everyday Chic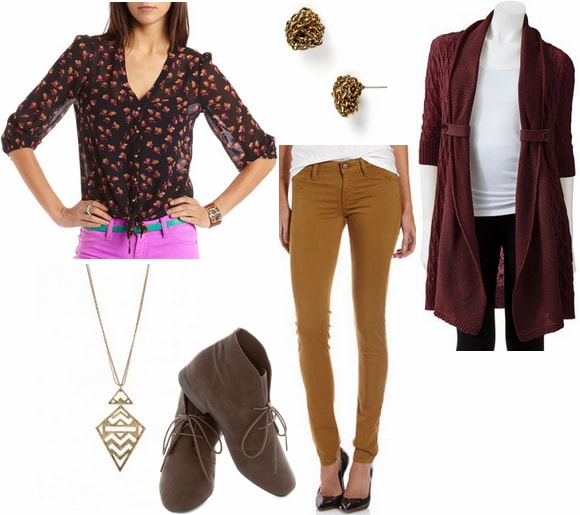 Product Info: Blouse- Charlotte Russe, Earrings- Bloomingdale's, Sweater- Kohl's, Necklace- Sosie, Shoes- ModCloth, Jeans- Last Call by Neiman Marcus
Incorporate our Fab Find into a casual everyday outfit by pairing it with some colored skinny jeans. The mustard yellow hue of the denim works perfectly against the colors found on the blouse. Next, layer on a long, cozy cardigan and add some taupe ankle boots. For the finishing touch, accessorize with a long chevron necklace and a pair of knotted gold stud earrings.
Outfit #2: Pretty Little Layers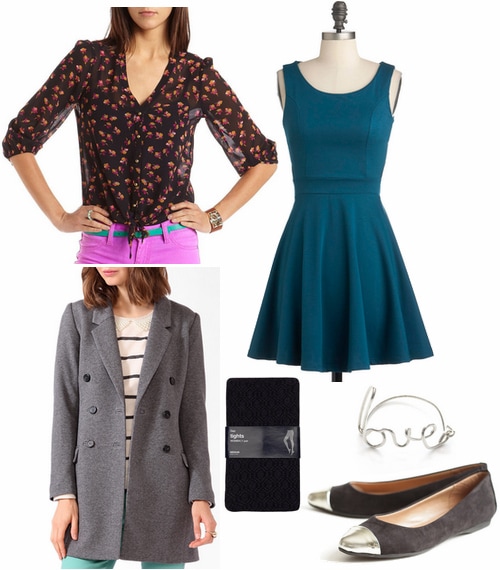 Product Info: Blouse- Charlotte Russe, Dress- ModCloth, Coat- Forever 21, Tights- Gap, Ring- Boticca, Shoes- Ruche
If you have a super-girly fashion sense, try pairing the blouse with your favorite A-line frock. The top could be layered under or over the dress – it's up to you. A gray pea coat helps make this outfit winter-appropriate, as do these printed tights. Slip on a pair of cap-toe ballet flats and accessorize with an adorable silver ring to complete this look.
Outfit #3: Cute & Colorful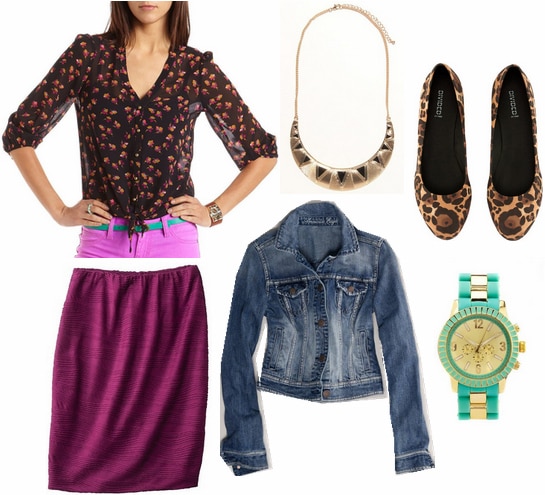 Product Info: Blouse- Charlotte Russe, Necklace- PacSun, Shoes- H&M, Skirt- Target, Jacket- American Eagle Outfitters, Watch- Charlotte Russe
For the final outfit, pair the blouse with a purple skirt for a pretty and polished look. Add a classic denim jacket, which is the perfect complement to both pieces. Leopard print flats give this look a fashion-forward vibe, while a geometric collar necklace adds some edge. Finally, accessorize with a mint-and-gold watch for a final dose of color.
Your thoughts?
What do you think of this week's Fabulous Find? Would you buy this top from Charlotte Russe? Which look is your favorite? How would you wear this blouse? Remember to leave a comment below and tell us what you think!