I'm a huge fan of shoulder embellishments, so for this week's Fabulous Find, I found a low-key yet edgy top that features – you guessed it – embellished shoulders. This gray and black top is a nice casual piece for fall, but the geometric embellishments really amp up the style. Plus, this Charlotte Russe top rings it at around $22, making it a versatile and budget-friendly fall find.
Ready to see what the top looks like? Simply scroll down to check it out, as well as three cute and casual ways to wear it:
The Top: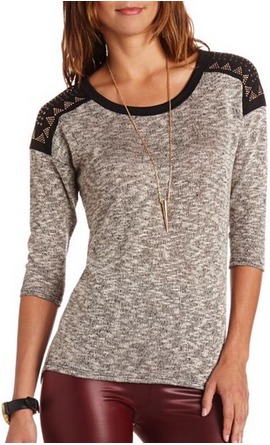 Embellished Shoulder Hacci Tunic — $21.99 at Charlotte Russe
Outfit Inspiration
If you like this cheap and chic top, then you're going to love the outfits we put together for inspiration. Read on to find out three stylish ways to wear this week's Fabulous Find:
Outfit #1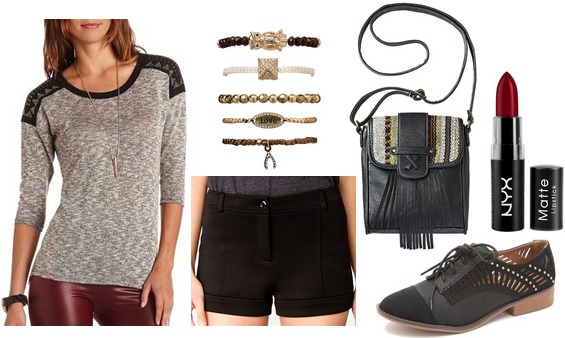 Product Info: Top- Charlotte Russe, Bracelets- Maurcies, Bag- Target, Lipstick- NYX, Shorts- Forever 21, Shoes- Pacsun
I live in Florida, which (unfortunately!) means it's still shorts weather where I am. If you live in a similar climate, I've created this outfit just for you!
Start by pairing our Fab Find with a pair of black shorts and some cute cut-out oxfords. Of course, if the weather is colder where you live, you can easily swap those two pieces out for jeans and boots. A fringed handbag adds a boho touch, as does this eclectic bracelet set. Complete the look by painting your lips a sophisticated matte red shade.
Outfit #2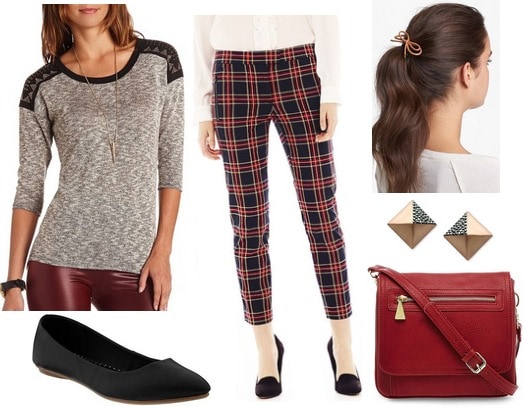 Product Info: Top- Charlotte Russe, Pants- JCPenney, Hair Tie- Nordstrom, Shoes- Old Navy, Earrings- Macy's, Bag- JCPenney
I'm a tad obsessed with plaid this season, so of course I couldn't resist pairing this blouse with some preppy-meets-grungy cropped plaid trousers. Black flats keep things casual, while a red handbag picks up on the color of the pants. As far as accessories go, pyramid stud earrings and a unique bow-shaped ponytail holder add the finishing touches to the ensemble.
Outfit #3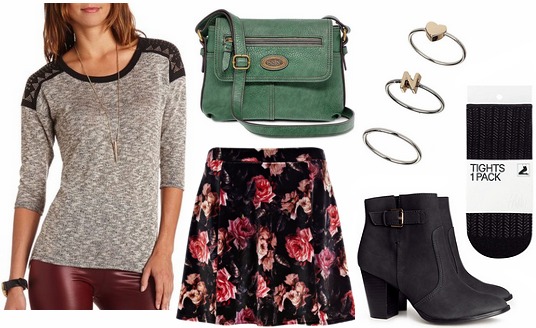 Product Info: Top- Charlotte Russe, Bag- JCPenney, Rings- Topshop, Skirt- River Island, Shoes- H&M, Tights- H&M
For a girly yet casual look, try wearing this top with a dark floral print skirt. Make the outfit autumn-appropriate with a pair of ankle boots and some patterned tights. Add a contrasting pop of color with a mint-hued bag, then accessorize with a few delicate midi rings.
Your thoughts?
What do you think of this week's Fabulous Find? Would you buy this Charlotte Russe top? Which look is your favorite? How would you wear this top? Remember to leave a comment below and tell us what you think!