Let me just start by saying that the Fabulous Find for this week is, honestly, something that I probably wouldn't normally jump at right away – in fact, I might even think it was, dare I say, a little cheesy.. sequined flowers aren't normally my thing.
However, something about this long-sleeve tee caught my eye – and it's NOT just the fact that it's only $9.99(!)… it's just, well, cute.. and surprisingly versatile for the price. Check out these ways to style the tee to spark your very own fashion inspiration!
The Shirt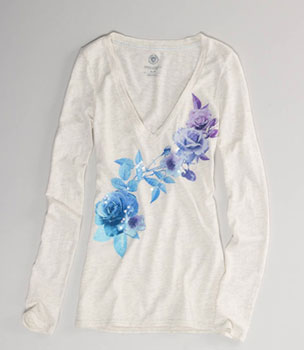 Sequin Floral Long Sleeve Tee – $9.99 at AE
Outfit Inspiration
Outfit 1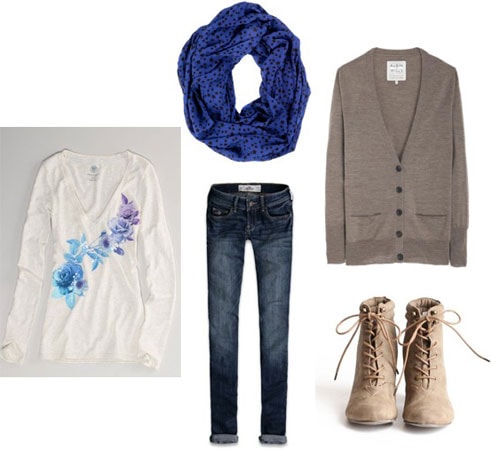 Shirt, Jeans, Cardigan, Scarf, Booties
This look is super casual and laid-back – it'd be perfect for class. Here, the tee is paired with some casual jeggings and a neutral-colored cardigan. These great lace-up booties introduce another neutral, while a fun patterned blue scarf adds a great pop of color and plays off the colors in the floral pattern.
Outfit 2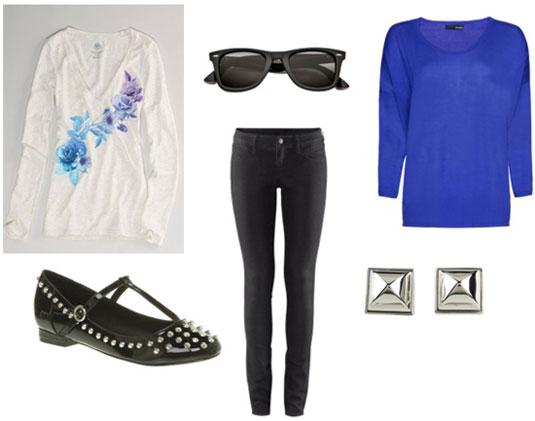 Shirt, Jeans, Pullover, Flats, Earrings, Sunglasses
Sure, this shirt has a cute graphic on it, but who says you always have to SEE it when you wear it?! I chose to use the long sleeved tee simply as an undershirt in this look – allowing the bottom hem and long sleeves to peek out from underneath this royal blue pullover. Skinny black jeans look great with these AMAZING studded t-strap flats, stud earrings, and black wayfarers.
Outfit 3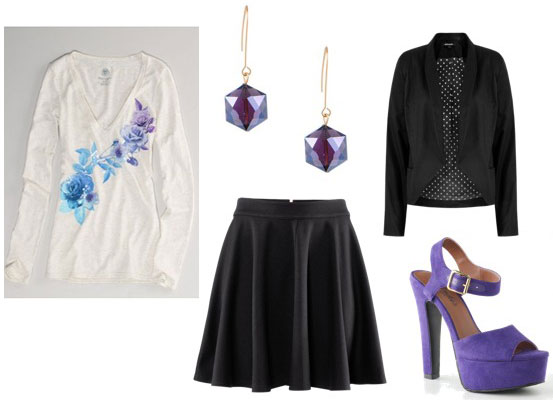 Shirt, Skirt, Blazer, Heels, Earrings
This last and most dressy look is all about playing up the colors in this pretty, fun floral tee. Paired with a flouncy black skirt, the shirt is accentuated by an incredible pair of purple heels and some faceted purple jewel earrings. A black tuxedo-style jacket finishes off the look perfectly.
Your thoughts?
How would YOU style this unique shirt? Do you ever wear printed tops as layering pieces? Which look is your fave? Tell us in a comment!