As much as I love jeans, there are some days when your legs just need to soak up a bit of Vitamin D. And if you're the kind of girl who wears shorts every day during the summer, you know that a versatile, comfortable pair is hard to beat.
This week's Fabulous Find comes pretty close to being the perfect pair of shorts: they have an elastic waistband for comfort, they're fancy enough for a night out, and they're currently under $13 at H&M. These shorts even have some unique draped detailing on the front, to give them that flowy, breezy feel that's ideal for summer. So what are you waiting for? Give them a look:
The Shorts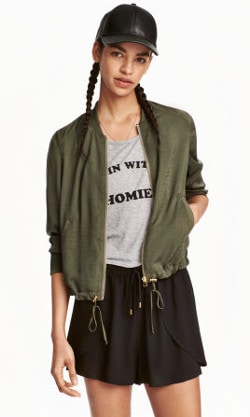 Short Shorts in Black – $12.99 at H&M
Outfit Inspiration
Wear these shorts to class, date night, or the beach — the possibilities are endless!
Outfit #1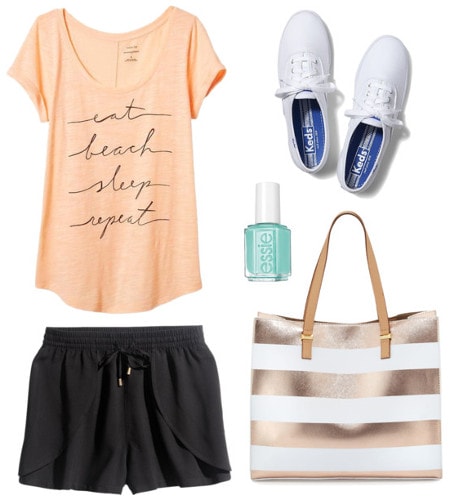 Products: Shorts, Tee, Sneakers, Bag, Nail Polish
For a casual, vacation-ready look, pair these shorts with a fun graphic tee. White sneakers add a preppy touch while also being comfy for lots of walking and sightseeing. Grab a stylish striped tote for your essentials, and for an extra pop of color, paint your nails a tropical turquoise shade.
Outfit #2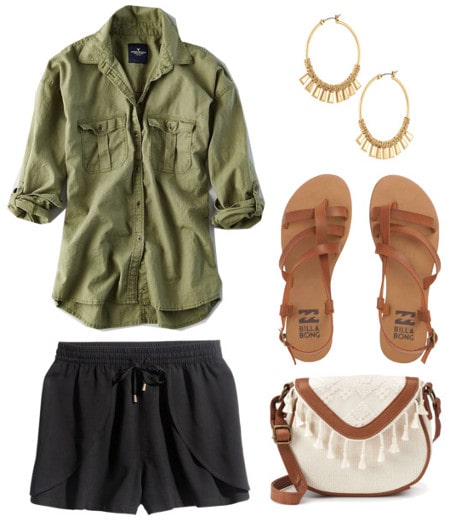 Products: Shorts, Shirt, Sandals, Bag, Earrings
This cute look has a touch of boho, perfect for class, hanging with friends, or an outdoor concert. Pair the shorts with an olive green utility shirt and brown sandals for a comfy, casual vibe. To add more visual interest, grab some fun accessories, like a fringed crossbody bag and gold hoop earrings.
Outfit #3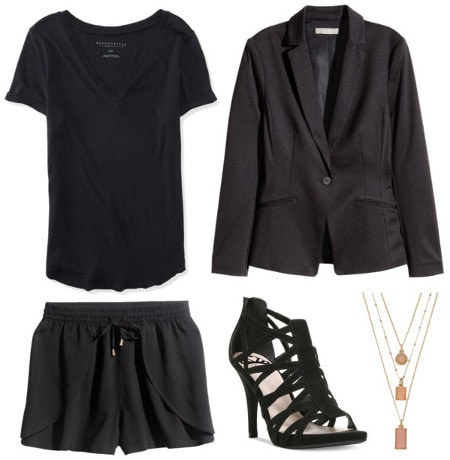 Products: Shorts, Tee, Blazer, Heels, Necklace
Here's how to dress up these shorts for a night out–first, try all black for a classic feel. Style the shorts with a tee, and add a blazer for a bit of structure. For drama, slip on a pair of caged black stilettos. Keep the look easy and effortless by limiting the accessories — something like a layered necklace is all you need to complete the outfit.
Thoughts?
Are you a shorts girl? What's your favorite style? Which look would you wear? Let us know in the comments!