Everyone loves a good chambray shirt — you can dress it up, down, and wear it in any season. It's comfortable, versatile, and classic. So, why not enjoy everything you love about a chambray shirt in a dress?
This week's Fabulous Find is just that — a chambray shirtdress that's universally flattering and makes a great wardrobe staple. And the best part is that it's a steal for less than $15 at Target! Read on for details:
The Dress

Women's Tencel Shirt Dress in Indigo – $14.98 at Target
Outfit Inspiration
Want to see how to wear this classic shirtdress? Here are a few ideas:
Outfit #1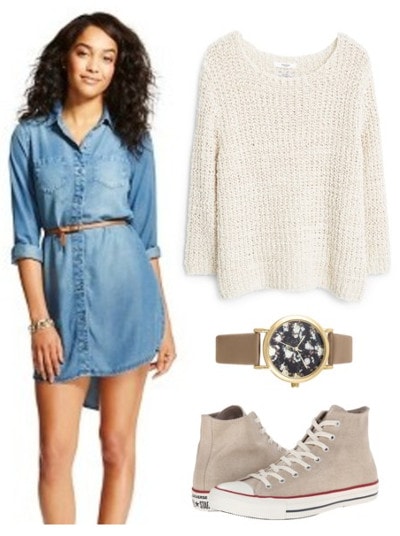 Products: Dress, Sweater, Sneakers, Watch
For a cute and casual look, layer a cozy sweater over the top of the dress with the collar peeking out. Throw on a pair of trendy high-top sneakers, and for a fun touch, add a pretty watch with a floral face.
Outfit #2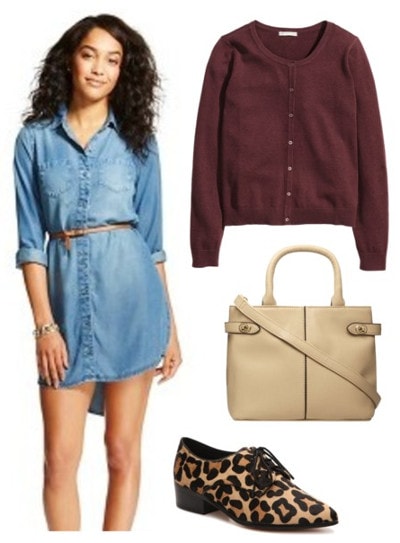 Products: Dress, Cardigan, Bag, Oxfords
For a dressier, polished take on this dress, layer a burgundy cardigan over the dress and grab a sleek beige handbag. For a modern, trendy accent, slip on a pair of leopard oxfords.
Outfit #3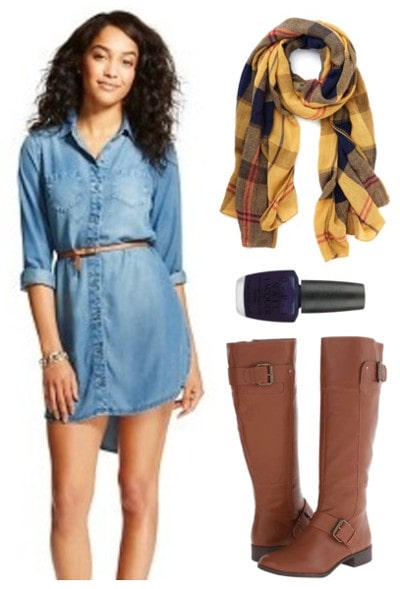 Products: Dress, Scarf, Boots, Nail Polish
For a classic collegiate outfit, style this dress with brown riding boots. Throw on a colorful plaid scarf, and for another pop of color, paint your nails a navy blue. You can also add sheer tights to this for extra warmth if it's cold out.
Share your thoughts!
What do you think of this week's Fab Find? How would you style this shirtdress? Let us know in the comments!