Everyone needs a pair of comfy, classic black booties in their closet – they go with everything and they're a cold weather staple. But if your wardrobe is currently lacking this essential, this week's Fabulous Find is for you!
Target currently has this pair of black suede booties with buckle detailing for only $34.99. They're simple, stylish, and affordable — what more could you want?
The Booties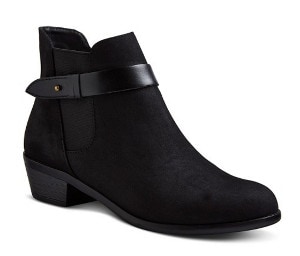 Viola Buckle Flat Chelsea Boots in Black – $34.99 at Target
Outfit Inspiration
And now, read on for three ways to wear this Fab Find:
Outfit #1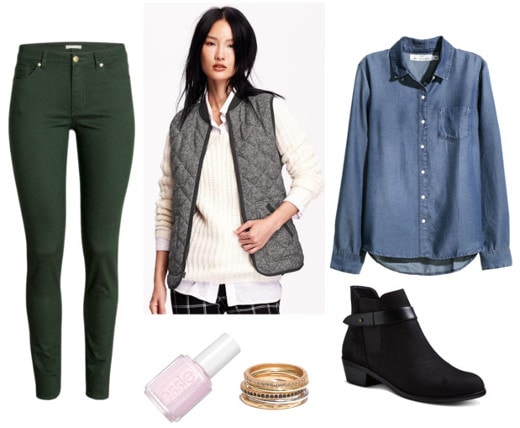 Products: Booties, Vest, Shirt, Pants, Nail Polish, Rings
This cute, layered look would work equally well for class, a weekend outing, or a casual holiday event. Pair forest green pants with a simple chambray shirt, and layer a quilted vest over the top for texture and warmth. (This one has a similar look to J. Crew's ever-popular herringbone vest, but for half the price!) Regardless of your plans, these booties are a comfy, practical choice, but don't forget to dress up the look a bit with delicate pink nails and stacked rings.
Outfit #2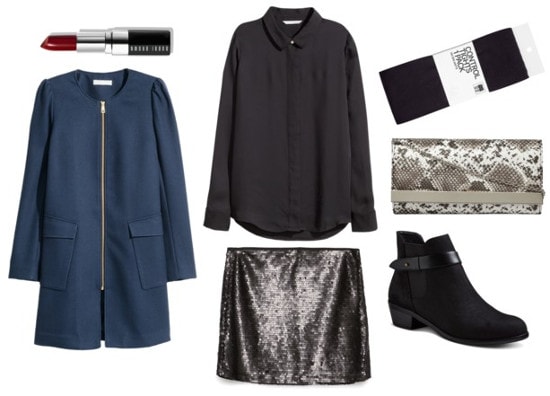 Products: Booties, Blouse, Skirt, Coat, Clutch, Tights, Lipstick
Need a chic, sophisticated evening look that's also appropriate for cold weather? Try pairing a silky black blouse with a sequin mini skirt and black tights. The black booties create a stylish and leg-elongating effect. For another layer, add a sleek coat in a rich color like navy. Lastly, accessorize with a modern snake print clutch and a deep red lip.
Outfit #3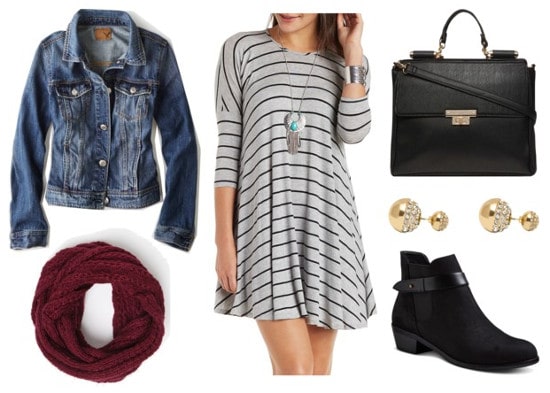 Products: Booties, Dress, Jacket, Scarf, Bag, Earrings
If it doesn't yet feel like winter where you are, try this casual, lightly-layered ensemble. Throw a denim jacket over a striped swing dress, and add a burgundy infinity scarf if you need extra warmth. The black suede booties look cute matched with a black faux leather satchel, and for the final touch, add a pair of sparkly gold earrings.
Thoughts?
Ready to pick up a pair of these classic booties? How would you wear them? Which outfit is your favorite? Let us know in the comments!