Ever had a day when you'd love to go to class in sweats, but also want to look like you put some effort into your appearance? If this sounds familiar, this week's Fabulous Find is for you.
The key to being comfortable and cute is to wear sweats that don't look like sweats –enter this week's find, an eye-catching patterned sweatshirt in a cozy, soft terry cloth material. And it's currently on sale at Old Navy for only $10 — almost less than the price of lunch!
This comfy sweatshirt is versatile enough to wear all throughout the fall and winter months. The slightly cropped fit makes it perfect for pairing with skirts or high-waisted jeans, or for layering over dresses, button-downs, tees… you name it! Interested? Scroll down for a closer look:
The Sweatshirt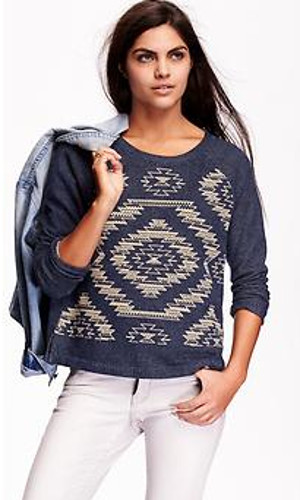 Patterned French Terry Top in Navy Heather – $10.00 at Old Navy
Outfit Inspiration
And now, for a few ideas on how to wear this stylish sweatshirt:
Outfit #1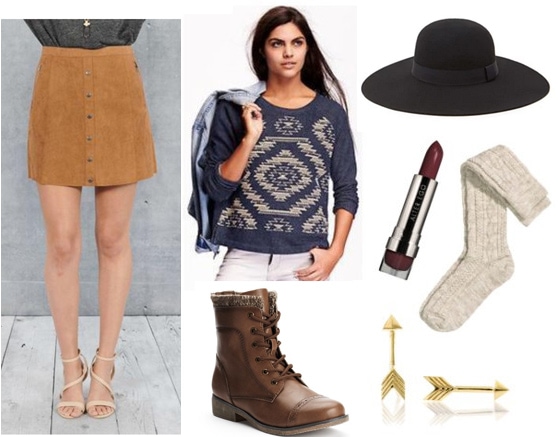 Products: Sweatshirt, Skirt, Boots, Hat, Socks, Earrings, Lipstick
This outfit combines throwback '70s style with a country girl feel. Pair the sweatshirt with a trendy suede skirt, and slip on a pair of cozy knee socks for warmth. Lace-up booties and a wool hat add to the rustic feel. For the final touch, accessorize with gold earrings and a chic plum lip.
Outfit #2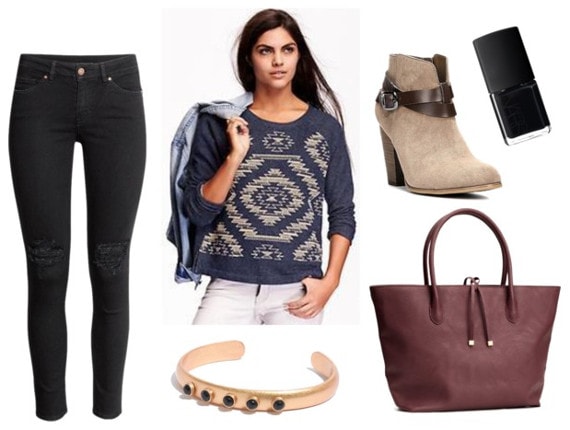 Products: Sweatshirt, Jeans, Booties, Bag, Bracelet, Nail Polish
For a simple everyday look, pair the sweatshirt with black skinny jeans and suede booties. Grab a burgundy tote to carry your class essentials. Don't forget a few fun touches, like a gold bangle and edgy black nails.
Outfit #3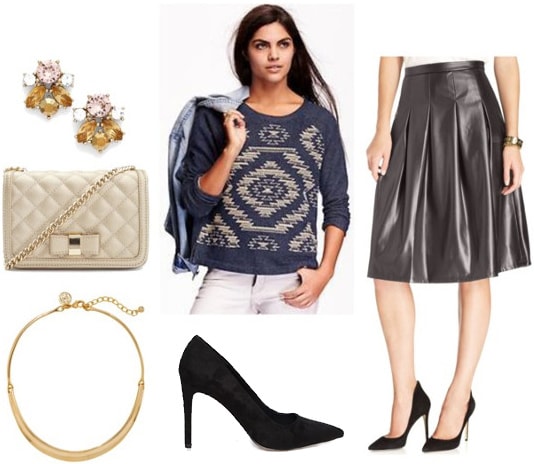 Products: Sweatshirt, Skirt, Heels, Necklace, Bag, Earrings
Want to dress up this Fab Find? Pair it with a faux leather midi skirt and black suede heels for a classy yet modern look. Add some ladylike sparkle with a gold necklace and jeweled earrings, and for another feminine touch, grab a quilted crossbody bag.
Thoughts?
What do you think of this week's Fab Find? Will it be getting a place in your closet? Which outfit would you wear? Let us know in the comments!