It's easy to fall into a rut of plain old denim, wearing the same pair of blue jeans day after day. If you've been feeling like it's time to switch it up, consider trying a more colorful pair–something fun and vibrant for summer. Like, say, this week's Fabulous Find from Old Navy: a pair of bright lilac skinny jeans.
Purple not your shade? These $30 jeans are also available in peachy-orange and olive green. Plus, like all Old Navy jeans, they come in a wide range of lengths and sizes. What's not to love?
The Jeans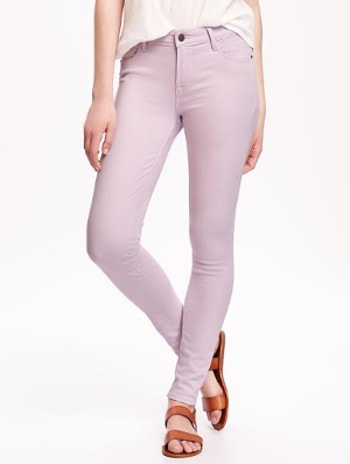 Mid-Rise Rockstar Skinny Jeans in Ashen Lilac – $30.00 at Old Navy
Outfit Inspiration
Intimidated by these eye-catching jeans? Don't be! Here are a few easy ways to style them:
Outfit #1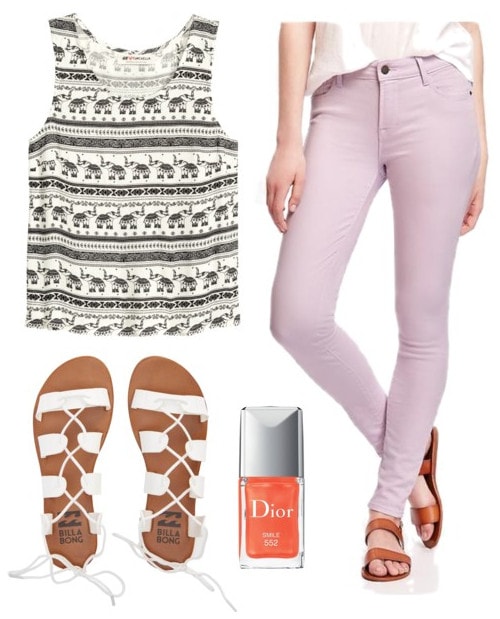 Products: Jeans, Tank, Sandals, Nail Polish
For a simple, summery look, pair these colorful jeans with neutral pieces, like a black and white elephant print tank. White sandals also play a supporting role, while letting the jeans be the center of attention. Lastly, add a little more visual interest with a pop of orange on your nails (to contrast nicely with the pale lilac hue).
Outfit #2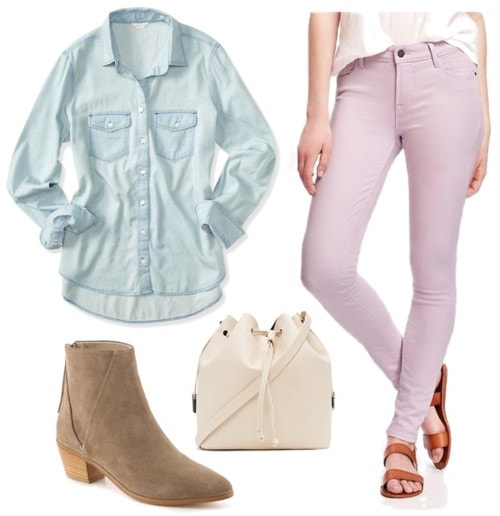 Products: Jeans, Shirt, Boots, Bag
This polished look makes use of complementary colors and textures. To keep with the pastel palette of the jeans, try them with a faded chambray shirt. Taupe suede booties, like the chambray, add another textural element. Don't forget to grab a sleek bucket bag as the final touch.
Outfit #3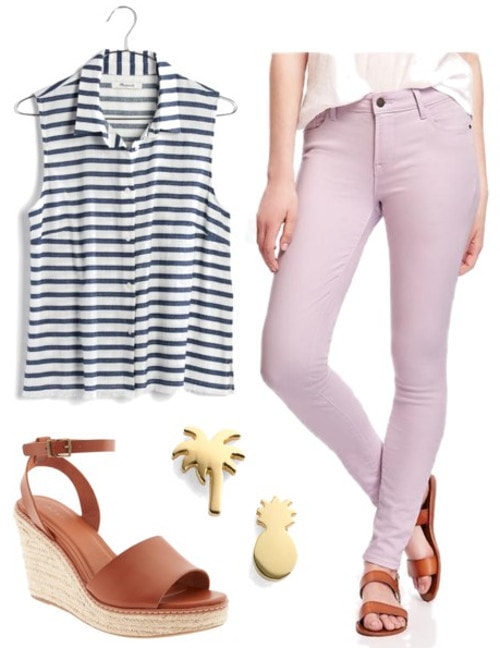 Products: Jeans, Shirt, Shoes, Earrings
This summery ensemble has just a hint of prep, perfect for your next resort vacation. Start by pairing the jeans with a crisp sleeveless button-down. Brown wedge sandals add a polished, dressy feel, and for nod to the tropics, throw on these fun earrings as well.
Thoughts?
Would you wear these pants? Which outift is your favorite? Let us know in the comments!