Whether you're enjoying warm spring weather now or you'll be vacationing somewhere sunny later, a comfortable romper is a great staple to have in your closet for spring and summer. Not only is a romper an easy one-piece outfit, but it's ideal for wearing to the park, the beach, or on a date.
Looking to pick up a romper for yourself? Try this week's Fabulous Find, an affordable printed number from H&M — it comes in a range of colors and sizes, and it's only $17.99!
The Romper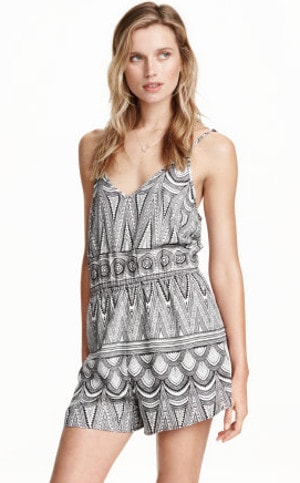 Sleeveless Jumpsuit in White/patterned – $17.99 at H&M
Outfit Inspiration
And now for a few outfit ideas:
Outfit #1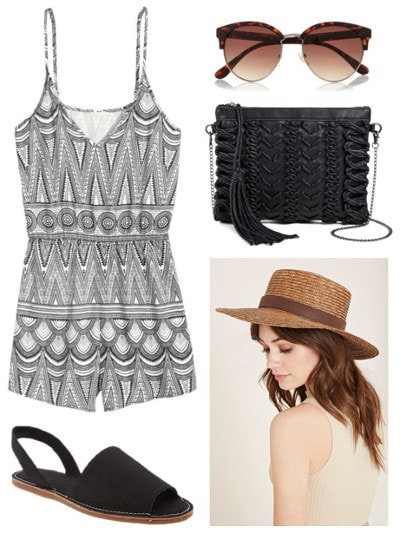 Products: Romper, Sandals, Bag, Hat, Sunglasses
This simple, summery look would be perfect for perusing the farmers market or your favorite thrift store. Start with classic summer staples, like a brimmed hat and tortoiseshell sunglasses. Then, for a couple of trendy and unique touches, slip on a pair of covered black sandals and grab this embroidered crossbody bag.
Outfit #2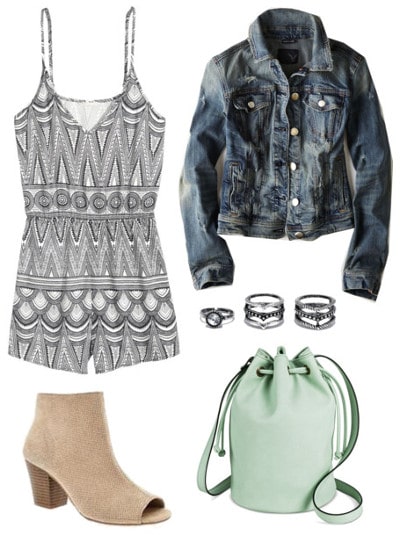 Products: Romper, Jacket, Booties, Bag, Rings
This look is a mix of modern trends and casual classics. Pair this romper with a denim jacket and peeptoe booties for a cute, class-appropriate look. Stacked rings add some metallic shine, but for the final touch, be sure to grab a fun mint bucket bag.
Outfit #3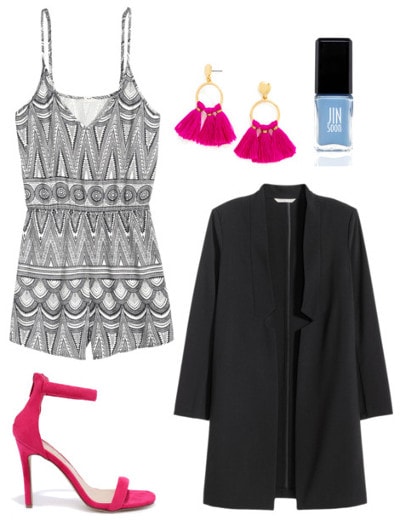 Products: Romper, Heels, Blazer, Earrings, Nail Polish
This look is for the trendsetter! Play with length by wearing an extra-long blazer over the romper (in case the night is chilly). Hot pink heels add a fun, colorful element, as do matching earrings. Lastly, paint your nails with a complementary shade of blue.
Thoughts?
Are you a romper fan? How do you wear yours? What do you think of this Find? Let us know in the comments!