Stylish sweatpants have to be one of the best inventions since sliced bread –especially during the winter break when you can barely convince yourself to put on pants in the first place! Of course, the holidays are a busy time with gift shopping, family gatherings, and New Year's parties. So why not be busy and comfortable?
That's where this week's Fabulous Find comes in — it's a pair of jogger pants from H&M. For only $17.99, these pants are the wear-everywhere staple that will get you through the winter months. Read on for a closer look:
The Pants

Pants in grey melange – $17.99 at H&M
Outfit Inspiration
Want to see how you can wear these pants for every occasion? Here are three ideas:
Outfit #1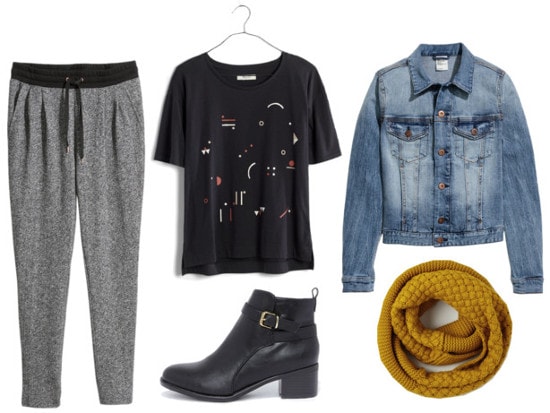 Products: Joggers, Tee, Jacket, Boots, Scarf
This comfy-casual look is perfect for running errands or meeting friends. Just pair the gray joggers with a fun graphic tee and a denim jacket. Add a pair of black booties, and for a pop of color, a mustard infinity scarf.
Outfit #2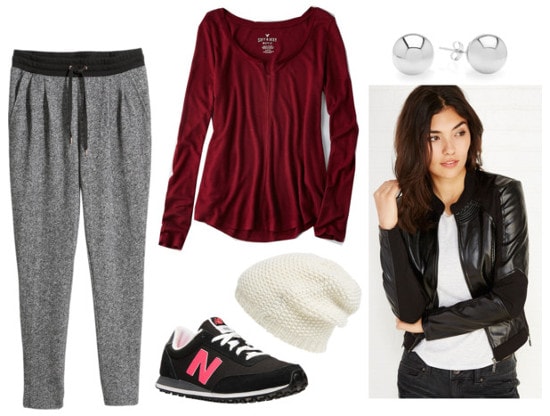 Products: Joggers, Tee, Jacket, Sneakers, Hat, Earrings
Want to feel like you're wearing sweats, but look like you actually put in some effort? Try styling these joggers with a comfy burgundy tee and athletic sneakers. Layer on a moto jacket and beanie for warmth, and for a just a hint of sparkle, add silver stud earrings.
Outfit #3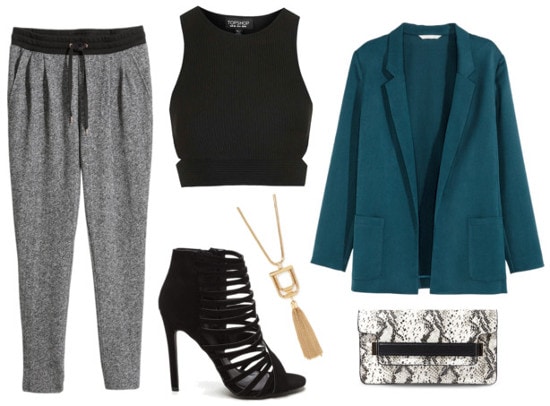 Products: Joggers, Crop Top, Blazer, Heels, Necklace, Clutch
This look proves that joggers can even be worn for a night out. Try pairing them with a black crop top and teal boyfriend blazer. For some drama, slip on a pair of strappy black heels, and accessorize with a gold pendant and printed clutch.
Thoughts?
Are you fan of stylish sweats? How do you wear them? Which ensemble is your favorite? Let us know in the comments!