Neutral basics are the foundation of every closet, but it's also nice to have a few statement pieces for when you want your look to really stand out. A statement blazer — like this week's Fabulous Find from Forever 21 — is particularly versatile since it can add easily transition from work to play. This week's piece is also a great steal, ringing in at only $16!
Read on for details and ways to style it:
The Blazer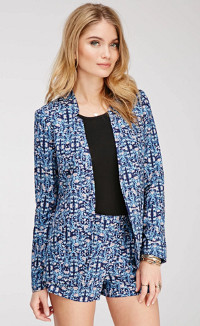 Abstract Print Crepe Blazer – $16.00 at Forever 21
Outfit Inspiration
This blazer might seem intimidating to style, but all you have to do is pair it with your favorite closet staples! Here are a few ideas:
Outfit #1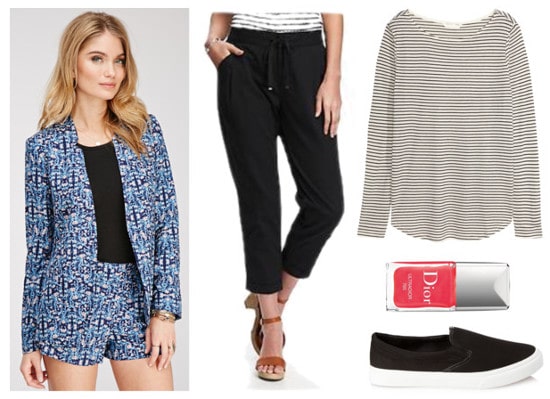 Products: Blazer, Pants, Tee, Shoes, Nail Polish
For a casual, trendy outfit, try pairing this blazer with comfy black joggers and slip-on sneakers. Want to kick it up a notch? Mix prints by layering a striped tee underneath (the subtle stripes complement the bold, graphic print of the blazer). Lastly, add a pop of neon color with coral nail polish.
Outfit #2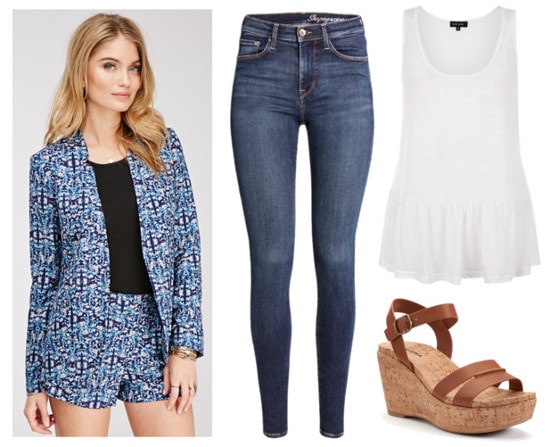 Products: Blazer, Jeans, Tank, Sandals
For a casual yet polished look, pair this blazer with breezy spring basics — for example, try layering it over a white peplum tank and dark wash skinnies. For a cute, summery touch, slip on some platform sandals as well.
Outfit #3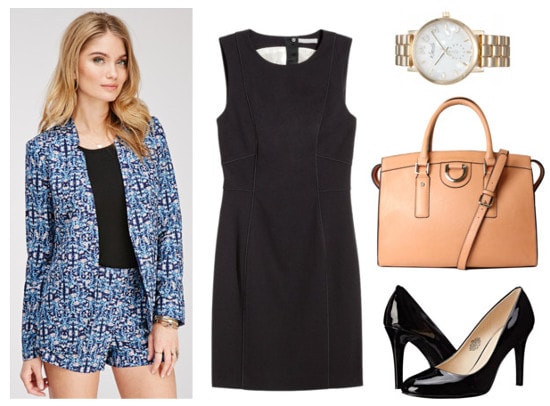 Products: Blazer, Dress, Heels, Bag, Watch
This statement blazer will also help you stand out from the office crowd. Try styling it with workwear staples, like a black sheath dress and black pumps, in order to keep it professional. Add a touch of color with a salmon-hued satchel, and don't forget to stay on time with a sleek gold watch.
Thoughts?
What do you think of this statement blazer? How would you style it for spring? What's your favorite statement piece? Let us know in the comments!