Everyone loves a skirt you can wear year-round. Since longer-length midi skirts are all the rage these days, they make a great transitional piece between warmer and cooler weather. A bit of a chill outside? Just throw on a pair of tights or knee socks, and you're good to go!
So, is your wardrobe calling out for a midi skirt? Then this week's Fabulous Find is for you: a buttoned midi skirt from Forever 21 for under $15! Not only does it have a flirty, feminine look, but it's super comfy and practical for everyday since it has an elastic waist and pockets (that's right, pockets!!!). Here's a closer look:
The Skirt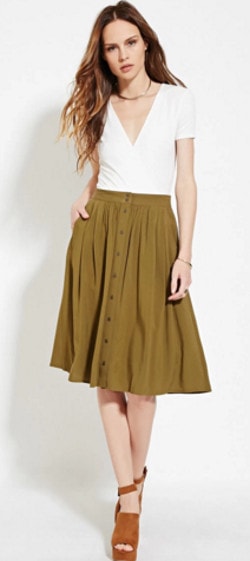 Contemporary Button Skirt in Olive – $14.90 at Forever 21
Outfit Inspiration
Want to see how you can style this skirt for different occasions? Read on:
Outfit #1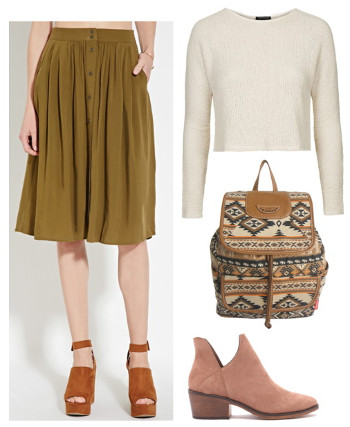 Products: Skirt, Sweater, Backpack, Booties
If it's still chilly outside, try this casual look for class. Pair a cropped cream sweater with the midi skirt, and throw on a pair of cute and trendy cutout booties. For a fun pop of print, grab a patterned backpack to throw your books in.
Outfit #2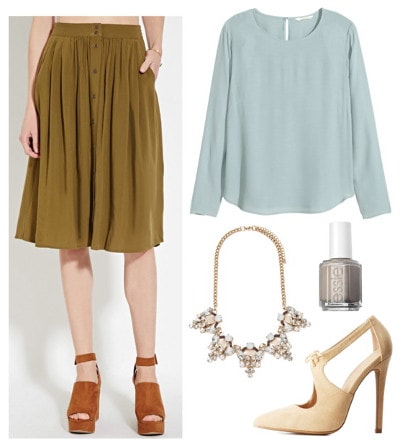 Products: Skirt, Blouse, Necklace, Heels, Nail Polish
Need a polished look for a special occasion? Try this elegant outfit! Pair a pale teal blouse with the skirt, and throw on a pair of dramatic cutout beige heels. A jeweled statement necklace adds a dressy touch, and for extra polish, paint your nails a neutral taupe.
Outfit #3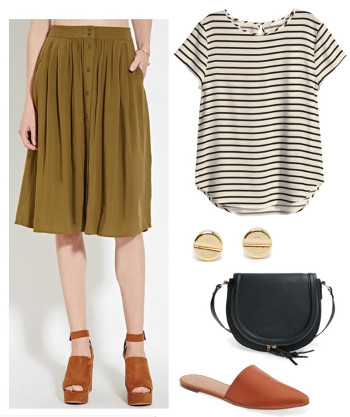 Products: Skirt, Top, Earrings, Bag, Mules
This simple look could easily work for a casual date, weekend outing, or brunch with friends. Tuck a striped top into a midi skirt, and slip on a pair of trendy (and comfy!) mules. Grab a black crossbody bag to carry your essentials, and for the final metallic touch, add a pair of sleek gold earrings.
Share your thoughts!
Do you wear skirts year round? What do you think of the midi skirt trend? Which outfit is your favorite? Let us know in the comments!