This week's Fabulous Find is trendy, comfortable, and versatile — not to mention a total steal! What more could a college girl want? It's a simple t-shirt dress with varsity stripe detailing from Forever 21, and it comes in a range of sizes and colors. Best of all, it rings in at under $15!
This dress is the perfect piece to wear now, with fall layers, but it could just as easily be worn again in spring and summer. It comes in an autumnal burgundy hue, and the athletic stripes on the sleeves give it a trendy touch. (Plus, it would be a great piece to show off your school colors at the big football game! Check Forever 21 for more color options.) Now, for a closer look:
The Dress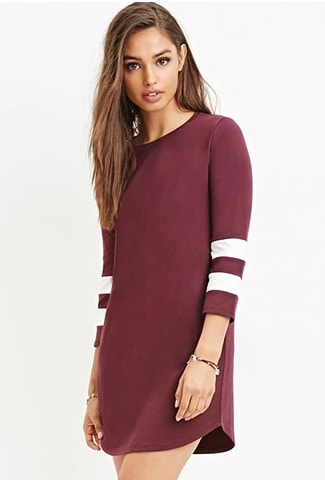 Striped T-Shirt Dress in Burgundy/Cream – $14.90 at Forever 21
Outfit Inspiration
Want to see how versatile this dress can be? Check out these three ways to wear it:
Outfit #1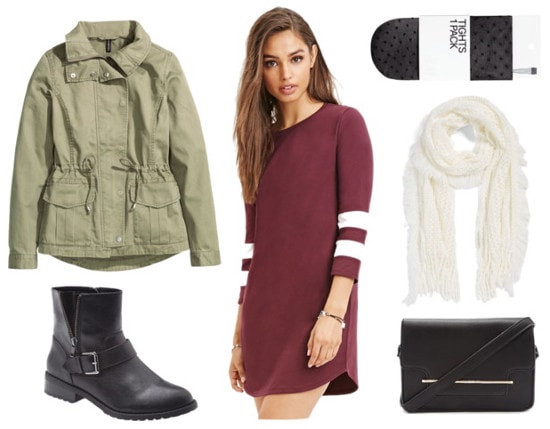 Products: Dress, Jacket, Boots, Scarf, Bag, Tights
This casual cute look could easily go from class to weekend, and is the perfect example of how to layer this dress for fall. Start with the dress and a pair of polka dot tights, then slip on black moto boots and an olive utility jacket. Add extra warmth with a cream-colored scarf, and don't forget a simple crossbody bag to carry your essentials.
Outfit #2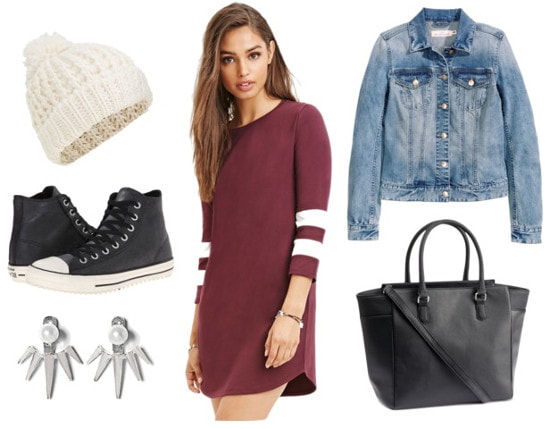 Products: Dress, Jacket, Sneakers, Hat, Earrings, Bag
Here's another casual look for class or the big game. Play up the dress' sporty details by pairing it with black leather sneakers, and add a denim jacket and beanie to keep out the chill. Add a trendy touch with a pair of spiky ear jackets, and grab a simple black tote to carry your books and supplies.
Outfit #3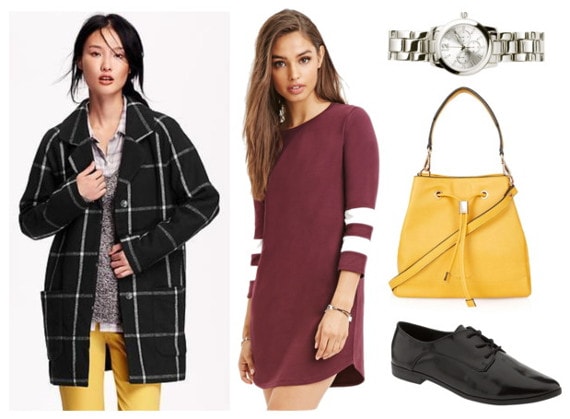 Products: Dress, Coat, Shoes, Bag, Watch
Looking for a more polished way to wear this dress? Try infusing it with a bit of sophisticated street style. Jump on the oversized coat trend by layering on a checkered black coat, and add a pair of black oxfords for a menswear-inspired feel. Lastly, accessorize with a bold yellow bag and a sleek silver watch.
Thoughts?
What do you think of this week's Fab Find? What's your favorite fall trend? Which look would you wear? Let us know in the comments!