This week's Fabulous Find is a bit of a head-scratcher. Is it a cardigan? Is it a coat? Who knows! What I do know is that it's super cool and eye-catching piece from Charlotte Russe. Plus, it's the perfect warm and cozy layer to easily jazz up a basic jeans-and-tee ensemble. And it rings in at the very reasonable price of $31.99. (Trust me, people, you could easily spend $100 on a similar-looking piece!).
Interested? Then read on for details and outfit ideas.
The Sweater/Coat
Geometric Duster Sweater Coat – $31.99 at Charlotte Russe
Outfit Inspiration
The bold print of this sweater/coat hybrid may be a bit intimidating to style. But don't worry — the three outfit ideas below will show that it's surprisingly versatile!
Outfit #1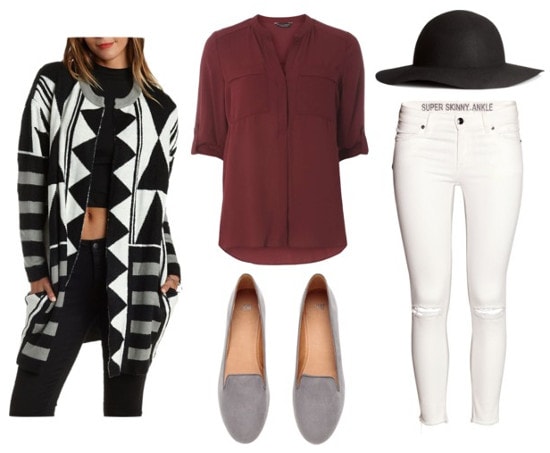 Products: Coat, Blouse, Jeans, Loafers, Hat
For a polished ensemble with just a touch of boho, try this look. Pair a sleek burgundy blouse with white skinny jeans, then layer on your printed coat to make a statement. Gray loafers and a black hat complete the outfit without drawing away from the bold print.
Outfit #2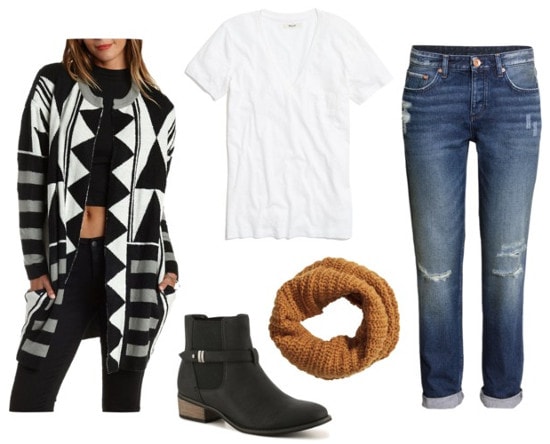 Products: Coat, Tee, Jeans, Booties, Scarf
For a casual, any-day sort of look, layer the coat over a plain white tee and boyfriend jeans. Slip on comfy black ankle boots so you can walk all over campus, and for extra warmth, wrap up with a camel-toned infinity scarf.
Outfit #3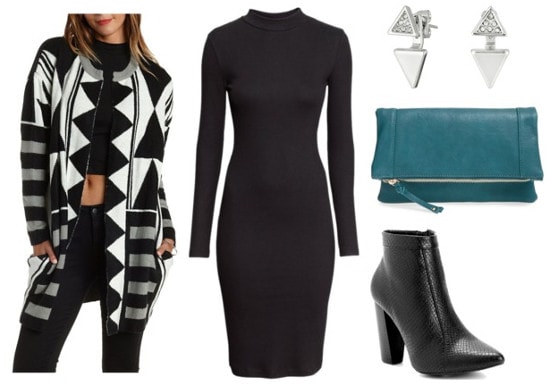 Products: Coat, Dress, Booties, Clutch, Earrings
To style this coat for a night out, layer it over a fitted, black turtleneck dress. Black reptile booties add an edgy, modern touch, as do geometric earrings. For a final pop of color, grab a foldover teal clutch.
Thoughts?
What do you think of this week's Fab Find? Would you wear a statement coat? How would you style it? Let us know in the comments!