Who doesn't love a good sweater? And even more so, who doesn't love a good deal? This week's Fabulous Find is both, of course — a comfy-chic sweater from Charlotte Russe for only $15! If you're looking for a warm, cozy sweater for the winter months, this is it. But the best part of this sweater is its unique mixed-stitch detailing, which adds an extra stylish touch. Want to see more? Read on:
The Sweater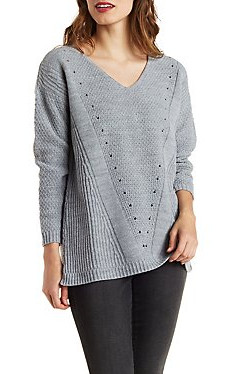 Mixed Stitch Dropped Shoulder Pullover Sweater in Light Gray – $15.00 at Charlotte Russe
Outfit Inspiration
You'll wear this sweater all winter, thanks to its cozy yet eye-catching design. Here are a few outfit ideas to get you started:
Outfit #1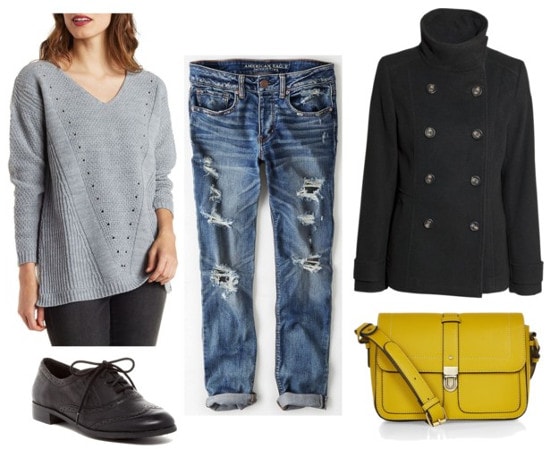 Products: Sweater, Jeans, Coat, Shoes, Bag
This comfy-casual look has a trendy menswear feel with a hint of prep. It starts with my favorite weekend staples — a loose sweater and boyfriend jeans — and gets dressed up with a fitted black peacoat and black oxfords. For the final touch, add a bright yellow satchel for some color on a dreary winter day.
Outfit #2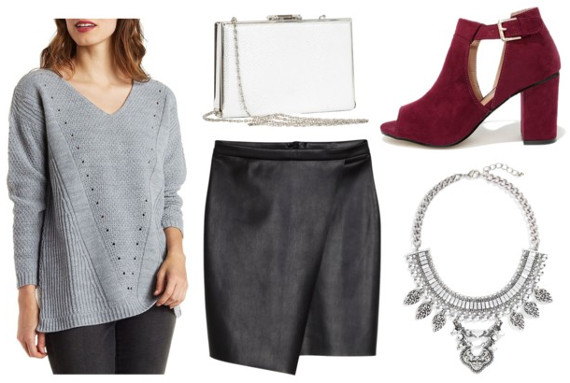 Products: Sweater, Skirt, Heels, Clutch, Necklace
For a chic yet effortless night out look, the key is mixing textures. In this outfit, a knit gray sweater gets paired with a sleek leather wrap skirt. Burgundy suede cutout pumps add a trendy feel, while a chunky metallic statement necklace gives the ensemble some edge. For the final accessory, grab a shimmery white box clutch.
Outfit #3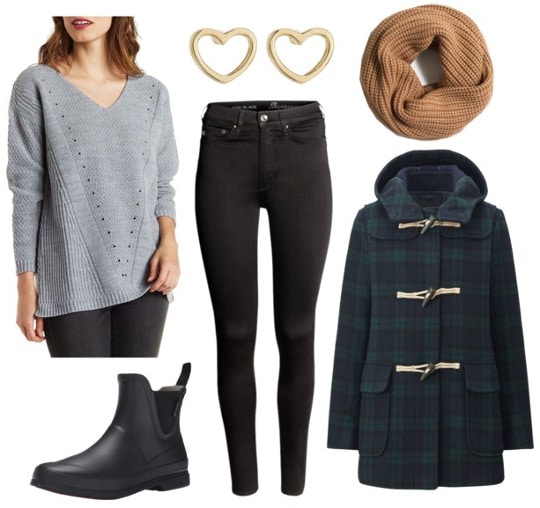 Products: Sweater, Jeans, Boots, Coat, Earrings, Scarf
This cozy winter-friendly outfit is perfect for a day of tromping across campus. It starts with two wardrobe staples, a gray sweater and black skinny jeans, but stays practical with a pair of chelsea rain boots. A plaid duffle coat is a warm yet stylish outer layer. Lastly, the look is rounded out with a pair of gold stud earrings and a tan infinity scarf.
Share your thoughts!
Would you buy this week's Fabulous Find? How would you style it? Which of our looks is your favorite? Let us know in the comments!