Whether you have a night out with friends or a fancy date planned for Valentine's Day, it's always nice to get dressed up for the occasion.
If you're looking for that standout piece that won't break the bank, check out this week's Fabulous Find: a gorgeous lace shift dress from Charlotte Russe! It's the kind of dress you can style up or down (and will even last you long after Valentine's Day) –and it looks way more expensive than its $30 price tag. Here's a closer look:
The Dress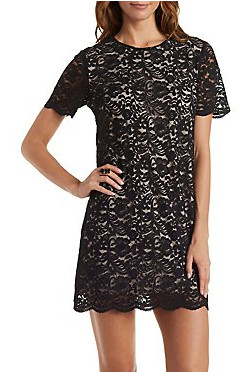 Floral Lace Shift Dress – $29.99 at Charlotte Russe
Outfit Inspiration
Whatever your Valentine's Day plans or personal style, this dress is versatile enough to fit them both! Here are few ideas on how to style it:
Outfit #1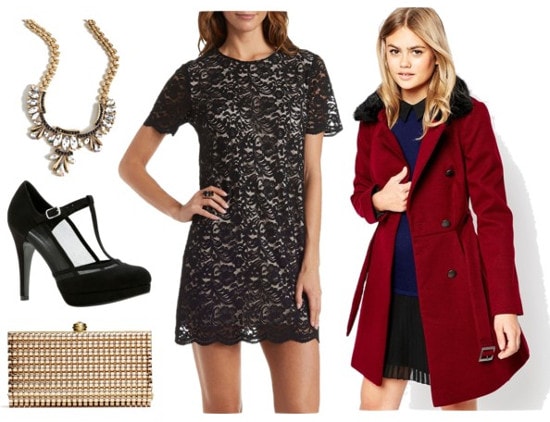 Products: Dress, Coat, Heels, Necklace, Clutch
This glam and romantic look starts with the lace dress and a pair of black t-strap heels. Add a coat in a rich burgundy hue to keep out the cold. Lastly, for sparkle, accessorize with a jeweled necklace and gold clutch (this one is a rental, perfect for a special occasion). This is the ideal look for a fancy evening!
Outfit #2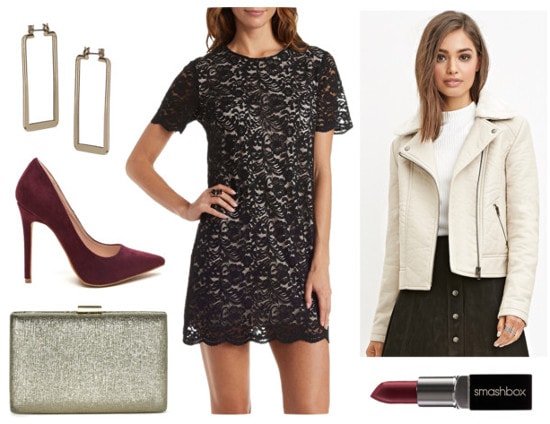 Products: Dress, Jacket, Heels, Earrings, Clutch, Lipstick
Want a fun and modern look for Valentine's Day? Pair the lace dress with a white moto jacket and burgundy stilettos. Add rectangular hoop earrings and a metallic box clutch for some trendy sparkle. For the final touch, give yourself a pretty pout with a shade of dark red lipstick.
Outfit #3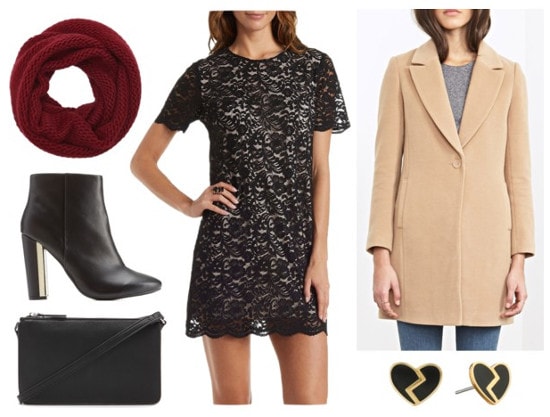 Products: Dress, Coat, Booties, Scarf, Bag, Earrings
This chic look has a clean, minimalist feel. Start with the lace dress and a pair of sleek black booties. To make the outfit winter-friendly, layer up with a camel coat and red scarf. Lastly, keep the accessories to a minimum with a black crossbody bag and cute heart earrings.
Thoughts?
What's your ideal Valentine's Day style? How would you wear this dress? Let us know in the comments!