It's official, spring has arrived — time to break out those floral prints and flirty dresses. (Here's hoping you can wear them without tights!)
Whether you have Easter celebrations, Spring Break plans, or (eek!) Graduation coming up, now's the perfect time to add a fun and versatile spring dress to your closet. That's where this week's Fabulous Find comes in: it's a floral skater dress from Charlotte Russe for under $25. This dress is one part classic spring staple, one part trendy, standout piece (hi, cutout back and unique neckline!). Take a closer look below:
The Dress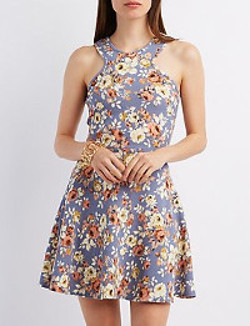 Racer Front Floral Print Skater Dress – $24.99 at Charlotte Russe
Outfit Inspiration
Here are few ways to style this dress for warmer spring weather:
Outfit #1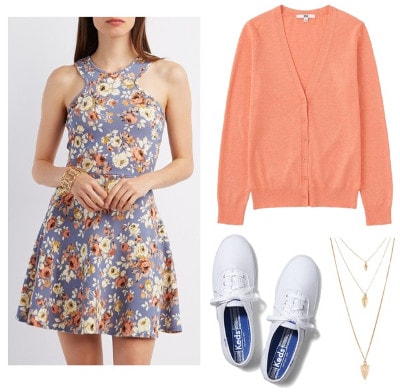 Products: Dress, Cardigan, Sneakers, Necklace
For a day of classes, style down this dress with casual staples. Layer a peach-hued cardigan over the top and slip on a pair of comfy white sneakers. For a bit of sparkle, accessorize with a layered pendant necklace.
Outfit #2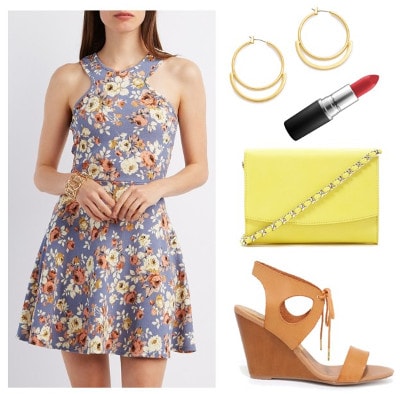 Products: Dress, Wedges, Bag, Lipstick, Earrings
For a warm weather date night, try this dress with feminine accessories. Pretty wedge sandals and a pastel yellow crossbody bag add flirty touches. For extra polish, finish with gold hoop earrings and bright lip.
Outfit #3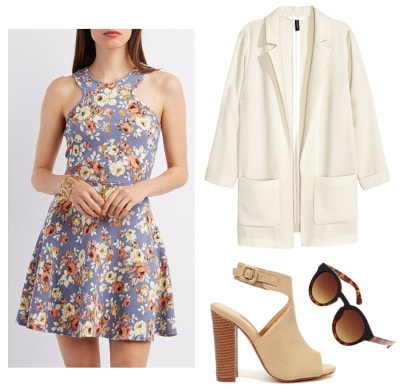 Products: Dress, Heels, Blazer, Sunglasses
Want to give this dress a touch of trendy sophistication? Start by pairing it with high cutout booties. A white boyfriend blazer adds a bit of masculine contrast to the feminine dress, and for the final touch, throw on a pair of classic tortoiseshell sunglasses.
Thoughts?
How would you style this dress? Which look is your favorite? Do you still love florals for spring? Let us know in the comments!