This post may contain affiliate links, which means we may receive a commission if you purchase through our links. Please
read our full disclosure here
.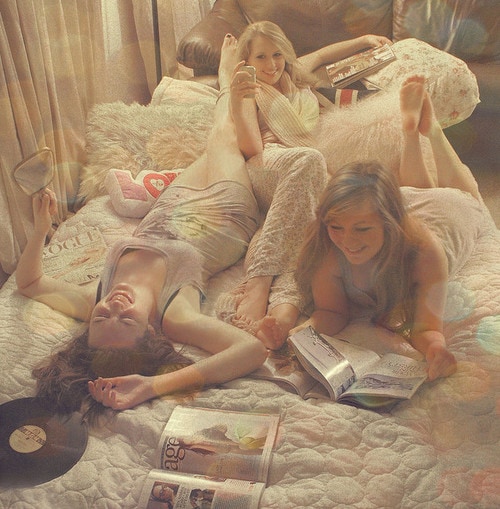 If you're anything like me, you've suddenly found yourself at an awkward point in the semester. Classes have been in session for almost a month and things are juuust starting to get busy (and stressful!) again.
Oftentimes, there's only one thing to do during these limbo points between the end of winter break, midterms, and the beginning of spring break – have a great girls' night in! Whether you're "studying", taking a break from working a project, or just hanging out, you'll want to have just the outfit to do it in! Below, I'll help you get ready for the perfect night in, with outfit ideas, must-have essentials, and more.
Night-In Fashion Basics
Having a few go-to pieces for lounging around your dorm or apartment is always a good idea. No need for ultra-baggy sweatpants, shower flip flops, or your freshman orientation tee, however!
These five stylish basics are super comfortable and so cute that you'll want to wear them all the time. Stock up!
Basic cotton t-shirts
Simple, comfy bottoms
Cozy socks or slippers
Low-key layers
Perfect Outfits for a Night In
Now that you've stocked up on the basics, stay stylish and comfortable during your night in, no matter what you're doing, with the help of these adorable outfit picks for different scenarios.
Late-Night Study Session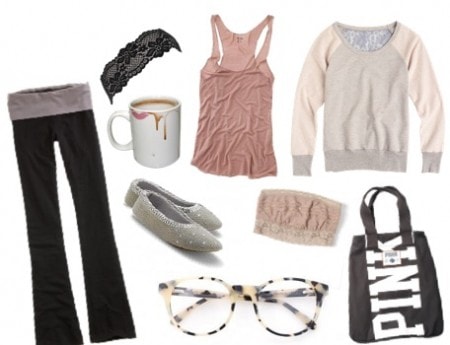 Product Information: Modern Grey Yoga Pants, Aerie. Floral Lace Headband, Forever 21. The Dirty Coffee Mug, Baron Bob. Joy Slipper, Fossil. Prism Glasses 'Paris' Cream Tortoise Shell, The Goodhood Store. Perfect Racerback Tank, Madewell. Free People Scalloped Lace Bandeau, Zappos. Lace-Back Sweatshirt, Delia's. Love Pink Tote, Victoria's Secret.
The Scenario: It's 12am the Tuesday before your Bio exam and a group of friends on your floor have invited you to study with them. While you might be leaving your room, you're still in the dorm, it's late, and you're planning to go to bed as soon as possible… once you master the Krebs Cycle, that is. But what if that cute guy from down the hall makes an appearance?! You need an outfit that's casual, cute, and above all, ultra-comfortable.
To achieve this, pair comfy black yoga pants (they go with everything AND are flattering on everyone) with a neutral-hued tank and cozy sweatshirt. Then add a few choice accessories like comfy slippers and a simple tote for your books for a dorm-perfect ensemble. Finally, no study ensemble would be complete without a toasty mug of coffee!
Relaxing with the Roommate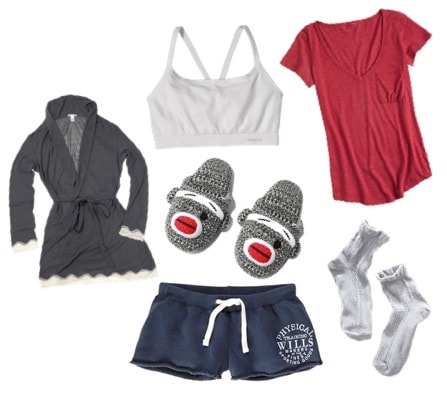 Product Information: Eberjey Lady Godiva Classic Robe, Journelle. Women's Active Mesh Bra, Patagonia. Sock Monkey Slip-On Slipper, Urban Outfitters. Newlyn Sweat Shorts, Jack Wills. Penelope V-Neck Pocket Tee, Delia's. Ruffle Top 1937 Ankle Socks, Madewell.
The Scenario: You and your roommate have decided to stay in for the night in favor of some quality girl time. Style wise, this occasion is all about comfort –anything goes! No need to plan the perfect outfit when your night will consist of splitting a bag of Goldfish crackers, watching vintage episodes of The Hills, and Facebook creeping.
Whether your idea of the perfect loungewear ensemble is a pair of Tempo shorts and a v-neck or a pair of Juicy sweats and slippers, if you like how you feel when you're wearing it, go for it!
Campus to Coffee Shop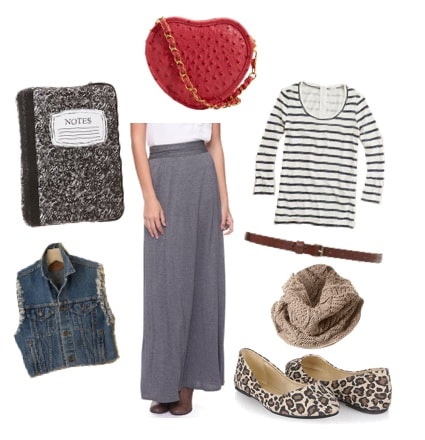 Product Information: Cooperative Trompe L'Oeil Laptop Case, Urban Outfitters. Vintage Levi's Jean Vest, Free People. Carry Your Love Bag, ModCloth. Slinky Maxi Skirt, Forever 21. Stripe Painter Tee, J.Crew. Cracked Vintage Skinny Belt, Topshop. Snood Scarf, Heine. Leopard Point Pointed flat, Forever 21.
The Scenario: You started your 5pm club meeting at the library, but decided to relocate to the Starbucks close to campus so your group could sip on tall Chai lattes and laugh about your upcoming events without glares from your fellow peers and the librarians. Since you'll be out of the on-campus style bubble that permits some of your less-fashionable classmates to wear pajamas on almost any occasion, you want to be slightly more put together and styled while maintaining the comfy status quo.
For a look that's put-together but still comfy and cozy, choose a comfortable maxi skirt and pair it with a simple striped breton shirt. Add leopard print flats for interest and comfort, then finish it off with a few choice accessories like a denim vest and ultra-warm circle scarf.
Other Key Supplies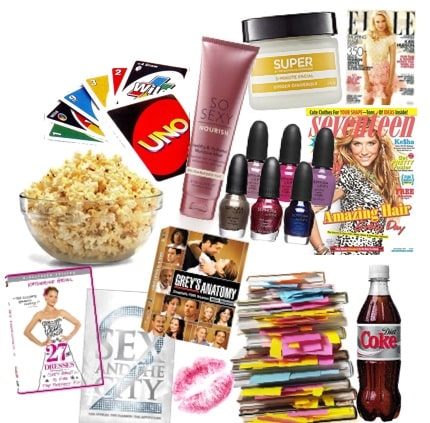 Need some entertainment? On lazy nights when you have lots of time to spare, nothing is better than a makeover movie marathon with the ladies! Make a night out of it with DVDs like Mean Girls, Legally Blonde, Clueless, The House Bunny, and The Princess Diaries. Only have time for a 45-minute break? Check out seasons of The Rachel Zoe Project on DVD for a totally fashionable indulgence!
Magazines
DVDs
Beauty & spa products
Snacks
Games
Your thoughts?
When was the last time you had a low-key night? What did you do? What were you wearing?! Let us know — leave a comment!