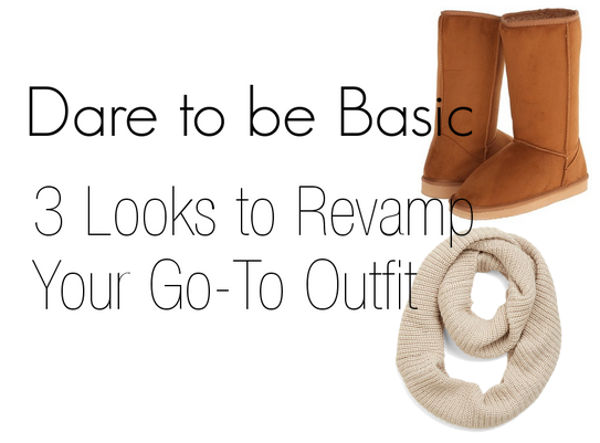 There's been a disturbing trend in fashion objectifying, and it's labeling things women our age collectively rave about as "basic." Pumpkin spice, fall, brown boots and leggings, Lauren Conrad, and emojis are all condemned as horribly common and ridiculously feminine… if not horribly common because they are feminine. Am I right, ladies? Personally, I'm disappointed that college boys are allowed their protein shakes and bro tanks and no one bats a hypocritical eyelid, and we aren't allowed our own rave-worthy trends.
In an act of defiance, I've created three looks that follow the outline of being "basic." However, by switching up the bag, accessories, and top, an outfit consisting of popular college girl basics (boots, leggings, and a knit scarf) turns into something chic and stylish.
1. Comfy Yet Edgy
Product Info: Boots, Leggings, Scarf, Bag, Coat, Top, Socks
This first look stays true to its comfy roots with warm, knit boot socks and a soft shirt and jacket. The mixture of pattern and graphics in the shirt and jacket add interest and plenty of edgy personality. The bag is structured and chic, but also roomy enough to fit your notebooks and pencil pouch. Ultimately, it's the two statement tops that transform this comfy and casual outfit into something special.
2. Comfy Yet Kitschy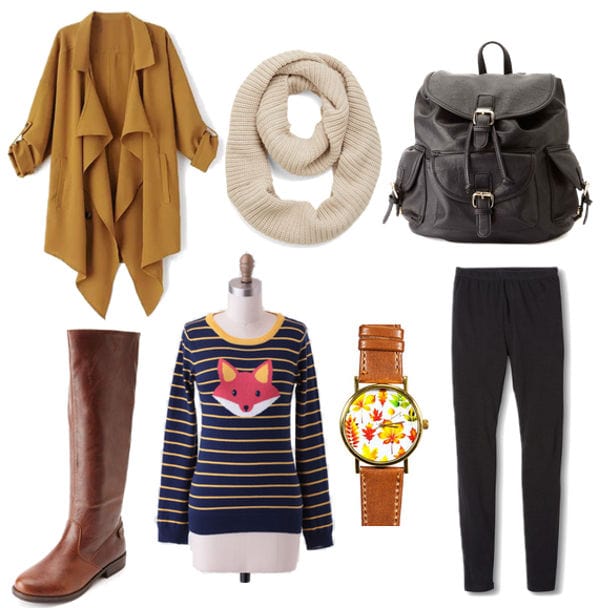 Product Info: Boots, Leggings, Scarf, Backpack, Watch, Sweater, Coat
The statement-maker in this ensemble is definitely that gorgeous coat. The color, cut, and material all scream "fall!" I found a cute fox sweater for layering, and Etsy delivered big-time with the leaf-faced watch. The neutral color of the bag means it can be easily incorporated into any look that requires you to carry around your school essentials.
I like how this outfit isn't too far away from the basic outline of a leggings-boots-sweater combo, but packs a definite punch in personality (just like the first look!) thanks to the unique details. Not pictured: pumpkin spice latte.
3. Comfy Yet Romantic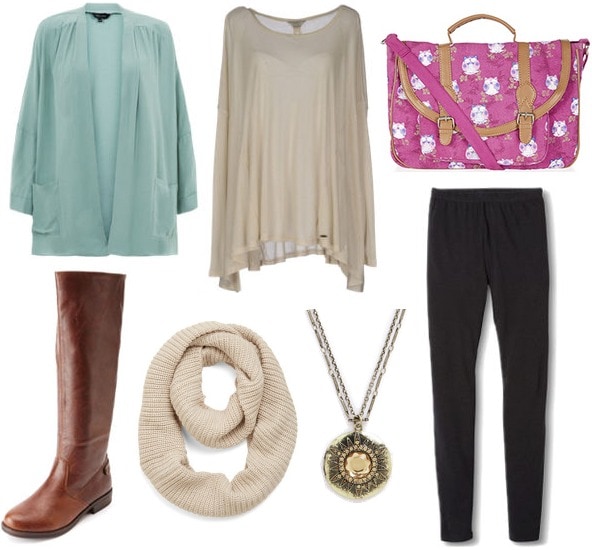 Product Info: Boots, Scarf, Leggings, Coat, Necklace, Bag, Top
This last look takes more risks than the first two because of its dramatic silhouette. You can hardly call an outfit featuring a draped tunic and a kimono-style blazer common or basic, but they're such easy pieces to layer that they would certainly feel simple. The ModCloth necklace looks antique and complements the draped pieces perfectly, while an adorable floral print crossbody bag is both functional and modern.
Your thoughts?
What do you think? What's your take on basic-shaming? Do you think it's an issue? Will you be trying any of these looks soon? Comment below, and happy shopping!