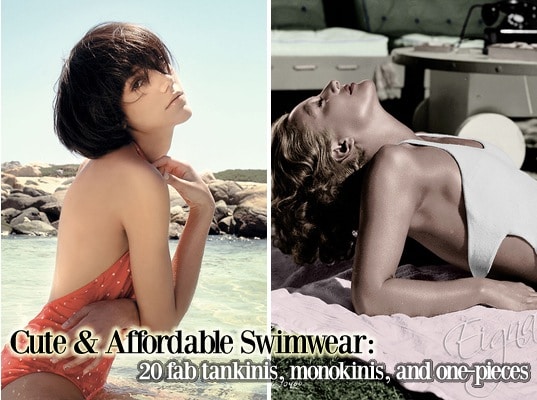 Over the past week we've been talking about cute, affordable swimwear to flatter your body shape. We all know that bathing suit season can be a stressful time, so if you're going to feel your best, it's essential to find a bathing suit that flatters your body AND fits your budget.
In case you missed the last two articles in this series or just need tips on what to look for in a bathing suit, see part one of this series: How to Buy the Best Bathing Suit for Your Body Shape. Or if you're looking for a cute bikini to flatter your body shape, see 16 Cute Bikinis for Different Body Shapes.
From tankinis and monokinis to classic one-piece bathing suits, I found 20 great swimsuit options that will fit your body and won't empty your wallet.

Tankinis
The last post on bikinis got tons of requests in the comments section for cute and affordable tankinis, and it's really no wonder – tankinis are a hugely popular style. If you carry weight around your midsection and feel self-conscious about showing your stomach off, a tankini can suck you in and draw attention to parts you like better – namely your legs and chest.
Here are some cute and affordable tankinis available online right now: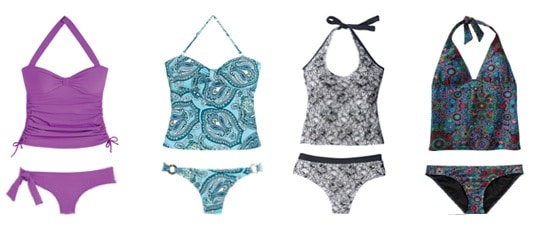 Product Information (left to right): Side-Cinched Tankini ($24.50) and Side-Tie Bottom ($24.50) – dELiA*s, Tie-Back Tankini ($24.50) and Ring Hipster ($24.50) – dELiA*s, High-Waist Halter Tankini ($19) – Spiegel, Black Print Halter Tankini ($10) and Black Print Bikini Bottom ($10) – oldnavy.com

Monokinis
If you're tired of a basic bikini and want to show off a fabulous figure, the monokini may be your perfect swimsuit. It's a hot bathing suit trend that has been super popular over the past few summers.
A little bit of warning, though: if you're not confident enough to rock a bikini, do NOT attempt a monokini. Bikinis are usually more flattering and easy to pull off, while monokinis require lots of confidence and can easily look trashy and unflattering.
If you're ready to rock this trend, here are some budget-friendly options for Summer '09: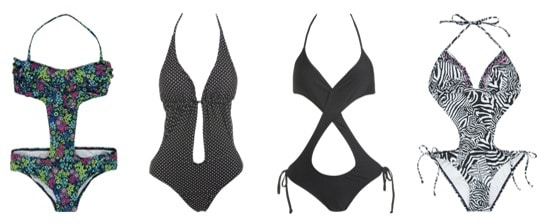 Product Information (left to right): Billabong Jessica Swimsuit ($59.99) – Tilly's, Pin Dot Monokini ($24.50) – Wet Seal, Criss Cross Monokini ($24.50) – Wet Seal, O'NEILL Surfin' Safari One Piece Swimsuit ($69.99) – Tilly's

Basic One Piece Bathing Suits
The last post on bikinis also received many comments requesting one-piece bathing suits, so I thought I'd feature some cute ones here. If you don't want to show your stomach this summer for whatever reason, don't worry – there are a few one-piece bathing suits out there that won't make you look like a grandma.
If you want to keep it simple with basic colors, here are a few cute, minimalist one-piece bathing suits:

Product Information (left to right): One-Shoulder Swimsuit ($50) – TopShop, Outeniqua One-Piece ($198) – Anthropologie, Gathered One-Piece ($29.99) – H&M, Swim Systems Navy Dot Shirred Tank ($92) – Canyon Beachwear

Retro One-Pieces
One of the trendiest looks when it comes to one-piece bathing suits is the retro one-piece. With a halter neck and extra coverage on the backside, retro one-pieces have been everywhere this season. They channel a look that's oh-so Marilyn Monroe, and who wouldn't want to look like her?
A quick tip on figure-flattering: if you have an hourglass figure, a retro one-piece is your best friend. It'll play up your curves and flatter all your best features without revealing too much.

Product Information (left to right): Lorelei Halter ($268) – Anthropologie, Retro Halter One Piece ($14.95) – American Eagle, Jasmine Guiness Spot Swimsuit (£22) – oli.co.uk, Shirred Halter Swimdress ($39) – Spiegel

Ring/Teardrop Detail
To draw attention to a smaller chest, look for a one-piece bathing suit with ring or teardrop detail. This extra detailing will draw the eye upward and bring the focus to your face and décolleté, while bringing attention away from your bottom half and balancing you out.
A quick shopping tip: make sure you buy this style of suit in a basic, solid color – ring details on printed suits scream "way too much going on"! Overly busy swimsuits are never, ever cute.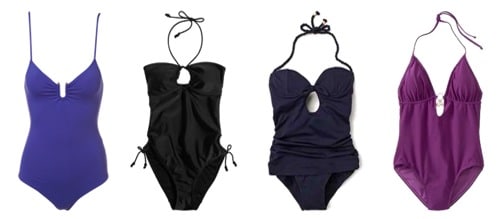 Product Information (left to right): 1 Piece Swimsuit ($50) – TopShop, Aerie Nautical Onepiece ($19.95) – American Eagle, Deckwork Suit ($188) – Anthropologie, Charm Ring Swimsuit ($10) – oldnavy.com
What do you think?
You've seen my choices for cute and affordable swimsuits that aren't bikinis. Now I'm curious – what is your favorite style of bathing suit? Which type of swimsuit flatters your figure best? Any favorite brands? Let us all know in the comments section below.