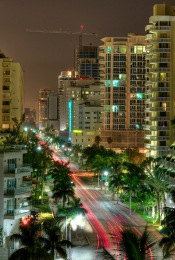 Hello from fabulous South Beach, Miami!
This is only my second time visiting and I'm already planning my next trip back – amazing weather, tons of shopping, gorgeous beaches, well dressed people everywhere, and did I mention tons of shopping?? What's not to love about this city?
Of course, I'm here for a purpose – to bring you all live updates from the 2008 Victoria's Secret Fashion Show tomorrow night!
Here's the deal: I'm going to be updating live tomorrow (11/15) from my Twitter account while I'm at the show starting at 9PM, and I'll be re-posting all of my updates here later tomorrow night (probably around midnight or so.) If you have any comments or questions, you can reply to my Twitter messages and I'll try my best to respond in real time.
And now on to the coupons & deals for this week – there are lots of random ones, so if you don't see anything you want to use, check back next friday or look at last week's coupon post – some of those are probably still good! Happy shopping!
That's all the deals for this week. Be sure to check out my live updates from the Victoria's Secret show starting at 9PM eastern tomorrow night by following me on Twitter or checking back here Sunday for one big post of all the updates!
* Top photo by iDream_in_Infrared