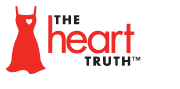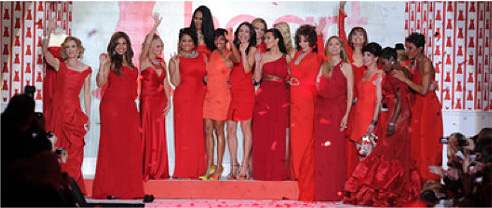 The first New York Fashion Week show I was lucky enough to attend also happens to be one of its most eclectic: The Heart Truth's Red Dress Collection. Unlike a typical fashion show, the Red Dress Collection was a charity fashion show promoting a single cause–heart health.
About The Heart Truth & the Red Dress Collection
The Heart Truth was founded to warn women about heart disease and educate them about its associated risks. The foundation's major yearly promotion and fundraiser is their NY Fashion Week show, which features the company's symbol–a red dress–in various forms, created by some of America's hottest designers.
As for the models, The Heart Truth is able to attract a cast of celebrities to wear their red dresses. Past "models" have included everyone from First Ladies to TV favorites (such as Heidi Klum and Bethenny Frankel, as seen above) to musicians, and everyone in between!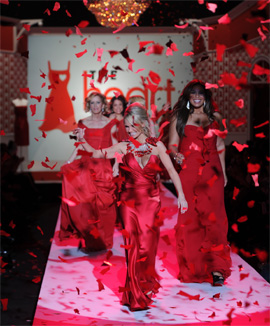 My favorite part of the fashion show (besides the obvious celeb spotting and drool-worthy dresses) was how much fun it was–both for the "models" and the audience! Each celeb got her own special song to strut to, and when they all did the final walk at the end, the group had a great time dancing and talking at the end of the runway.
Overall, it was so wonderful seeing all of these women of different ages and sizes joining together to raise money and awareness for a cause so many women are clueless about.
How You Can Help
While I highly recommend you attend a Red Dress Collection show if you get the chance, there are plenty of other awesome ways to get involved with this fashion-forward charity:
First and foremost, check out their website to educate yourself about heart disease so you can not only keep yourself healthy but inform others about the risks.
If you want to take a more active approach, organize a "Wear Red" day or event. This will allow you and your friends to all dress up in your favorite red pieces while promoting such a worthwhile cause.
Dress the part! For tips, see my outfit idea below!
The Heart Truth-Inspired Outfit
To help inspire you, I picked out a red look that I would love to wear for a day or night event!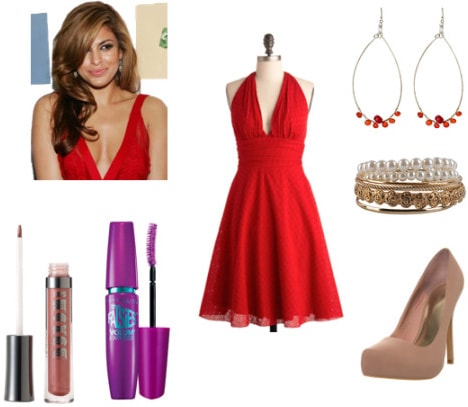 Product Information: Dress: Modcloth.com, Earrings: Maxandchloe.com, Bracelets: Forever21.com, Heels: Missselfridge.com, Lip Gloss: Nordstrom.com, Mascara: Ulta.com
Red can be a tricky color to pull off, especially during the day. One of my favorite ways to wear it is by going for a slightly retro, bombshell look. This dress is perfect for that style and its shape is flattering on most body types. In addition, it would work for day or night (which I think makes it worth the extra money).
Since the dress is the focus, I matched it with simple nude pumps. I wanted to keep classic jewelry like the bracelets to continue the retro feel, but also couldn't resist adding one more splash of red with these simple but fun earrings.
I got my beauty inspiration from the always radiant Eva Mendes, who happens to be sporting a red dress in this picture! I love her voluminous, full hair and think it complements the neckline of the dress and the retro aesthetic perfectly.
For makeup, big, dramatic lashes are a great accent to this look, and I am so, so obsessed with Maybelline's The Falsies mascara for insanely awesome volume and length. Finish off the look with a plump, nude lip and you'll be the star of your event!
What Do You Think?
Have you heard of The Heart Truth before? Are there any other heart health organizations you know of? Would you plan a "Wear Red" event or have you in the past? Share your knowledge and ideas below!