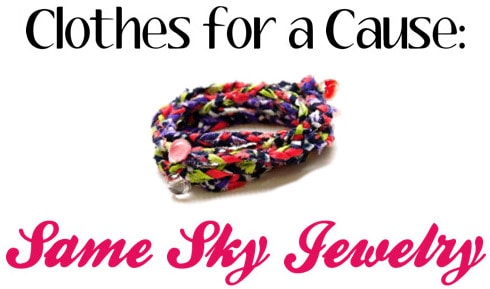 I'm so excited about this week's "Clothes for a Cause" – ever since my friend introduced me to this week's featured jewelry company, I have been obsessed! But this week's company does more than just create gorgeous jewelry – their products support a cause I think we can all get behind.
About Same Sky & Their Cause
Same Sky is an organization built on the idea of empowering women worldwide by providing them with jobs and skills so they can lead self-sufficient lives and maybe even chase their dreams.
Same Sky's ingenious (and incredibly stylish) way of doing this is by teaching impoverished and disadvantaged women how tocrochet and create beautiful jewelry, providing them not only with a job at Same Sky, but also with knowledge they can pass on to their children and a skill set for future employment.
While simply giving women jobs making jewelry may not seem significant, it is important to note exactly who these opportunities are being offered to. Same Sky is currently focusing its efforts on women in Kigali, Rwanda, employing women who are HIV positive and survivors of the 1994 Rwandan Genocide. Same Sky is essentially giving them the chance to rebuild their lives in a safe environment with other women who share their story.
Same Sky Bracelets
Same Sky is an amazing organization, but the fact that their bracelets are on-trend and adorable is icing on the cake! Same Sky offers two types of bracelets: one chunkier style, with glass beads crocheted together and one woven friendship bracelet style with a few glass beads scattered throughout.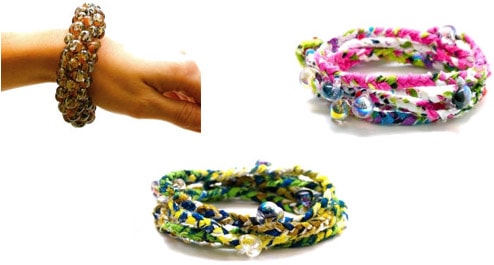 All from Samesky.com
The glass beaded bracelet (top right, above) is definitely a splurge at $160, so I personally prefer the awesome friendship bracelets (middle and right, above), which cost just $30 – $40 each. While that's still a bit expensive for a single bracelet, I think these bracelets make perfect gifts for close friends or even for yourself – they'll add a summery pop of color to your fall wardrobe.
Sample Outfit Idea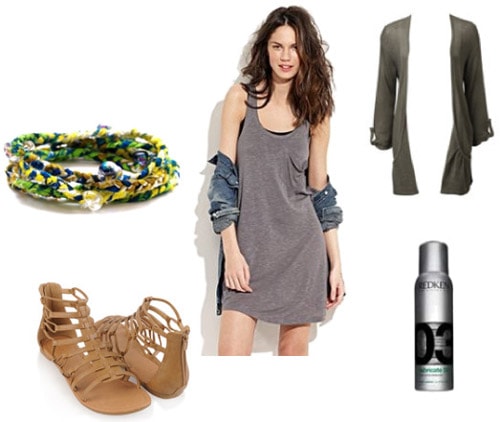 Product Information: Tank dress: Madewell.com, Bracelet: Samesky.com, Sandals: Forever21.com, Cardigan: Jeanswest.au, Hair Product: Beauty-mart.com
In last week's "What Do I Wear There," I created a first day of classes look that some of you thought was a bit too dressy for some campuses. Therefore, I wanted to use the cool, relaxed-but-trendy vibe of the bracelet to create a more casual look for class, for those of you who requested it!
Above, I went with a simple tank dress, which is a great investment, as you can wear it alone, with a cardigan if it's chilly (love the army green color of this one), or even with a blazer and tights once fall is in full swing. Throw on your favorite sandals from the summer that should be perfectly worn-in at this point (mine are gladiators and these nude ones go with everything) for a perfectly dressed-down class look.
For the finishing touches, add one of the Same Sky bracelets and spritz some texturizing spray into your hair for a controlled, natural style.
What do you think?
Have you heard of Same Sky before? What do you think about the organization and its goals? Which bracelet style do you prefer? What would you pair it with? Leave a comment below and let me know what you think! Can't wait to hear your thoughts.