Disclaimer: Here at CF, we love hearing your opinions and believe in political objectivity, so please note that the following article is not meant to be a political opinion piece. Rather, its purpose is to shine light on an organization that is participating in fashion for a cause, and to inform those who have seen Prop 8 on the news and are interested in learning more.

For this week's "Clothes for a Cause," I wanted to cover an issue — albeit, a pretty controversial one — that has been in the news a lot lately. Last week, California ruled Prop 8 unconstitutional, therefore lifting the state's ban on gay marriage. Of course, this is a huge step forward for gay rights.
The organization I have chosen to highlight for this piece, the Human Rights Campaign, is one of the oldest organizations, founded in 1980, that solely focuses on promoting equal rights for LGBT individuals. The Campaign works to educate and inform the public, as well as lobby the government, in hopes of implementing changes to help the LGBT community reach their goal of equal rights.
Since the overturn of Prop 8 — whether you support it or not — is certainly going to make history, it's definitely important to educate yourself on this monumental change. Checking out the HRC can help you learn about the history leading up to the moment, as well as the organization's goals for the future.
The HRC's Fashionable Friends
The HRC's work has garnered the attention of fashion heavyweights such as American Apparel, Kenneth Cole, and Alex & Chloe. These labels have created special pieces for the HRC to help promote their cause. Below, I've included some of my favorite pieces, but you can shop the entire HRC store, which includes clothing, jewelry, and other items for both men and women, here.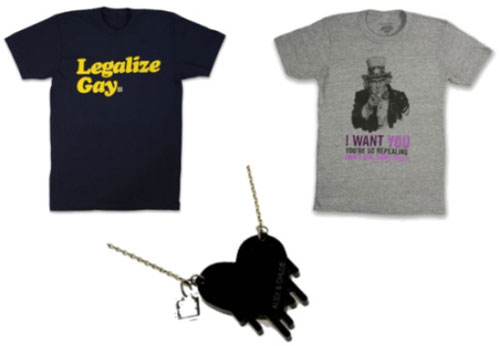 All pieces from HRC.com
I love me some American Apparel basics, and this "Legalize Gay" tee shirt not only looks seriously comfy, but promotes the HRC's mission as well. The navy color is also great since it is unisex!
As I noted in my first "Clothes for a Cause" article, Kenneth Cole is one of the most politically active designers out there today, so it is no surprise that he designed a shirt for this hot-button issue. His take on classic American propaganda has a cool, satiric sort of feel and like the American Apparel tee above, is definitely something that can be worn by men or women.
My absolute favorite item sold on the HRC site is definitely this Alex & Chloe necklace, which I think gives a great pop art twist to any outfit and will match with literally anything. The design is so interesting and while I love it in necklace form, it is also available printed on tees and hoodies.
What Do You Think?
What was your reaction to this historic court decision? Have you heard of the HRC before? Is this an organization you'd be interested in getting involved in? Which of the pieces are your favorites? Let us know!