With the crazy concoctions they send down the runways, it can sometimes seem like fashion designers live on another planet. However, not only do fashion's elite inhabit the same Earth as us, they also care about making this world we share a better place.
In this new bi-weekly series, I'm going to highlight designers who are doing their part to help out those in need around the world, and how you can help as well, just by supporting them! I hope you enjoy it!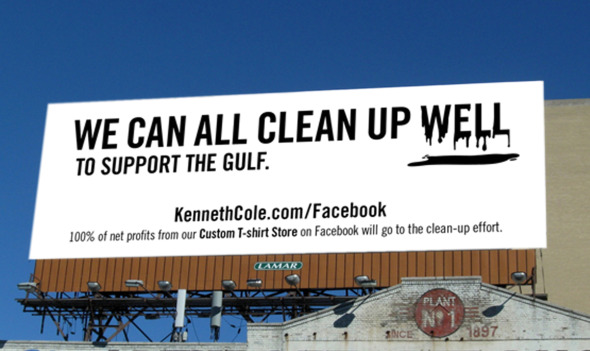 As one of the biggest and possibly saddest stories of the year, the the Gulf oil spill has been a front-page fixture for weeks. Each story about the terrible spill is more heart-wrenching and horrifying than the last.
The oil spill's effects on the environment, wildlife, and the inhabitants of the area are devastating and will undoubtedly tug at the heartstrings of not only American CF readers but those from all over the world. Even just seeing the images of sea creatures trying to survive in the deadly, sticky substance that has taken over their homes is enough to make me want to help in any way I can!
Luckily, the insanely talented American designer Kenneth Cole shares this sentiment with me and has come up with a great way to marry two of my favorite things–helping others and wearing fabulous designer pieces–with his custom t-shirts.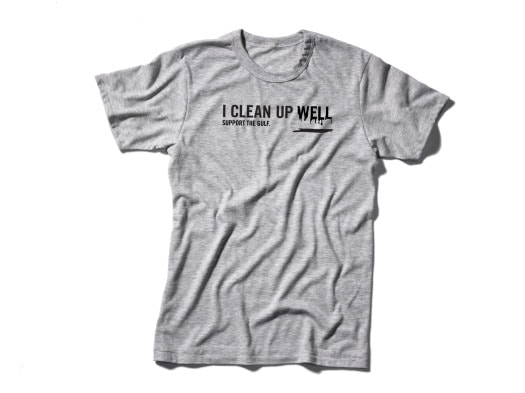 As part of his appropriately named AWEARNESS project, you can log on to KennethCole.com/Facebook, download the tee shirt app, and start making your very own shirt! You get to choose from a variety of great "Kennethisms" (ranging from funny to philosophical sayings), pick the shirt colors, size, and you finally order your own custom-made Kenneth Cole tee.
The best part? 100% of the proceeds (shirts cost $35) are going to aid in the gulf oil cleanup efforts.
Outfit Idea
I understand hesitating before buying a simple tee shirt for $35–that is a lot for a shirt you may think you'd just wear around your house or to the gym! Therefore, I wanted to show you how you can dress up even the simplest of the Kenneth Cole tees (this one is just in a plain gray color) for an adorable daytime look that you can wear on the weekend with friends, to summer classes, and almost anywhere else you find yourself this summer!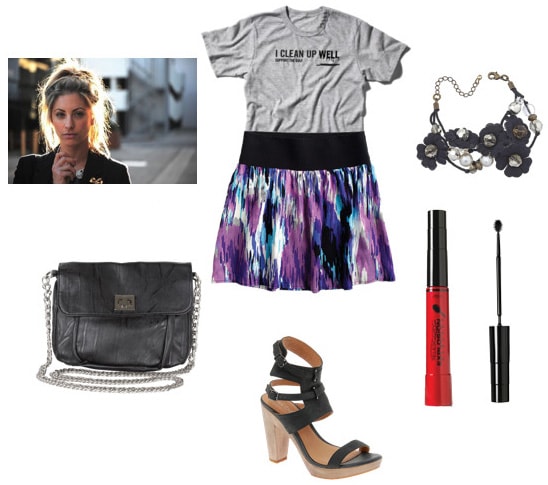 Product Information: Hair: Cupcakesandcashmere.com, Purse: Generalpants.com.au, Skirt: Delias.com, Shoes: Aldo, Bracelet: Topshop.com, Mascara: Amazon.com
Since the tee shirt is fairly subdued on its own, I went for a bright, vibrant skirt to add a splash of summer to it. Shoes with wooden heels are super hot this summer, so I picked out a pair with a heel that was thick enough to allow you to walk comfortably all day to add in some extra style.
A small, chain-link bag will fit all of your essentials while being compact enough to take you from day to night, while a fun, flowery bracelet adds the perfect finishing touch to a breezy day-out look. For hair, go for an undone updo like this perfect messy bun (as seen on one of our favorite bloggers, Emily from Cupcakes and Cashmere) with strands framing your face.
For makeup, go for a totally natural day look, but pump up your lashes for a fabulously feminine style. I love this mascara, as the small brush allows you to fan out each individual lash!
What do you think?
Do you like the idea for this new column? Would you get one of Kenneth Cole's shirts? What else are you doing to help out this cause? Know of any other ways CF readers can help aid the gulf? Let us know below!