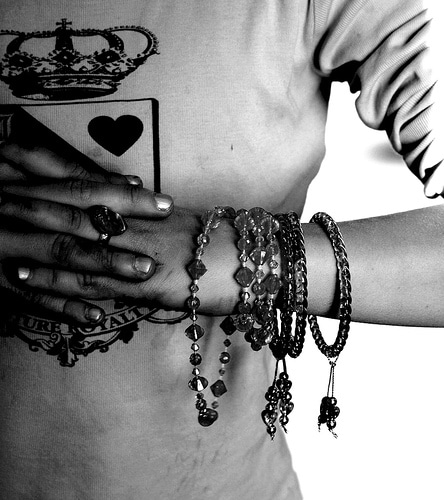 I was overwhelmed with all of the feedback about the tough/edgy girl in the comments section of Announcing: The Closet Makeovers Series. I was so interested to see all of the different styles, but this one really stands out to me a lot.
So here are the basic pieces you need if you want to create an edgy style in your wardrobe. Recall that these are the basics to build on. I want you to think of them more abstractly and less literally. Fashion is supposed to inspire, there are no rules!
Closet Essentials for the Edgy Style
Jeans:
I once again wanted to talk about the skinny jean because I think they are most widely associated with the edgy vibe. The jeans below are a bit different from the ones that I talked about in the feminine basics article because I wanted to find some that were a bit more interesting for those of you that like to make a statement with jeans.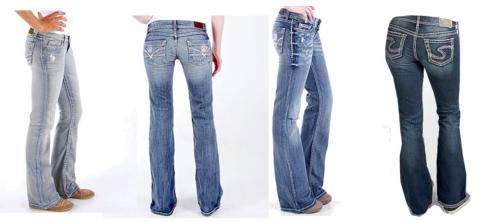 Product Information from left: Purple jeans- Pacsun, Zipper embellished jeans- gojane.com, distressed jeans- misselfridge.com, bleached jeans- Pacsun.
Note: In a comment last week, one girl said that she gets many of her skinny jeans at Pacsun. After taking a look, I completely agree – their skinnies are fabulous! Great suggestion!
The Perfect Little Black Dress:
I thought of this ever-so-classy essential for the edgy girls because many of you expressed your love for the color black. I wanted to show you some dresses that would be great from day to day, as well as some that would really make a statement for a night out.
Product Information: The first and second dresses are from Forever 21 and I chose them for more of a day to day feel. They're super flattering because they nip you in at the waist to accentuate curves! Throw these on with a great pair of tights and some studded heels to take them to evening.
The last two dresses are a bit more expensive and I picked them as options for a special occasion. The first is from dorthyperkins.com. The second one would work well for something like prom or a sorority formal – it's from fashionright.com and I think it's a perfectly updated version of the LBD.
Leggings and tights:
Leggings are also something I think that every college girl should consider. Personally, I'm a fan of them for game days worn with a jersey, but there are tons of other ways to wear them. Liza wrote an entire article on how to wear leggings that is definitely worth checking out!
The leggings below are a step up from you basic black, and they have some fun tough-girl touches to them.
The tights are also a step away from your basic black. The world of tights is vast and it can keep your legs warm on a cold fall day.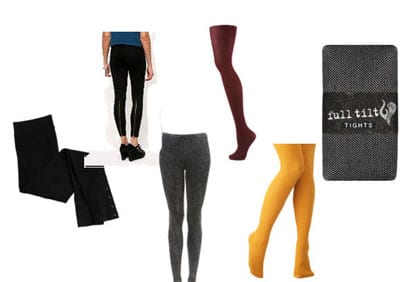 Product Information: Studded leggings- American Eagle, Zippered leggings- Urban Outfitters, Acid Wash leggings- misselfridge.com, Berry tights- topshop.com, Mustard tights- modcloth.com, Fishnets- tilly's.com
Zippers:
I love, love, love this trend. I have been seeing it all over the place and I love the idea of using a zipper as a detail. Here are some different pieces with bold zippers that you can pick and chose from, depending on your style!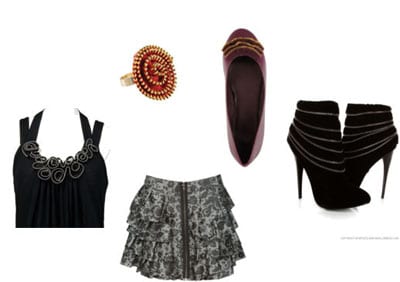 Product Information: Top- The Buckle, Ring and Shoes- Forever 21, Skirt- Charlotte Russe, Shoes- amiclubwear.com
Leather Jackets:
This is your splurge item. Like I said last week, leather (or faux leather, if you're an animal lover) is here to stay and worth considering as your big purchase for the year. If you are looking for a faux leather, I threw some cheaper alternatives in here as well. With jackets, in general, cut is everything and these all have different cuts for you to chose from!
Product Information: (Left to right) Black- Piperlime.com, Brown- Topshop.com, Caramel- yesstyle.com, red- Forever 21.
Boots:
It is getting cold outside, and what better way to keep warm than with a fabulous pair of boots?
Here are some great boots for the tough girl in all of us. I am really into the motorcycles boots at the moment, but you can pick and choose which ones you like! I made sure that I gave you variety here too, because I hate it when I buy a pair of boots and I come home and realize I have another pair that's the same height and style. Frustrating!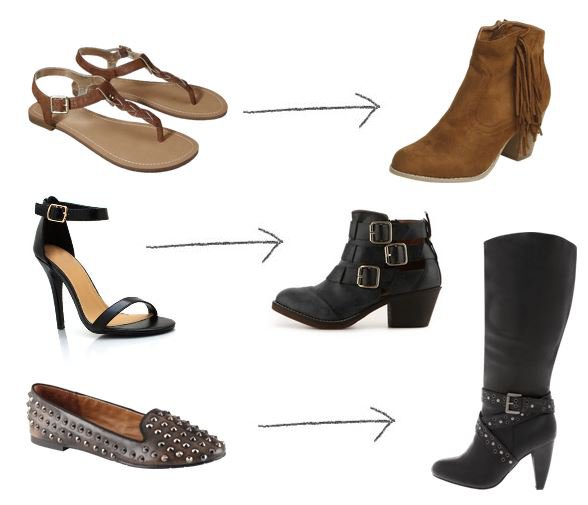 Product Information: Over-the-knee boots- Charlotte Russe, Grey heeled boots and red boots- amiclubwear.com, Black buckled boots- Forever 21, Purple boots- peacocks.co.uk, Mustard boots- cutesygirl.com
Studded accessories:
Not into the 100% full-on tough girl look? Here are some steals to just give off just a little of that vibe – pair them with a more demure outfit for a look that will be edgy, but not over-the-top.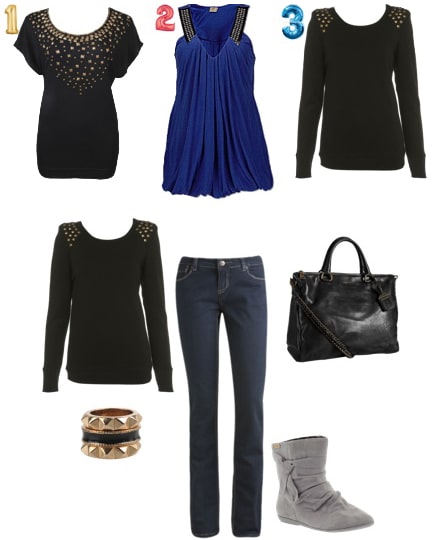 Product information: Studded bracelets- nordstrom, Clutch- misselfridge, Belt- Forever 21, Square earrings- dorthyperkins.com, Headband- peacocks.co.uk, Heels- Charlotte Russe.
Here's what to expect next week:
Instead of answering your edgy girl questions, I am actually going to continue with basics, but from one of my favorite style muses that many of you talked about: the lovely Kate Moss. We'll go over the basics from her wardrobe and how to apply them to yours!
What do you think?
Do you have an edgy sense of style? What are your favorite edgy accessories? What is your favorite way to wear leggings? Who or what inspires your style?