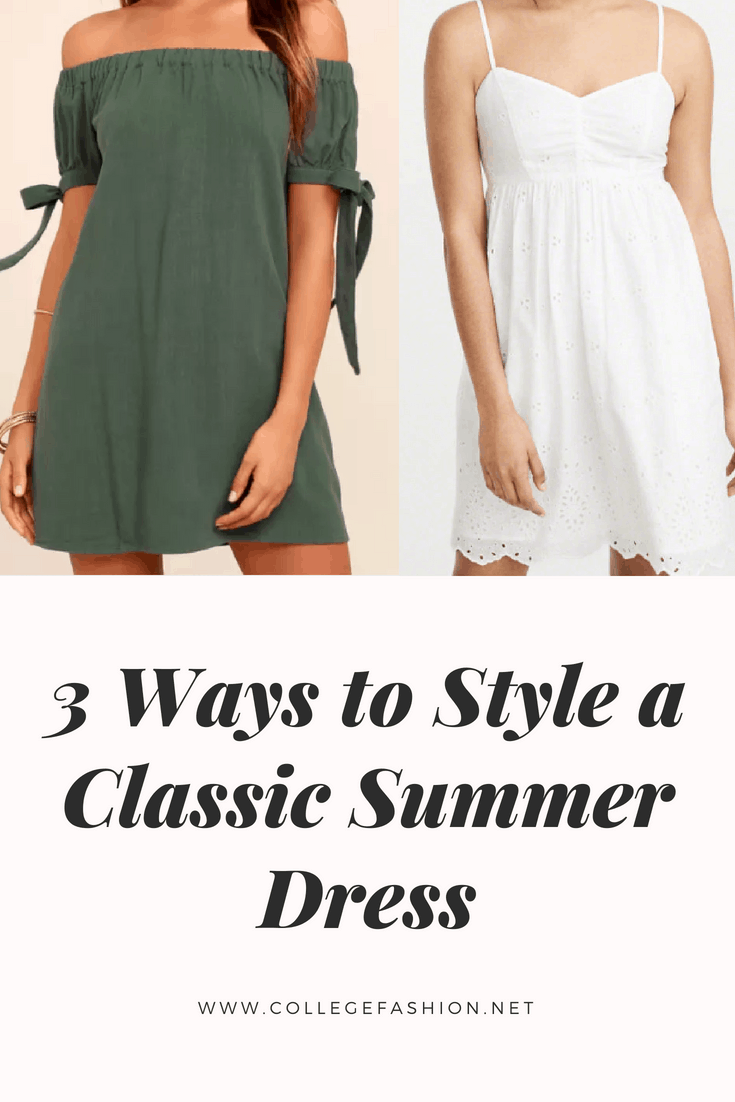 With the warmer weather coming in at full blast, loose flowy summer dresses are our best friends!
Nothing is better than not having to wear pants that stick and cling to your body — that's why summer is the best. So, below I have included three classic yet different styles of dresses to wear this summer, plus an outfit idea for each:
1. Something Bohemian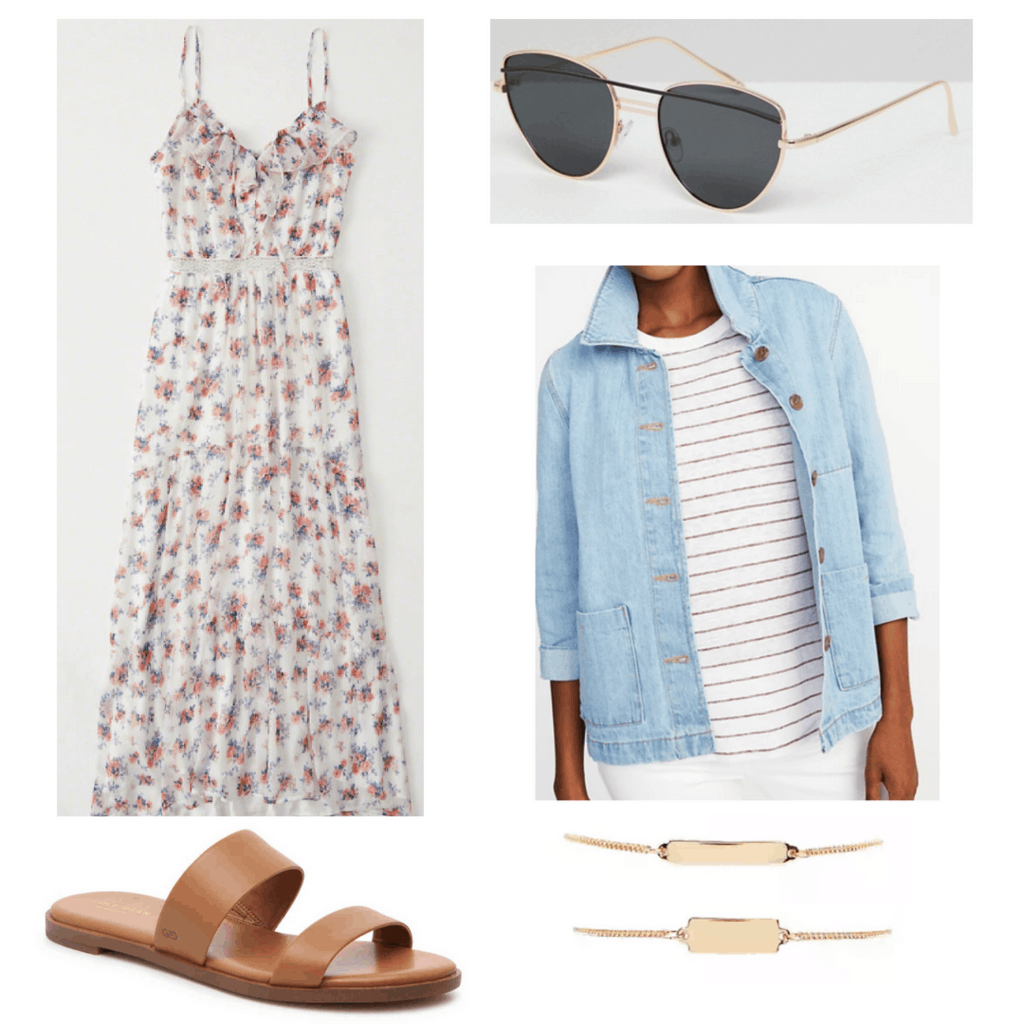 Products: Dress – Abercombie & Fitch, Jacket – Old Navy, Jewelry – Forever 21, Sunglasses – ASOS, Shoes – DSW
Florals. Florals. Florals. Anything floral print works during the summer months!
This maxi dress has crochet detailing on the waist and a leg slit, two super pretty details that make it unique. Since this dress is so bold and heavily patterned, I like keeping the accessories simple by layering on some bracelets and putting on sunglasses for shade.
When the sun sets for the transition from the hot afternoon to cool evening, layer on a light denim jacket to stay warm.
As for shoes, keep cool by not wearing socks and slip on some brown slides. Nothing is worse than sweating in sneakers on a hot day.
2. Pure White
Products: Dress – Abercombie & Fitch, Bag- H&M, Sunglasses – Forever 21, Watch – ASOS, Shoes – American Eagle
Oh, the classic white summer dress. There are about a billion ways to style it, so you really can't go wrong owning this piece.
This outfit is great for when the sun is shining at its brightest and the temperatures are soaring. A white dress will keep you cooler than a dark color would on days like these.
Throwing on sunglasses to protect your eyes (and if it's not windy, a fedora is always an option) will definitely keep you cooler! Choosing a shoulder bag is a must because when you're that hot, you can't be bothered to hold anything. (Does anyone else hate clutches on hot summer days for this reason?)
For shoes, a blush pink sandal gives this look a girly touch.
3. Off the Shoulder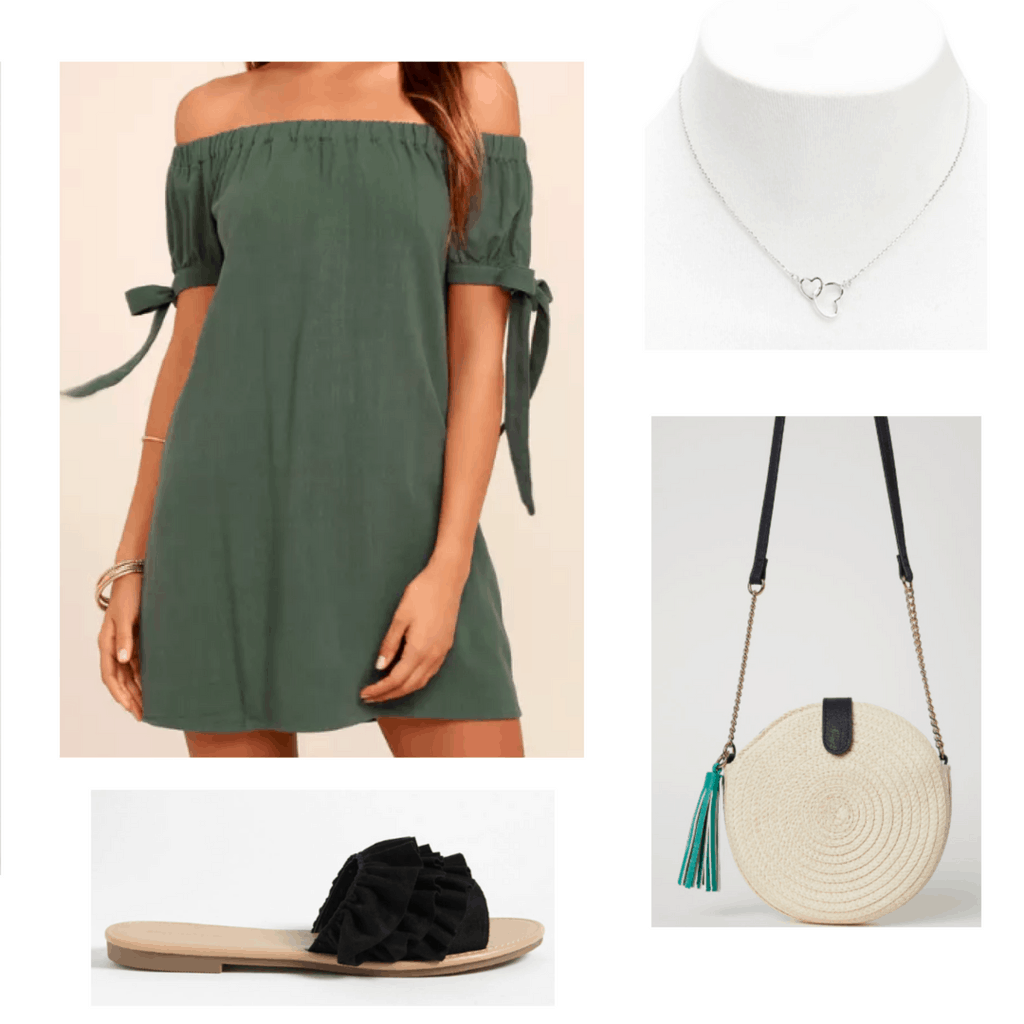 Products: Dress – Lulu's, Necklace – Forever 21, Bag – H&M, Shoes – Forever 21
Off-the-shoulder tops and dresses are so on-trend for summer 2018; you really can't go wrong with anything that bares your shoulders this season.
This off the shoulder dress is perfect for the beach when you want something to cover you up but still have your swimsuit shown at the top. You can also wear it alone for a casual brunch.
All spring we have seen straw bags literally everywhere and with the dress being a solid olive green color, including this bag makes the outfit look so much better! For jewelry, a dainty silver necklace brings some attention to the dress' neckline.
As you can tell, I love slides. With slides, you don't have to strap or tie anything and compared to flip-flops, they have you looking like you tried. These ones have black ruffle detailing, which matches the straps to the bag. Wear this outfit on repeat all summer and thank me later.
What do you think?
What is your go-to dress for summer? What do you prefer to wear in the humid weather? What is one dress you would wear all summer? Let us know in the comments below?